With Monday's release of the "Ryan Giggs – True Red" DVD, which chronicles his fantastic career, there is a question that surely, at this time, is a fair one – is Ryan Giggs the greatest player ever?
To give the question somewhat of a mathematical context, ability x longevity x achievement could be seen as some fair formula, although ultimately it all comes down to opinion, such is the objectivity that surrounds football.
In doing research for this blog I have to say that I have been persuaded to say "YES" – and I came into it believing that Best, Pele or Maradona was. I expect a few people will think I'm crazy but I will attempt to answer points made for any argument against.
First things first – he's the most decorated player in the history of the English game, has scored dozens of important goals and countless fantastic mesmerising memories. He has embarrassed defenders at the highest level for over 17 years and continues to do so today.
Though his goal tally has often been criticised has not being good enough (143 goals in 745 games), a quick comparison with, say, Steven Gerrard (99 goals in 445), shows that it's a very respectable record considering Gerrard has made a career out of taking penalties, free kicks and generally dropping off the striker. That's not a criticism of Gerrard, by any stretch of the imagination, but more a marker to say how impressive Giggs has been.
Just as impressive is taking account of how many of those 143 have been special – either in the delivery of the goal or the context in importance terms, and indeed, sometimes, both.
Another criticism that is often leveled at Giggs is that his final delivery isn't good. Codswallop, in my opinion. He has provided more goals over his career than anyone else in Premier League history, and to this day is capable of providing a pass no-one else can. His slide rule ball is the most undefendable in the entire league, and unexpected moments of class such as the pass for Tevez's goal against Chelsea last season are an indication that intelligence wise, he is on another planet.
Goals at the highest level – well, for every stunning Maradona solo effort, so there is a Giggs replica. For every embarrassed defender Bestie left behind, so, too, there is a Giggs replica. And vital contributions at the most pivotal of times, too. Ryan Giggs has been no fearer of setting or stage – numerous goals to clinch numerous titles for United, numerous semi final strikes to swing the tie, or indeed, entire season's worth of momentum back into United's favour.
Some say he hasn't been consistent enough. The rebuttal is simple – you don't play an integral part in three almost completely different sides, in one of the most physically demanding positions, over a period of 17 years if you are a passenger. Sir Alex has shown that by ruthlessly disposing of players when they are considered to no longer have a role to play. In 2006 he was asked, at the age of 32, to play centre midfield with John O'Shea. That United managed to finish 2nd and included a run in where Giggs and O'Shea dominated a much heralded Arsenal midfield was testament to the maturity and fundamental ability of the Welshman. A closer inspection reveals that Giggs' form often reflects the success of United and the overall style of the team.
The destructive pace of the early 90's, the cultured never say die, take on all comers of the late 90's/early 00's, and the current continental, composed magnificent footballing side of today. It is no coincidence that Ryan Giggs, in the autumn of his career, was superb again last winter as United produced some of the finest football in their history.
The final thing people often say about Giggs is that he never achieved anything at International level. But, Puskas and Best never played a major tournament either – and all success is relative. Dunga, coach of the Brazilian national team, said in 2006 after a friendly against Wales that he was glad Giggs wasn't Brazilian as he would give him too big a selection headache. Quite a compliment considering players in the attacking midfield position included a peak condition Ronaldinho and Kaka.
Like Sir Bobby Charlton before him, Giggs will probably only be truly appreciated after he retires – a shame, and an even greater shame that the new breed of fans in todays "must win at all cost" mentality don't appreciate the likes of our current legends and want them to be pushed aside for younger players who may be faster but are naive – tell me that Fabregas or Ronaldo can technically compare with Ryan Giggs and I will laugh in your face. They are simply not capable of doing with a ball what Giggs can.
He may be unappreciated by many fans but not among his contemporaries – "He is the player chosen by God", Luis Figo said of him, while Alex Del Piero says "How could I possibly appraise him? Fantasy star? Yeah, that's Ryan Giggs… this is embarrassing to say but I have cried twice in my life watching football players.. the first was Roberto (Baggio) and the second was Ryan Giggs."
Zidane said, "If he was French I would have been on the bench." This from a man who is considered by most to be the greatest player of his generation, despite having a career that was significantly shorter at the highest level.
Listening to the current crop of players at United you can sense the respect among his peers, especially among the likes of Ferdinand and Rooney.
Below I have highlighted just a few of Giggs' finest goals throughout his career for United, and you will probably be surprised at the extent of the catalogue.
To add to the list, on the 21st May, 2008, Ryan Giggs set a new appearance record for the club, scoring the winning penalty in the European Cup final. That in itself was somewhat of an achievement considering he'd missed his only previous penalty, in a shootout at the Stretford End against Southampton more than 16 years earlier!
His highlights don't start and end with his goals, however. Man of the match performances in Europe during the years of 96-2001 at Old Trafford against the likes of Juventus twice, Porto, Real Madrid, Fiorentina, and Bordeaux, a man of the match display in the Intercontinental Cup setting up the winning goal, those runs that saw him go past 6 or 7 players (notably against Anderlecht and Sunderland) which resulted in penalties, volleying from the halfway line at Charlton which was a crossbar's width away from probably the second greatest goal of all time? The backheel flick around Julian Dicks at Upton Park on the halfway line, before running and crossing for Cantona? Scoring via Ashley Cole in the infamous "I'll see you out there" game? The string of performances in the second half of the 99/2000 season that made him probably the best in Europe at that time? Setting up 4 goals against Roma?
What about the trick he performed against Arsenal in 1993 that I'm not sure even has a name, that I've never seen performed before or since that time? These are just a few memories of the top of my head, I could sit here all day writing them.
The blog is already massive and I haven't even mentioned that all this is from a man who has played his entire career for the club he supported as a boy. He's simply lived the dream, and millions of United fans around the world have lived it with him.
Ryan Giggs had, and still has, the ability to thrill, entertain and wow fans like no other talent in the world.
I may be among a minority of even United fans to believe it, but I'm nailing my colours to mast – Ryan Giggs, you truly are the greatest footballer to have lived.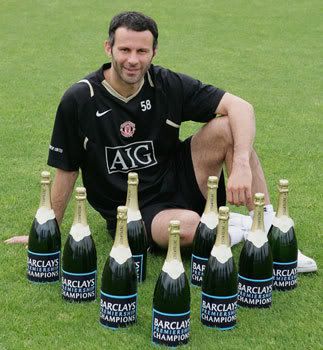 Enjoy the trip down memory lane –
First goal –
Man City 4/5/91 Old Trafford. Was it his? Probably not, but the record shows it.
91/92
Norwich – 7/9/91 Old Trafford – skinned the keeper and rolled it in from impossible angle.
West Ham – 23/11/91 – stunning volley.
Boro 11/03/92, OT, semi final clincher in League Cup, volley on difficult angle.
(Scored in two Manchester derbies (one dubious, one magnificent from 25 yards), at Boundary Park, Elland Road, a semi final winner, all before being 19.)
92/93
19/9/92 Spurs WHL "That goal" skins one, megs another, rounds the keeper, classy finish
28/12/92 – Coventry – magnificent 20 yard curler in top corner
18/01/93 – QPR – Loftus Road – latches onto through ball at speed and showing expert control, lifts it over the keeper from 18 yards
23/01/93 – Brighton – FA Cup – great near post free kick
05/04/03 Norwich – away – in a vital game, Giggs latched onto an early Cantona through ball to score what was becoming a trademark, round the keeper and into the net, to set the tone for a pulsating early show.
03/05/93 Blackburn – 30 yard free kick to celebrate winning the title.
93/94
21/08/93 Newcastle – stunning free kick at the Stretford End.
04/01/94 Liverpool – Anfield, Giggs beats a defender and chips Grobellar for an iconic goal.
22/01/94 Everton – Old Trafford – In a game notable for the first after the death of Sir Matt Busby, United put on a great display, creating chance after chance but failing to score – until Giggs met a Keane cross to head brilliantly in.
05/02/94 – QPR – Loftus Road – Giggs skins 4 defenders and coolly finishes to Clive Tyldesley's immortal "the boy's a genius!"
13/02/94 – Sheff Wed – Semi Final 1st leg – defender doesn't deal with it, Giggs races in, rounds keeper, almost on byline at the edge of the box somehow scores.
27/04/94 Leeds away – combines brilliantly with Hughes to score, brilliantly.
01/05/94 – Ipswich away – Giggs almost karate kicks the ball in to all but seal United's second successive title.
94/95
14/09/94 – Gothenburg – scores United's first ever "Champions League" group stage goal, then scores the winner.
95/96
21/10/95 – Chelsea away – a stunning solo effort at Stamford Bridge, bamboozling the defenders before stabbing home.
18/11/95 – Southampton – Giggs scores United's quickest ever goal, after just 16 seconds, then adds to it a couple of minutes later!
06/04/96 – Citeh (away) – Keith Curle invites him to shoot. Infact, orders him to. Giggs can't score from there, can he? Yep, afraid so. Magnificent 20 yard drive into the top corner.
05/05/96 – Boro away – scores the third in a 3-0 win to seal a third title. A cute strike from 20 yards giving the keeper no chance.
96/97
4/12/96 – Rapid Vienna away – our Ryan skins two defenders on halfway, plays it to Eric, runs almost full circle leaving the defender for dead and scores across the keeper from 20 yards to seal Champions League qualification.
18/01/97 – Coventry away- tackles to win a loose ball, regains his balance, and scores beautifully with his right foot from 20 yards to announce to the world "yep.. I have one".
05/03/97 – Porto – not content with running the show from midfield, Giggsy decides he wants a piece of the action and smashes in at the Stretford End to complete a stunning break and amaze English football.
97/98
01/10/97 – Juventus. After terrifying the Juve defence all game (prompting Zinedane Zidane to rank it as the greatest first time he'd seen a player play, alongside Ronaldo 9), Giggsy put the icing on the cake by running through and drilling in from 16 yards. Barry Davies exclaimed "Oh! I don't believe that!", and nor could any United fan.
25/10/97 – Barnsley. Carries the ball around 50 yards before effortlessly placing it from 20 yards into the top corner. Oh yeah, with his right foot.
98/99
16/09/98 Barcelona – Giggs keeps his composure after watching David Beckham skin and race past his marker (yes, it did happen), to rise above his marker like a salmon (yes, it did happen) and score an unlikely goal. But it did happen.
26/12/98 Nottingham Forest – technically brilliant, chipped finish on the angle to complete a fantastic move between Sheringham and Beckham.
07/04/99 Juventus – last minute equaliser that was lashed into the roof of the net to rescue the tie heading into a fateful tie in Turin.
14/04/99 Arsenal, Villa Park – Do I really need to describe what is probably the best goal of all time? In extra time, carrying a niggle, Giggs is sent on from the bench to "keep the ball" as United are down to ten men. Picking the ball up in his own half he decides to skin the most physically dominating midfielder in the game and then skin the most miserly defence in Europe before finishing with incredible power, scoring the goal that every schoolboy dreams of scoring, the goal that breathed new life into United's season and inspired tired legs. Then celebrated by exposing his hairy chest. Lovely stuff.
99/00
18/12/99 – West Ham, Upton Park. Exquisitely flicks the ball to Yorke, collects the return stabbing in. More for the outrageous flick than the goal.
00/01
13/01/01 – Bradford, Valley Parade – Giggs shows ridiculously composed control to collect a 30 yard high ball, killing it instantly, then turning his marker inside out before drilling past the keeper via the near post. In my humble opinion, the kind of goal which has been so understated but wouldn't have been if anyone else had scored it.
14/04/01 – Coventry – Scores a 15 yard header in the top corner to seal the title at Easter. Oh yeah, all kinds of goals.
13/05/01 – Southampton away – although in defeat, one of the great solo goals – Giggs beats two men, plays a one two with Yorke, taking two other defenders out, then coolly finishing.
01/02
10/04/02 – Deportivo – Fewer sights in football are as great as seeing Giggs put defenders on their arse. He didn't disappoint here, beating another just for good measure, and scoring at the near post. A great European goal.
02/03
23/08/02 – Chelsea away – Giggs scores his 100th United goal, tremendously curling from 12 yards in off the crossbar.
25/02/03 – Juventus away – Ryan was getting a bit of unfair stick about his form and answered his critics in typical fashion – scoring 2 at the Delle Alpi, the second a glorious solo effort finished past Buffon with his right foot. As Tyldesley says in commentary "the type that only Ryan Giggs can score".
05/04/03 Liverpool. It'd been 2 years since Giggs last Old Trafford league goal, that title clinching header. What better way to break your duck than scoring in a 4-0 win over the Dippers, arriving late to pounce like a theif in the night, and leaving the Liverpool keeper looking all around him, bemused.
16/04/03 Arsenal away. Giggs had scored in consecutive games against Liverpool and Newcastle and now faced this third in the "title crunch" triple header. And head he did, expertly converting Solskjaer's cross.
03/04
16/08/03 Bolton. With Beckham gone, people wondered where United's set piece threat would come from. They needn't have worried. Giggs scored via the post from 25 yards on the opening day to remind everyone about a certain number 11.
09/11/03 Liverpool away. Two goals at the Kop in a United win. The second in off the bar. Nice one.
04/05
28/09/04 Fenerbache. In a game probably best remembered for a certain Mr Rooney scoring a goal or two, Giggs got the ball rolling with an expertly taken header from 12 yards – equalling Sir Bobby in the European goal ranks.
28/12/04 Aston Villa away. Another of those underrated gems. Giggs extravagantly flicks a long ball with his heel onto O'Shea. He flicks it back to the Welshman who cuts inside and scores confidently from 20 yards.
26/01/05 Chelsea, League Cup semi. Showing that no amount of money can compensate for sheer class, Giggs scores one of the competitions greatest ever goals, magnificently evading Terry and flicking the ball over Cech on the volley from about 15 yards. Stunner.
07/05/05 – West Brom – quick free kick across goal. Very cute.
05/06
11/12/05 – Everton. Latches onto a long Scholes pass to score a similar goal to the Chelsea one. Very, very classy.
26/3/06 – Birmingham. Received a ball from Rio, nutmegged his marker, swapped passes with Rooney, outpacing the entire Brum defence at the age of 32, and scoring with a nice low drive.
06/07
26/08/06 Watford – an exhibition of style, composure and great awareness. Giggs beat the offside trap and, in flashes of 1992, nonchalantly skinned the keeper before scoring.
24/02/07 Fulham away. Did he mean it? If so, one of the most brilliant half volleys of all time – on the angle, Giggs rescues United's title hopes. Knowing Giggs, he probably did.
07/08
08/12/07 Derby – Ronaldo shoots, keeper spills, Giggs scores rebound. It's the exception to the rule of Giggs' goals generally coming from his own brilliance, but nonetheless, it was his 100th league goal. All for United, of course.
11/05/08 Wigan away – and in typical Giggs fashion, his 101st came on his record equalling appearance for the club, to seal the title on the last day, with all the composure that had become his trademark in his later years.
By Yolkie