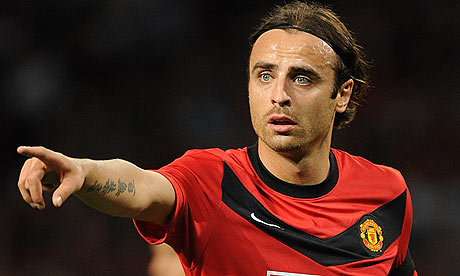 AUTHOR: – Doron
I wanted to keep my nose out of this debate; it's been discussed too many times now. With no live United football and an open domestic transfer window it's being run again. Berbatov.
The problem with reading blogs written about him is that they tend to be written by people who are either Berba-lovers or Berba-haters thereby rarely giving a fair read. The blog entries that call him a genius and can't understand why he may have to be sold tend to overlook some of the fair criticisms; whilst those who feel he must leave usually label him 'lazy' and similarly overlook his positive qualities and contributions.
I'd like to suggest that both types of blog are both right and wrong.
To me, Berbatov's appeal more than anything is the entertainment factor. He's one of the few magicians in the United squad – the kind of player who can conjure something out of nothing; who gets fans off seats; and is unpredictable. Yet, this crowd pleaser splits fans.
It's no surprise that one debate that rears itself almost alongside the Berbatov one is whether fan 'x' would rather win trophies or play good football – silverware or style. Of course, it doesn't have to be one or the other, most fans would probably plump for a mixture of the two yet the reality is that only Barcelona are at that level today. I'm not suggesting that fans who pick one answer in one of those debates will always pick the same answer in the other, but I'd be surprised if there was no positive correlation.
As someone who doesn't really mind whether Berbatov stays at the club or is sold this summer I'd like to think I can raise a few points about him both positive and negative that I consider to be true.
The fee, does it or doesn't it matter?:
A player doesn't choose the fee he moves for but can influence it by performances, age and contract length. Manchester United were prepared to pay £30.75m for Berbatov. A record fee and the only time to date the club have broken £30m for a player. A fee tends to breed an expectation; for example, Bebe is labelled a flop simply because of the fact he cost £7.4m.
The fact United paid a record fee for Berbatov does matter. There are expectations that come with such a tag and whilst the Berba-fans will suggest that is unfair the reality is that two big clubs clearly valued him as one of the best players in both the country and the world.
However, the fee is by no means the most important factor in judging a player therefore it should never really be used as the main reason for being in the anti-Berbatov camp. Not to mention that an ever-evolving and unpredictable transfer market is continuing to throw up ludicrous fees for considerably less talented footballers than Berbatov.
Fitting in and scoring goals:
There is a famous example of a player signed for so much but never finding his place in the United system. Juan Veron was a footballing genius, a masterful midfielder. However United signed him presuming he'd adjust his game and style sufficiently enough to fit into the way that the club played football. It didn't work and Veron's stay was short-lived.
Berbatov arrived at a time when the team was playing for Ronaldo and therefore was never really used in a way that got the best out of him. Since Ronaldo's (and Tevez's) departure(s), Berbatov has been used in a more structured and suited role, through the middle. The problem, for me is that it's unclear what exactly his job is. The main function of a forward is to score the goals – but Berbatov is often found ahead of the midfield and behind his strike partner linking play. He has said he gets as much joy from assisting than scoring.
This begs the question – is he really a forward at all and if not, do United need a player like him? At this point I should imagine the Berba-fans will cite he was the league's joint top scorer this season. Correct but what about his first two years? Would United be better with say a Rooney as the deeper striker, a thoroughbred workhorse who wants to be involved in every move rather than on the fringes. To me, I think that tends to suit the club better right now; potentially due to a rather dysfunctional set of midfielders behind whoever plays that role. I dare-say that a better central midfield would provide the perfect platform for someone like Berbatov to flourish.
And what of goals? If his main function isn't to score then having only one other player on the pitch who's main job is to score seems a tad negative – certainly United rarely conform to the current trend of three obvious midfielders in the centre and one striker. Hauls of 14, 12 and this year 22 goals aren't overly impressive that's for sure. The fact he was the league's top scorer this year does not stand up alone in suggesting he really is a regular goalscorer. This last season all the stats were in his favour – of the three main strikers he had the most accurate shot but 48 goals in 128 appearances is not special. His goalscoring record should certainly be better.
Europe and big games:
It's a favourite point to raise when trying to put Berbatov down; consider this:
Berbatov has 5 goals in 19 starts against Liverpool, Chelsea, Arsenal, City and Spurs in the league with 7 substitute appearances and no goals from the bench (3 of the 5 goals were the hat-trick vs. Liverpool this year). He's therefore appeared in 26 of the 30 'big' league games since signing or 86.7%.
Berbatov has 4 goals in 22 (12 starts 10 sub) Champions League games for United – his goals came in only 2 games (Celtic and Aalborg) with his last Champions League goal coming on 21/8/08. He's therefore appeared in 22 of the 36 (61.1%) Champions League games since signing of which 10 were group games. Interestingly he's only ever started 1 European semi-final or final (out of 6).
It is an odd and low statistic that only 18.8% of Berbatov's goals have come in Europe or 'big' league games especially considering that 37.5% of the games he's played have been of that nature. His European record is particularly poor given United's general success in the competition but given that he's played in more latter stage games than group games, it's understandable to a point that it's harder to score.
In the league though it's harder to defend his lack of goalscoring form. One suggestion put to me is that the team haven't played well or won many games recently against the big five league teams, yet in actual fact 16 of the 30 games since Berbatov has signed have been won; with only 9 lost. To me that suggests a good but not spectacular record. It's understandable that he cannot be expected to do well when those around him aren't performing either but more often than not, those around him have performed.
I believe that it is fair to suggest he has underperformed in the bigger games but it would be wrong to say he can only 'do it' against smaller teams – someone still has to score the goals in those games! Of course one shouldn't ignore the contributions he has made in bigger games – Liverpool at home in 2010/11 and Chelsea at home in 2008/09 stand out.
Laziness:
It's one of the more painful criticisms aimed in Berbatov's direction. His style is not like Rooney's; he doesn't charge about the pitch. Rather he lives on the fringes of games as emphasised by one of the lowest passes per match records this season ended. Yet, he does not shy away from his responsibilities – attempting more tackles than most of the squad and winning more and attempting them more regularly than any of his fellow strikers.
Faith and trust:
Some fans swear by him, others would rarely pick him in their starting XIs. The sad reality is that as time has gone on, Berbatov's selection in the key games has either been on the bench or non-existent. The Champions League final this year was the biggest hint that the management and coaching staff have started to lose their faith too. Berbatov's treatment by the club is odd and embarrassing – the league's top scorer couldn't even get a place on the bench for the European Cup final but an ageing Michael Owen could. Whilst picking one or the other is an argument in itself; for me, both should have been there.
His place in the starting XI was lost to Hernandez. Few would complain – he struck up a fairly instant understanding with Rooney (something Berbatov has never really managed to achieve) and gave United both a fear factor whilst he scored goals for fun and helped Rooney back to top form.
The future:
Maybe the most telling of factors in this debate is the reluctance to offer Berbatov a new contract. His current deal expires in a year but the club have a one way option to extend this by a further year. With Welbeck set to return, Owen offered a new deal and Macheda's future somewhat unclear; it is feasible that one striker will be let go. The potential signing of Ashley Young – someone who can also cover as a striker may well signal the end of Berbatov. Ultimately Ferguson has made mistakes before but fans will tend to trust him and back him on these decisions rather than the player.
Coming round full circle as you can see; there's no clear answer here. It is almost impossible to make a case solely in his favour or solely against Berbatov. I've only selected a few of the more contentious issues surrounding Berbatov but there are plenty of others that could be discussed. Search the internet hard enough and you may find a glowing piece like this, a slightly more critical piece like this, or a debate like this.
Berbatov is most certainly a luxury. At a time when football is so often about function rather than beauty, he's of a rare breed. I personally would keep him – I think he's different to what we have and he makes us less predictable. However keeping a beast like him as a non-starter is unfair on him and possibly unfair on young talent at the club who will need minutes if they ever wish to be 'real' players. If he were to be sold, many – myself included – would be able to understand the decision; it does make some sense. I purposely sit on the fence here in not truly minding where he is next season – I've never taken to him like some and should I fall either way, the lovers or haters would swarm here to attempt to correct my opinion!
I urge fans to stop trying to work out the answer to a problem that has no definitive answer. As a generalisation (this of course is not applicable to everyone), the lovers ignore the flaws and the haters ignore the beauty. Every single player gets unfair criticism, Berbatov isn't alone in this. Be passionate for sure and state an opinion but the vociferous nature that the lovers and haters react to contrasting opinions on a very unclear topic is frustrating. Let the club decide his future, their decision will be the most telling of any fact, stat or opinion.
AUTHOR: – Doron