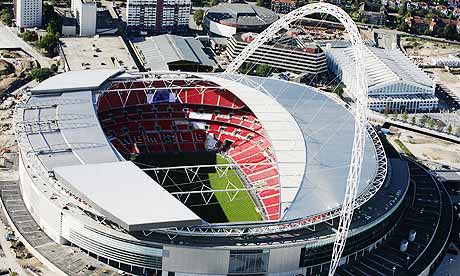 AUTHOR: – Doron
The setting for tomorrow's Champions League final is an important venue for both teams. Wembley will be hosting it's 6th European Cup finale, 48 years after it's first. However that final in 1963 means nothing for this tie. It's '68 and '92 that are the magic years for United and Barcelona.
Wednesday 20th May 1992 – the night Barcelona finally became European champions. It was a long overdue crowning, defeats in the finals in '61 and '86 – the latter on penalties – hurt such a mighty club. So when Ronald Koeman struck the winning goal in extra time, typically a free kick, and Barcelona won, Wembley became a very important stadium to the Catalan side.
The Cruyff side of 1992 is widely considered to be the greatest that Barcelona have put together. There is however a good case to be made for this current team, Guardiola's Barcelona. Pep was of course central to that side 19 years ago and his team today is based on the footballing philosophies that Cruyff brought to the club – to keep the ball and attack. As Xavi said in a recent interview, "we're all students of Cruyff and his school of thought". Funnily enough, Xavi is now to Guardiola, what Guardiola was once to Cruyff – the main man on the pitch, the marshal and the maestro.
Barcelona made it back to the final again in 1994 but were thrashed 4-0 by AC Milan – still the joint biggest winning margin in a Champions League final, and the largest for the past 20 years. However, English sides seem to hold a worryingly good omen for Barca. In 2006 and 2009, further victories in this competition against Arsenal and United respectively propelled Barcelona onto three triumphs, alongside United and as of last year, Inter Milan. Whoever wins this years final will move up the ladder on a perch with Ajax and Bayern Munich. Nineteen years (ironically an important number for Man United this year) after their most famous of nights, Barcelona will hope Wembley is as lucky for them again.
Similarly, for United, Wembley is the location of one of their most important nights too. May 29th 1968 saw Matt Busby fulfil a dream, an ambition – United became the first English side to be crowned European champions. The win however had a more poignant importance for the club though. It was ten years on from the Munich Disaster – the tragedy that took the lives of 11 members of the United playing and non-playing staff. Denis Law missed the game through injury but Best and Charlton stepped up to help demolish Benfica 4-1 in front of the famous twin towers of Wembley. Such was the emotion of winning for the club, for Matt Busby and for those who sadly died ten years earlier, that one of the heroes, Sir Bobby Charlton, never even made it to the post-match celebrations. Exhaustion, both mental and physical had taken over as the reality of the night's achievements hit home.
It was after all, Busby who'd taken United into Europe, against the wishes of the Football association. It was Busby who was determined to propel United onto a European and world stage. Being the best in England wasn't enough, there was a bigger crown to be had. Importantly, Busby had done it his way. Youth and attacking, entertaining football. Like Cruyff at Barcelona, United's first European Cup win was won by a manager who the club's traditions have been well and truly built upon. Busby, like Ferguson, is Manchester United; and Wembley was his moment.
It took United another 31 years though to win the European title again. This tale of similarities and coincidences continues as United beat Bayern Munich 2-1 in Barcelona on Sir Matt's birthday in a style that he knew only too well. A further crown was added in 2008 followed by a final defeat a year later to tomorrow's opponents. Tomorrow will be the first time either side has played at Wembley in Europe since their own special nights.
However, United do visit Wembley rather more frequently than Barcelona. Their record there is overall a winning one but not an impressive one: P42 W16 D12 L14 (penalty shoot outs are classed as draws – stats courtesy of mufcinfo). New Wembley hasn't been as kind either – since it was rebuilt and opened again, United have visited their on 9 occasions with a record that reads W2 D5 L2. Wembley's large pitch will suit Barcelona however a newer faster, slicker turf is likely to be in favour of United. Barcelona have never played at the new stadium so whilst it's familiar territory for United, it's new ground for them.
Wembley is often regarded as the home of football – indeed, that is how Pep Guardiola has referred to it in the build-up to this game. However for both United and Barcelona, it is a special place with an even deeper meaning. The two sets of supporters will both have fond memories of European adventures at Wembley, which arguably have laid the foundations for current successes. Here's hoping that Saturday's game is another classic and that new Wembley can create new moments to go with 1968 for United!
AUTHOR: – Doron