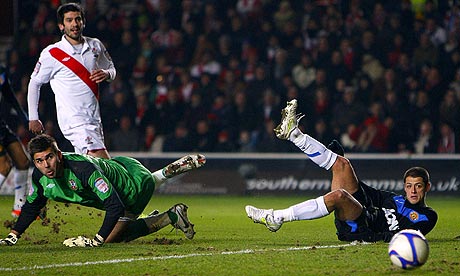 In the past six years, United have now traveled to St Mary's three times to face Southampton in the FA Cup. On the two previous occasions (in 04/05, 08/09) United won handsomely; 4-0 and 3-0 respectively. However, last night United made it hard work for themselves in booking their place in the 5th round. A second string side, a rare tactical blunder by Fergie and the inclusion of some players that are getting a little bit of stick a the moment all contributed to the poor showing in the first half. The second half, after the inclusion of Giggs and Nani, was much better – with Michael Owen and Javier Hernandez getting on the scoresheet.
Talking Points
Darron Gibson
Not since the 03/04 season has a player come under so much scrutiny at Old Trafford. Darren Fletcher, Kieran Richardson and Diego Forlan were just some of then names that United fans weren't too keen on when comparing to the Robsons, Keanes and Cantonas of days gone by. Darren Fletcher went on to become a key member of United's squad, Richardson was sold to Sunderland and Diego Forlan proved many doubters wrong twice winning the European Golden boot, in 2004/05 and 2008/09. Darron Gibson made has first team debut in the League Cup back in 2005 against Barnet – has the Irishman done enough in the past six years to warrant a place in United's first Xi or squad?
There is no doubt that Gibson has a fierce shot on him, that is obvious. However, there has been much criticism against him for his all round game – but is it justified? Gibson has been substituted in his last two games for United, both away games to Blackpool and Southampton. You could argue that Gibson was indeed a casualty of Ferguson getting his system wrong on both occasions. Gibson was replaced both times by Ryan Giggs as Ferguson changed the system. Giggs is clearly much more at home in wider areas that Gibson will ever be. So should we be so harsh on Gibson considering he has had to try and adapt to a position or a system alien to him? His best position is clearly in a midfield three where he can get forward and get strikes on goal.
Regular readers of www.stretford-end.com will know that we store stats and present all appearances, goals, assists in our Manchester United statistics section. You can view Darron Gibson's profile also and examine his appearances and goals for the 2010/11 campaign:
We can't assess his passing/shooting stats in the cup games his has played in (3 in domestic cup and 1 Champions League appearance against), however we can do for the Premier League:
Ok, hands up – who is a little surprised with his passing ratio? Forget the Liverpool game as he was only on the field of play for two minutes with United leading 3-2 through a superb Dimitar Berbatov hat-trick. What this table tells is that Gibson's passing and ball retention is no where near as bad as some Reds make out. He has not yet completed a full 90 minutes for United in the Premier League so far, which is a huge factor for a player trying to establish himself in the first Xi. When he has come on as a substitute there is no doubt he has specific instructions from the coaching staff, which will impact his natural game. Every game that Gibson has come on in the Premier League, United have been winning and have gone onto win – with the exception of WBA, which saw Edwin Van Der Sar gift the Baggies a second goal.
His one assist has came in the 1-1 draw with Birmingham City, which United led until the 90th minute before a Lee Bowyer strike. So if we look at the games Gibson started in: Birmingham away, Stoke City home and Blackpool away – the result when Gibson was on the pitch is – 1-0 United, 1-1 and 2-0 Blackpool. United went on to draw the first game after a controversial goal, beat Stoke City 2-1 (after a Nani goal a minute after Gibson was substituted) and beat Blackpool 3-2 after a superb second half come back. So after reading all of this, seeing the stats and the fact that Gibson hasn't yet completed 90 mins, aren't we being a little harsh on him? Surely, Ferguson is to blame for the two starting formations in the recent games – which saw Gibson's arguably worst performances. Is he United class? For me the jury is still out, but I think many fans are being far too critical of a player who is still trying to establish himself in the first Xi. Fergie obviously still has doubts, considering he can't trust the Irishman for a whole Premier League fixture. What do you think?
Michael Owen's deep role
Michael Owen has only started four games this season for United (with one of the games being in the Community Shield), however his performance yesterday highlighted that the former England striker still has a lot to offer, even if as a bit part player. When Michael Owen was being offered around Europe after his indifferent season at Real Madrid, it was quite strange that not one top European Club (i.e. of Champions League pedigree) went in for Owen. Could it have been that more was required from a forward than the artillery in Michael Owen arsenal? Didier Drogba, Fernando Torres, Zlatan Ibrahimovic and Dimitar Berbatov all made big money moves over the past decade as the shift towards a powerful dynamic centre forward surpassed the need for the 'goal poacher' of modern fay football.
In the past year and half, Owen has worked on his link up play a lot more and yesterday was an example of what he still has to offer to Manchester United, albeit against lesser opposition. As defences reduced the space in between the goal keeper and the backline, there is far less room for the Inzaghi's of this world to work in. Owen will get you goals, as was demonstrated with his excellent header yesterday. He has all the natural instincts still in front of goal – even if he pace has declined somewhat over the years due to his injury woes. I was impressed with him yesterday and I think it is a credit to him that he has worked on his game to adapt to the demands of what a modern day forward now needs to offer as well as provide an alternative option in a deeper role behind the traditional striker's position.
You can view Michael Owen's 2010/11 stats here.
Ferguson getting tactics wrong
Sir Alex Ferguson yesterday admitted that he got his tactics wrong at St Mary's, which could probably have been said for the poor first half last Tuesday against a high tempo Blackpool side. United have always been renowned for their width and have had some fine wingers over the years including – Cristiano Ronaldo, Andrei Kanchelskis, George Best, Steve Coppell, Gordon Hill, Lee Sharpe and of course Ryan Giggs – however, United's diamond formation was a shift away from United's usual setup. Ferguson was quoted as saying:
"Sometimes we make it difficult for ourselves but, in fairness, I maybe meddled with the system too much We tried a diamond in the middle of the pitch and, of course, Manchester United are used to playing with width all the time and I think that was a problem for us. It wasn't working at all. We had some possession of the ball but we never threatened. The goal we lost right on half-time motivated us to do better."
Although the setup wasn't a raging success yesterday, can you see the diamond formation working sometime in the future?
Match Conclusion
Manchester United fought back for the second time in the space of a week to beat Southampton at St Mary's at march on to the 5th round of the FA Cup. Southampton went 1-0 up just on the stroke of half time after an impressive strike from Chaplow. Chaplow burst into the area to smash a right footed shot past United's debutant Anders Lindegaard and round of a miserable first half for a toothless United. Ferguson changed the formation and brought on three experienced players in Brown, Nani and Giggs – which made a massive difference to United's play. Michael Owen scored a superb header to equalise in the 65th minutes after a deflected cross from Gabriel Obertan. Ten minutes later Giggs intercepted a Dickson pass and fed in Hernandez, who struck a right footed shot past the trailing Bialkowski. Hernandez scored his 11th goal of the season and 2nd in two games – which proved to be the winner for United.
Next up are Aston Villa on Tuesday, who appear to be coming into a bit of form of late. Villa beat Blackburn Rovers 3-1 in the FA Cup on Saturday.