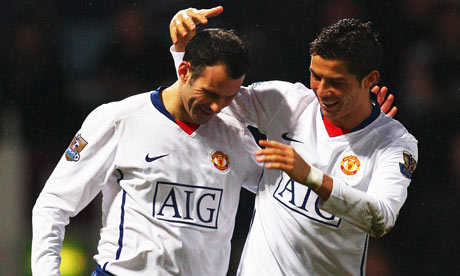 This is likely to be the most hotly contested position in our Stretford-End XI. Yesterday we launched our poll for two centre midfielders, and today our focus is on selecting two wingers. The contenders include two European Player of the Year winners, the longest-serving player in Manchester United history, and arguably the biggest name in football history. So without further ado, the choices for the two wingers are Joe Spence, George Best, Andrei Kanchelskis, David Beckham, Cristiano Ronaldo, and Ryan Giggs.

Joe Spence
Yet another player in the top ten for all-time appearances, Joe Spence represented United on 510 occasions scoring 168 goals. Few probably remember Spence due to the fact that he played in the period between the world wars, but he is still recognized for his contributions to the club. Spence is one of the few players contending for the Stretford-End XI that never won a major honour with the club. Following his retirement, he returned to United as a coach and scout under Sir Matt Busby. Spence passed away on New Year's Eve in 1966.
George Best
"Maradona good. Pele better. George Best." What more can be said about this legend? Few would argue that George Best was among the greatest to ever play. Best scored 32 goals in 1967-68, the most from a Manchester United midfielder until Cristiano Ronaldo in 2007-08. That season, he scored a goal in the final as he helped United become the first English club to lift the European Cup. Best left the club in 1974 with 179 goals in 470 appearances. Best still holds the record for most goals in a single game with six against Northampton Town in 1970; a record which he shares with Harold Halse. At this point of the feature, we usually say where they are now. Sadly, Best suffered from alcoholism most of his life, and in 2005 passed away from a liver transplant rejection at the age of 59.
Andrei Kanchelskis
Russian winger Andrei Kanchelskis was an important player during Manchester United's rise to prominence in the early 1990s under Sir Alex Ferguson. In 145 appearances for the club, Kanchelskis scored an impressive 48 goals. He was the last player to score a hat-trick in the Manchester derby; that game being in 1994-95 when United beat City 5-0. Kanchelskis won two Premier League titles, one FA Cup, and one Football League Cup in his four years. He had a falling out with Sir Alex in 1995 and was sold to Everton.
David Beckham
He has arguably the best free kick in the game. David Beckham became a star unlike any other while at Manchester United. He is often criticized for being more of a brand than a footballer, but Beckham was a big part of United during one of the most successful periods in the club's history. He was a constant threat from free kicks and his pinpoint crosses so often created opportunities. Beckham made 399 appearances for the club and was a member of the 1999 Treble-winning squad. Beckham left the club in 2003 for Real Madrid. When he returned to Old Trafford with AC Milan last season it was to a rousing applause. Beckham has the most outfield appearances for the England national team with 108 caps, 58 of which he was captain. He is currently playing for the Los Angeles Galaxy.
Cristiano Ronaldo
He is one of the best players in the game today, though unfortunately no longer with Manchester United. Cristiano Ronaldo came to Old Trafford in 2003 as teenager full of promise to fill the gap left by David Beckham. Following controversy at the 2006 World Cup, Ronaldo began to fulfil is potential. In the 2007-08 season, Ronaldo scored 42 goals in all competitions as he led United to a European Double. Later that year he became the first United player to be awarded European Footballer of the Year since 1968 and only the fourth of all time. He scored 26 the following season and played his final game for the club in the 2008-09 Champions League final. He was sold to Real Madrid for a record £80 million transfer fee, making him the most expensive footballer in history.
Ryan Giggs
No one has made more appearances for Manchester United than Ryan Giggs. He is the only to have scored in every Premier League campaign and is the most decorated player in the history of English football. Making his debut in 1990, Giggs has gone on to make a record 851 appearances and score 156 goals. His honours with the club include 11 Premier League titles, four FA Cup titles, and two Champions League titles. His goal against Arsenal in the 1999 FA Cup semi-final is still one of the most impressive individual goals ever. At the age of 37, he is still an important player for the club as they chase a record 19th league title. Giggs has spent more than half of his life with United, and there may never be a more loyal and iconic player at Old Trafford.
—————
Follow Kyle on Twitter at KDill_MUFC