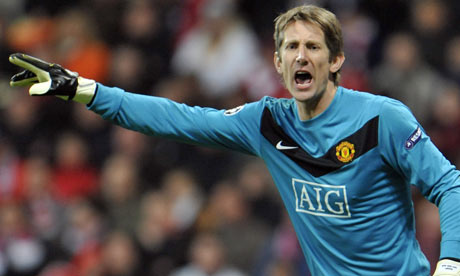 Welcome to the fourth issue of The Red Report, the round table discussion of all things Manchester United by your favourite United blogs: The Busby Way, Stretford-End, Bangalore To Old Trafford, ManUtd24, and Red Force Rising.
The club has been struck by illness and injury this past week, so two very satisfactory wins with squad players have left everyone in a good mood with City to come in a few days. The week has thrown up an opportunity to discuss a few interesting topics though. Edwin Van der Sar became the oldest foreign player to play in the Premier League when he turned 40; the full use of our squad has made us question it (in a positive way); and we discuss one of Europe's great goalscorers.
Evergreen Edwin. Our Dutchman turned 40 this week and is still 'doing it' at the top level. We pay homage to the great man and discuss who one day we think should replace him…
Chudi | The Busby Way: Edwin van der Sar is a quality goalkeeper and one of the best in the world regardless of age. That double save against Fulham at the start of the season was magical and is just one example of how good he still is. We must be realistic though, it is likely that he will be hanging up his gloves in the near future whether it is at the end of this season or next. He was the answer to a problem we had in replacing Peter Schmeichel and you can only hope we don't go through the same problems in replacing him.
If we could bring someone in I personally would lean towards De Gea. I am a fan of his youth and he is already a decent goalkeeper and hopefully this could develop at the club. He is tall at 6 ft 3 and has big game experience against top teams in Spain and Europe for Atletico Madrid.
Doron | Stretford-End: It just seems a shame we never got our hands on Edwin earlier. He's been a superb player for us, one of the best signings Fergie has made in these latter years. Edwin is the ultimate pro, he keeps himself in shape and at 40 he's showing no signs of slowing.
I had hoped Foster would replace Van der Sar but it didn't work out. I think Neuer is the 'safe' option, very dependable and good all-round. De Gea is the one that excites me, if we could get him we'd be sorted for the next 15 years.
Siddarth | Bangalore to Old Trafford: Edwin has been a brilliant servant for the club, I think he's got be among Sir Alex's best buys ever. Even at 40, he goes about making saves like he was only 20. Replacing him could be more difficult than most think like i discussed in my blog post on him.
For me, the best players to replace him are either David De Gea or Manuel Neuer. But I'd prefer De Gea, he looks like a really bright talent, surely the future no.1 for Spain.
TG | ManUtd24: Van der Sar has been a great servant to our club, and I guess the most wonderful thing is how he still has the hunger having won it all with Ajax. I'm tired of the rumours, to be honest. I honestly think, and hope, that Tomasz Kuzczak stays and we sign an established guy like another Ajax shot-stopper, Maarten Stekelenburg.
What makes me laugh, however, is that some United fans have never seen a certain goalkeeper play before, yet call for their signing. It's all a bit bizarre. How long before again someone attacks Fergie because he's not after some Moldavian player that Goal.com has linked us with?
Alan | RedForceRising: Van der Sar has been a model pro and as solid as you could hope a keeper to be. He had a spell with some dodgy moments in the past, but has been in great form for the majority of his career.
After the nightmares that were Tailbi, Bosnich, Carroll and Barthez, it's been great to have a solid, confident keeper like Edwin at United.
Some really poor decisions by Ben Foster certainly put Edwin's abilities into perspective and I still rate him as one of the best goalkeepers in Europe. Even at 40.
It is important to remember that ALL goalkeepers make mistakes and suffer dips in form like outfield players, but when they do, it is more visible. It is crucial to judge goalkeepers on how they respond to setbacks and Eric Steele always highlights the mental fortitude that is required to be Manchester United's main custodian. With this in mind, my favourite candidates to take over from Edwin van der Sar are David De Gea, Manuel Neuer, Hugo Lloris and Rene Adler. In that order. All of them are tall and have the attributes to be a top keeper. At 19, De Gea has played in an Europa League final, acquitted himself well and keeps churning out great performances. He could be rotated with Kuszczak or van der Sar for a year while he bulks up and finds his feet at United.
At this rate Edwin could go on forever! Seriously we are very lucky to have him, and we should savour every minute he's between the posts for us.
Being Manchester United means transfer rumours are inevitable. We discuss what we think about transfer rumours and whether we do actually need any new players:
Alan | RedForceRising: Yes, we do need new players.
When your best central midfielder is about to turn 36 years old, you need new blood. However, we don't need new players in January. I would like Tom Cleverley to be recalled from loan and for him to get game time, so he can learn from playing alongside Scholesy.
United could do with two or three new central midfielders with the same number of players heading out of Old Trafford or retiring. A deep-lying play-maker in the Scholes mould and a mid-field enforcer would be a good place to start. I read an exaggerated article on Michael Carrick this week and can't believe how quickly his poor form and poor displays have been forgotten. Both Carrick and Darron Gibson might have futures at Manchester United, but I question their desire to win. They simply don't seem have a lot of fight in them.
I'm quite happy with our wingers and I hear that Antonio Valenica might be back sooner than expected which will be a big boost. It would also be prudent management of Sir Alex to be looking a a new striker.
Michael Owen could and should be heading for the exit door and Dimitar Berbatov hasn't won over all his critics yet either.
TG | ManUtd24: As you'd already gather, not a fan of rumours. Indeed, I discussed it in my blog earlier this week (see blogs of the week) that I hope United don't sign anyone in January, because, with everybody fit I think we have a strong enough team. As for the summer window, maybe. I'll throw in a few names; Scott Dann, Jordan Henderson and even that bloke Gareth Bale.
Siddarth | Bangalore to Old Trafford: I think we need to buy in only 1-2 positions to strengthen the team; they are a Left footed winger, and a GK. Rest of the positions we have more than enough youngsters emerging through the academy who deserve a chance, especially midfielders like Eikrem, Morisson, Pogba, etc.
Rather have them given a chance than waste many millions on a player who might later want to move to his "dream club" after becoming a star at United. A player who's come through the academy is more likely to show loyalty to the club and fan's
Doron | Stretford-End: We're the biggest club in the world, there will always be players linked with joining and leaving the club. I like to back what we have first of all but we would benefit from a versatile creative midfielder. All we need to do is take a quick peek into the Reserves and Academy…there is a whole plethora of players ready to be given a chance in the next 18 months.
We will need a goalkeeper and I think we will need one or two 'squad players' within the next year – someone who can do what the likes of Park and Carrick do. With Scholes and Giggs in particular close to retirement and with some of the other players aging the squad will thin out a bit so someone dependable who can come in and do a job when required will be invaluable.
Chudi | The Busby Way: I don't mind transfer rumours, they make things exciting but some can be ridiculous. I think we are should be looking at midfield and in goal as the areas to strengthen in the coming windows with certain players not performing and others on their way out.
I have seen us linked with Lassana Diarra and I think he could be a decent signing, when ever you speak to Gooners he is a player they regret letting go and I think he could do a job. I wouldn't mind Defour either but in the same breath I wouldn't want to see the club bring players in that would be to the detriment of some of the outstanding talent we already have. As I said when we were linked with Henderson from Sunderland, is he better than what we already have?
A few contrasting opinions there, we all agree though that before the 2011/12 season there will need to be some movement.
Our third United topic is another player debate: Michael Owen – does he still have a future at the club?
Chudi | The Busby Way: You can't be angry with a player like Owen, he has scored goals and although he hasn't turned out to be the coup Sir Alex had hoped, he has been good enough for me. The winner against City and the equaliser against Villa in the Carling Cup final will definitely be high moments but I think his time here is done. It is unlikely that his contract will be extended and whilst we lose an experienced squad member you can't help but think it is for the best.
Injury hasn't helped his cause but I'm pretty sure his presence at the club has been useful to some of the younger strikers who can learn a thing or two from him.
Doron | Stretford-End: For me, Owen's a gonner. I've really enjoyed having him at the club. Watching him can be a joy, his movement is outstanding and he's much cleverer than I ever thought. However I don't believe that he can add anything more than experience any more. If he was happy to be a 4th or 5th choice striker on a pay-as-you-play contract then fine I don't mind if he stays as he can pass on some great advice to our talented young strikers but I think Owen believes he can still be first choice at a PL club.
Villa to come calling…
Siddarth | Bangalore to Old Trafford: I think Owen's time at the club is running out, with injuries hampering him continually, and Hernandez grabbing the chance he got with both hands, he clearly the no. 4 striker in the team now. And if Macheda also starts to show his true talent, he will easily drop further down.
With the likes of Diouf, Welbeck and King also out on loan, his time at United is nearing an end, I think it's very unlikely that we'll extend his contract, and I can see him leaving as early as January.
TG | ManUtd24: He's going unfortunately, but he's been very important to the club . If fit he's dangerous, but I guess that's the problem, he hardly is. I'd personally be pretty happy if he stays put, and I don't think he minds being a fringe player in the team. That's if his fitness improves, though, and I just don't seer it happening.
Alan | RedForceRising: He simply doesn't have one. His signing actually did signal a lack of ambition for me. I will always appreciate him for THAT goal against City and the goal in the Carling Cup final, but he's always injured when he's needed most and needs to make space for some else more deserving.
We seem to think he's going, but he has provided us with one hell of a memory…City…Old Trafford…95 minutes gone…delirium…
As per usual we decided to look at a non-United topic. This week saw two heavyweights go head to head in the Champions League – AC Milan and Real Madrid. Whilst the game ended 2-2, a certain Pippo Inzaghi came off the bench to score twice, unsurprisingly his second was offside. We share memories about him and discuss his career:
Chudi | The Busby Way: Pipo Inzaghi, a player my brother wholeheartedly believes is one of the best strikers ever! Whilst I don't hold him in such high regard you have to respect how good he actually is.
He isn't a player that was blessed with blistering pace or any of those attributes but what he can do is finish, put him in front of the goal and he will likely score. Always ready to take any chance that presented itself, he was often found offside but people forget that he is also capable of this:
Doron | Stretford-End: I chuckle when I think of Pippo. The guy just makes me laugh. He has had the most amazing career defying the rules of our game!
Beyond the fact he's always offside, he's a brilliant finisher and to still be doing it today is impressive. I remember in the treble year he was one of the most feared goalscorers in Europe, if it wasn't for an offside (of course) he'd have had a hat-trick in Turin in the second leg of that semi final. In truth, a fine player.
Siddarth | Bangalore to Old Trafford: Inzaghi has to be the luckiest striker around for me, but also he's a great finisher and even at the age of 37, he's still vital to Milan and is still scoring.
A very underrated player, he's become what Ole was for us, a super sub, scoring vital goals coming off the bench!
TG | ManUtd24: Sir Alex Ferguson once had a pop at Pippo, famously saying the striker "was born in an offside position." Inzaghi is still going, bless the guy, and must go down as one of the best in Milan's history. He was an absolute joy to watch; a typical 'striker' that had defences quivering in their boots. A legend in his own right.
Alan | RedForceRising: Scored both goals against Liverpool in the 2007 Champions League final to break scouse hearts and you gotta love him for that.
He's slow and he was born offside, but he sure can bang em in, so I congratulate him on reaching parity with Raul for goals scored in European competition.
Pipo has also dated some incredibly hot women who should be way out of his league – proof of being a quality marksman both on and off the pitch.
A bit of United love for the great man there…
————
Best of the blogs:
The Busby Way | WAG Has Her Eyes On Chicharito
Stretford-End | The First Stretty Rant Vodcast
Bangalore to Old Trafford | Man We Needed Back
ManUtd24 | Sir Alex Is Right To Shut The Window On Any New Signings
RedForceRising | Loan Watch: Video of Ajose's Goal
————
That concludes another Red Report for the week. Hopefully this edition keeps you entertained until next Monday. Were always open to hear from you so you can catch us on Twitter:
Follow The Busby Way
Follow Stretford-End
Follow Doron
Follow Kyle
Follow Bangalore To Old Trafford
Follow ManUtd24
Follow RedForceRising
————
But don't forget to check out our individual sites if you think we have missed something, as it is likely at least one of us will have covered it there:
The Busby Way
Stretford-End
Bangalore To Old Trafford
ManUtd24
RedForceRising