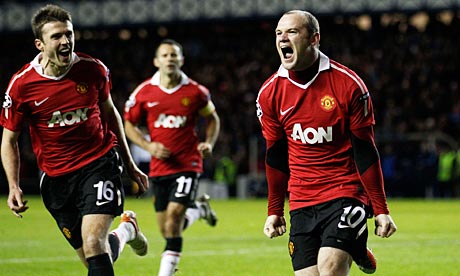 A solitary penalty converted by Wayne Rooney on his first start since his injury was enough to give Manchester United a 1-0 at Ibrox. Rangers were once again set up to avoid defeat but the late breakthrough ensured that United qualify from Group C and now need only a point or a low scoring defeat in their final game home to Valencia to cement first place.
Starts for Rooney and Giggs in particular were welcome sights for United after periods on the sidelines. Smalling and Evans were given a rare chance to impress as Vidic and Ferdinand were rested and left back in Manchester. Rarer still, Evra was given a night off allowing Fabio the opportunity to showcase his talents.
Surprise soon turned to disappointment when it was revealed that Rangers would once again adopt the 5 man back line that so effectively aided them in a 0-0 bore draw at Old Trafford in September. It was clear that Rangers would once again try to thwart United and avoid defeat whilst not making much attempt to go for the win. Their game plan was very nearly undone early on when United should have been awarded a penalty. Berbatov was clearly tripped but nothing was given. The incident took place right in front of the 5th official, begging the question – why on earth did he not signal a foul was made!?
The opening fifteen minutes were a insight into how the game would pan out. United kept the ball well but struggled to make any headway. Two banks of blue shirts were parked just on the edge of the Rangers area, presenting nine players for United to navigate past in order to get close to a goalscoring position. What was noticeable was some kind of return to sharpness from Rooney. Whist his every touch was jeered by the Scottish fans he got on with linking up play. It was particularly pleasing to see Berbatov and Rooney constantly on the move trying to pick up spaces and drag a few Rangers players out of position. Fabio, playing at left back, saw a lot of the ball higher up the pitch and put in a couple of particularly good crosses that were well defended.
Rangers only chance of the opening 40 minutes fell to Kenny Miller. He was played onside by Berbatov and guided a header wide after Weir had flicked on a free kick. Miller had scraps to feed off but looked lively every time he had even half a chance. As the game petered on much in the way it had earlier in the season at Old Trafford it looked unlikely a clear cut chance would ever arise. Rooney twice had half chances, one a miskicked volley and the other a tame shot blocked when maybe last season he'd have tried to beat the defender to leave himself one on one with the goalkeeper. Whilst Berbatov looked strong and held up the ball well at times he appeared frustrated alongside Rooney, visibly moaning at his team mates when often his own passing was awry.
Carrick was for a change the United architect rather than Scholes. His passing was assured and his work rate, excellent. It was he who very nearly did unlock the 9 man Rangers defence. A quick passage of one touch passing saw Giggs pass to Nani who played a one-two with Carrick before trying to take a shot on early but succeeded in only spooning an effort over the bar. Such was the dourness of the game that as the clock struck 37 minutes Rangers had only managed one effort on goal whilst United could only boast four. However just before half time each side came close to scoring. First Rooney got on the end of another superb cross from Fabio but was only able to guide his header onto the top of the crossbar. It was reassuring to see Rooney getting across and infront of his marker so well to create the chance. Within a minute though Rangers had the chance of the half. Kenny Miller turned Jonny Evans all too easily and on the angle bore down on Edwin and the goal but instead of trying to square it and pick out a team mate he shot low and Van der Sar was able to make a comfortable save.
With Valencia beating Bursaspor by a hefty margin at half time there was some optimism and hope that Rangers might just try and go for the win as second place was mathematically still available. They would have nothing to play for though as third sport and a Europa Cup place was assured.
Rooney had a chance to make an impact on the second half early on. United were awarded a free kick in a central position about 25 yards out a minute after the restart. Rooney struck it low curling away from the centre of the goal to the left and just wide. McGregor in goal for Rangers was scrambling to get across but had it been on target he almost certainly wouldn't have got there. Rangers continued with the same approach that had kept United at bay in the first half but did slowly start to commit a man or two more forward in their breaks. European debutant Kyle Hutton had one run through the middle but fired a tame shot straight at Van der Sar from distance.
Persistence pays off; and after 55 minutes United finally created a good opening. Berbatov played a quick ball into Rooney who had drawn in two defenders before expertly laying the ball into the path of the onrushing Carrick. Unfortunately once inside the area, Carrick could only hit his shot straight at the goalkeeper and United would have to try again. Soon after, Rangers would have their only chance of the remaining half hour. Evans tried to shield the ball back to Van der Sar but misjudged the spin on it allowing Naismith to nip in behind the United defence. Edwin had read the situation and was quickly off his line to save superbly as Naismith tried to lift the ball over him. Moments like that serve as a reminder as to why Edwin is still the United number one.
United struggled to get close to the goal as Rangers once again settled into their defensive pattern. Berbatov was able to spin Broadfoot on the edge of the Rangers penalty area but shot straight at McGregor. With the exception of that effort it would be 15 minutes until the next United chance – by that time Anderson had come on to make his return from injury, replacing Paul Scholes who seemed to be rubbing his calf. The chance actually quickly became chances. On 73 minutes Berbatov got in a great position but had his shot bravely blocked before the ball spun wide and from the resulting cross Rooney diving in headed wide. United needed an injection of pace so Berbatov and Nani were withdrawn and Obertan and Chicharito were thrown on. Rangers meanwhile withdrew Weiss, on loan from City, to bring on John Fleck (gamers will be familiar with Fleck who was dubbed as a 'wonderkid' on Football Manager 2009).
It seemed that as United upped the intensity of their play, Rangers were tiring. Young Kyle Hutton became the first player to be booked as he hacked down Fabio very late. Rooney meanwhile started to want the ball more and it nearly paid off – a great first touch made some space and a bending shot was deflected over as the clock went past 82 minutes. Finally a golden opportunity presented itself to United. A dinked ball into the area saw Fabio attempt to head the ball across the box only for Naismith to karate kick him in the neck. This time the officials were spot on and awarded a penalty and a yellow card to Naismith. In front of the travelling United fans, Rooney stepped up to fire the ball into the left hand side of the goal sending the goalkeeper the wrong way. Even the most pessimistic of United fans would agree that the delight, relief and pure joy in Rooney's huge sliding celebration were genuine. One lucky supporter even managed to have a full-on intimate moment with Rooney as he celebrated. The goal clearly was a burden off Rooney's back even if it was only a penalty.
As the game closed out Chicharito shot straight at the goalkeeper whilst at the other end, Smalling bravely blocked a Rangers shot on goal. The match ended with an appearance from James Beattie, replacing Kyle Hutton and yellow card for Whittaker after a silly foul on Rooney.
A 1-0 win for United was the maximum Rangers deserved for such a negative showing in front of their own fans. Rangers managed only 7 efforts on goal whilst United's total stood at nearly three times that amount – 20. United can certainly be pleased that in Chris Smalling and Fabio da Silva they have two excellent young players. Smalling was ever so assured and looked very classy. His reading of the game is particularly impressive. Fabio is just a carbon copy of his brother, Rafael. It's almost a shame he has to be behind one of the top left backs in the game who just seems to never get injured.
United are three points clear of Valencia at the top of Group C now with qualification assured. A draw at home against Valencia in the final group game would seal top spot. As is the way with United, they can make a little bit of history in their final group game. Should United keep a clean sheet against Valencia, they will be the first team ever to have not conceded a goal in the group stages of the Champions League. With Valencia also through, both teams may try to rotate and showcase some younger players in that final match. United should be delighted they got the job done against a resilient Rangers. Fortunately they won't have to play Rangers again for at least the best part of a year!
Ratings : van der Sar 7, O'Shea 6, Smalling 7, Evans 7, Fabio 8, Nani 6 (Obertan 6), Carrick 7, Scholes 6 (Anderson 6), Giggs 6, Rooney 7, Berbatov 6 (Chicharito 6)
Yolkie may choose to add his own ratings later