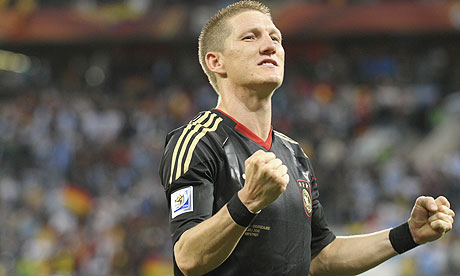 Former Chelsea and Bayern Munich midfielder Michael Ballack, has stated that he believes fellow countryman Bastien Schweinsteiger could move to Manchester United or Real Madrid, describing the potential transfer as an 'attractive offer'.
The versatile midfielder, who starred at this year's World Cup Finals for Germany, is out of contract in the summer of 2012 and could be tempted to move abroad like Sami Khedira and Mesut Ozil who moved to Real Madrid straight after the 2010 World Cup Finals. With Bayern concerned that Schweinsteiger could leave the club for nothing come 2012, United may be tempted by a knock down bid for the 83 cap man.
Discussion on Bastian Schweinsteiger to Manchester United rumours in here.

Ballack, who had many run ins with Manchester United in his time at Chelsea and also at Bayer Leverkusen, spoke today about Schweinsteiger making the next step in his career:
"He has taken on the responsibility placed in him and is now in a phase when he is looking to reach the zenith of his career. He took a huge step forwards at the World Cup. He has presence, authority, personality, performance and goals – he has everything. Only he will be able to feel what is right for him for the future. Of course every footballer is attracted to certain things and Bastian will feel these also. But there are not that many big clubs around and Bayern is one of them. On the other hand, Real or Man United are both attractive and he would fit in well at both clubs."
Although transfer stories like this come around every once and again, I really can't see Schweinsteiger moving to United. Firstly, we have great experience at understanding how players can manipulate the rumour mill to fashion an even more lucrative contract to the one they are on already – so don't be surprised if Schweinsteiger does remain in Germany with Bayern. There was also reports that Bayern were unhappy at United's pursuit of Owen Hargreaves back in 2006 before he eventually moved to Old Trafford in the summer of 2007. So relations between clubs isn't great and as we all know from the Alan Shearer saga in 1996, when a club doesn't want to sell a player to specific club – he will go elsewhere.
Schweinsteiger has matured into a top class midfielder that has found his best position as a deep lying midfielder in a 4-2-3-1, a position he shone in for both Bayern and Germany last season. His performance against Argentina in the summer was exceptional, combining superb distribution with pressing – he was one of the best players at the tournament. Alongside Van Bommel, he has found an impressive balance – which helped the club to the Bundesliga title and runners up in the Champions League. The German, who is still on 26, has come along way from his early days of being stuck out on the right hand side of midfield. Although not a great goalscorer, yet to hit double figures domestically, every top European club will be interested in Schweinsteiger and at a knock down price – United should expect stern competition.