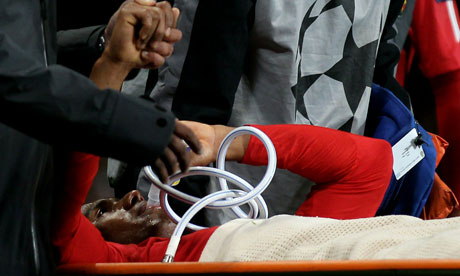 Manchester United 0-0 Rangers
A dull Champions League opening day disappointing stalemate was surpassed by the heartbreak of Antonio Valencia's terrible injury. Glasgow Rangers not only parked the team bus but also that of the supporters' as they demonstrated the most remarkable lack of intent and ambition – showing far less integrity for the competition than Sir Alex Ferguson's ten changes for the hosts did.
A 0-0 scoreline was almost inevitable after just 20 minutes of this fixture; United's Scottish opponents were always intent on leaving with that scoreline, so their line-up, which at times resembled something like 6-3-1 was never going to seriously be tested by the Red Devils. This was despite Fergie bringing in the inexperienced faces of Chris Smalling, Fabio, Javier Hernandez, and the still tactically naïve Darron Gibson – a side that should have given any visitors encouragement to at least launch one or two purposeful forays into the opposition half, but the Scottish champions were clearly not interested in taking part.
Chicharito had an early header wide and then was unfortunate to get onto the end of clever Rooney work, though the hosts then saw their chances restricted mainly to over 20 yards. Gibson saw a number of ambitious and largely ridiculous efforts from long range go wide and over, with only one even testing the keeper. Rangers keeper Allan McGregor's booking for time wasting – before half time! – were a clear statement about their intention from this game.
The only chances even worth noting in the second period were two Gibson long range shots that were nothing like serious chances, leaving Antonio Valencia's sickening injury on the hour mark the unfortunate headline of this drab game. Valencia's injury looked like a clean break; after such an impressive debut season, this is a hugely heartbreaking setback.
0-0, in any light, is a bad result; though neither side can really emerge from this game with credit. United at least attacked with intent; Rangers may well be content with their result – what they did, to their credit, they did well – but their performances will have to be far more imaginative if they want to progress in any of the European competitions this year.
Ratings : Kuzsczak 6, Brown 6, Ferdinand 6, Smalling 7, Fabio 6 (Evans), Valencia 6 (Giggs 6), *Gibson 7, Fletcher 6, Park 5 (Owen), Rooney 6, Hernandez 5