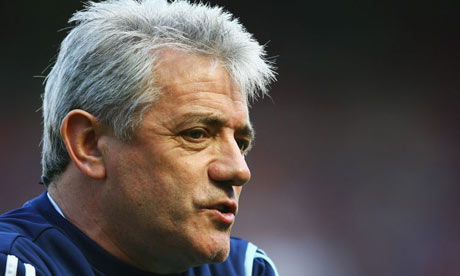 Former England and Newcastle United manager Kevin Keegan has rubbished any press intrusion excuses regarding Wayne Rooney's form. Rooney was substituted on the hour in the 2-2 draw with Bolton Wanderers yesterday after a quiet afternoon. Keegan was quick to point out that Rooney was keen to sell wedding snaps to glossy magazines and can't have the best of both worlds when something goes wrong. Sir Alex Ferguson was quoted last week stating that Rooney 'could not turn a corner' without the media being there to hound him.

Keegan, who seems to have given up the managerial hot seat for a comfy pundits armchair, was speaking to ESPN after the game:
"You can't then turn around and say there's too much paparazzi around or too much publicity. You can't have all the contracts, sell your wedding to magazines and things like this, and suddenly say, 'That's the tap I want to turn on but we want to turn the other one off'. It's just one tap and I know from when I played that if you are advertising boots and all these things, you have to go and make appearances. You are going to appear in the paper. But the one thing I would say is keep your home and your family out of it and just take your endorsements if that's what you want to do. One minute you are courting it, the next minute you're saying 'I don't want this."
Keegan also believes the striker is suffering from a lack of confidence, a contradiction to Ferguson's comments earlier:
"His performance at Bolton tells me his confidence is shot. Last year, you'd fancy him to put some of these chances into the net. For United to get back to where they should be – and winning at places like Bolton – they need to be getting Wayne Rooney firing on all cylinders."
So Kevin Keegan is basically saying, "you have made your bed now lie in it" – which I tend to agree with. If you are going to sell pictures of your personal life to magazines and publications for a commercial gain, then you must be prepared for bad press. My personal opinion, is that I don't care about good or bad press regarding any of our players. I didn't rush out and buy Hello or OK! (don't know which magazine he even sold his snaps to) when he and Coleen got married, likewise I didn't rush out when he received bad press for his reported affair.
Wayne Rooney is a magnificent footballer who has been told that since he was a child. As you grow older and you receive more and more praise it can be hard to stay grounded, especially with the colossus wages top footballers command. This isn't a defense, but merely a theory towards understanding why the majority of the England first Xi have been involved in affairs – allegedly. Rooney, like all of us in our lives, has to work whilst he has a big problem in his personal life. He will, like all of us, get through it – but just needs time. Although I do agree with the majority of what Keegan is saying, he is actually just stating the obvious.
Related Posts:
– Rooney linked with La Liga Switch
– Rooney and celebrity obsessed culture
– Media timings