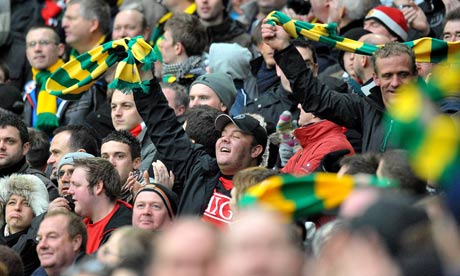 After writing a couple of articles about the Glazers before the season, Stretford-End.com made a conscious effort to steer away from that negativity. However, it has come to light that Manchester United are taking money from season ticket holders accounts way earlier than usual – so we ask the question, are supporters paying the real price of the protest?
I made public my dislike of the "Red Knights" association with the Green and Gold campaign. The green and gold campaign was supposed to be a long term – and peaceful – protest against the current ownership of the club. It was mocked by some sections of the media and even rival supporters but when you consider our greatest rivals, Liverpool, were thinking of copying it or at least using it as inspiration for a similar protest of their own, then I think there is a begrudging appreciation and maybe even a nod of brotherhood that extends beyond any tribal rivalry.
Nonetheless, MUST saddled themselves alongside the Red Knights which meant the Green and Gold campaign was inevitably linked to them. The Red Knights made statements and implored supporters to boycott their season tickets and just not to go matches. It was hard to be judgemental of whatever stand people took. Those that earned most sympathy from me were those who had had seats for generations, those who may have even waited a generation to get those seats. I had less respect for those who had gotten their tickets over the last 10 years yet still claimed to "Love United, Hate Glazer". For a while, I felt the Green and Gold scarves over the spanking new AON shirt were a bit of a hypocritical yet fundamentally sad message regarding the lack of knowledge about the Glazers ownership and the general passive attitude – when it really matters – about the future of our club.
On reflection, it's not really about that. The green and gold campaign was only effective because it was so visible; and wasn't LAUNCHED as a protest against giving the Glazers any cash. How would 70,000 seats of green and gold really convey that message effectively? They did, however, convey that the supporters were behind the club and not behind the owners. Message sent, until the Red Knights tried – successfully, unfortunately – to steer their own agenda through the G and G.
I had conflicting emotions when I took "temporary relief" from my own boycott to go to Old Trafford for the first time in more than two years when we took on West Ham recently. I did so on personal reasons; the missus is from a West Ham supporting family, and she'd never been to Old Trafford before. We're getting married in November and it was one of the things on the "to do" list and was convenient. That convenience swayed me from a boycott I believe passionately about was enough to give me food for thought on whether or not I was justified at all to have a negative opinion on anyone who made any decision whatsoever. Of course, my anger at the sheer refusal to even acknowledge what the Glazers were doing remained, but faced with these difficult decisions game in game out, I couldn't really justify directing anger at someone who'd made a choice to stick around.
And the worst thing of all of this is? There were those who were apathetic and passive yet judgmental, who didn't make a stand, and didn't understand. They have created disharmony among the supporters when we least need it. So, in a time we all need to be pulling together – and even, with so many different ways to make your point, it was still possible to do that without being hypocritical so long as you actually understood what was happening – instead, we all end up not knowing where we stand and knowing where we stand with each other. It's enough to make me reach for the chequebook and buy both new shirts – and buy them from the megastore to ensure I was paying 50% more – just so I know I'm supporting the club…!
That uncertainty of who, exactly, we should point the finger at, reared its head again this morning when I talked to a number of season ticket holders who had already had money deducted from their account for the Bursaspor home game on the 20th October – some, even 6 weeks in advance! Phil, one of my Twitter followers & a United season ticket holder who actually lives on the Isle of Man so has more than his own share of difficulty to even get to the league games, shares his own frustrations.
"I understand being given an option to keep our seats for cup games, or opt out and give them up for United to sell on. Me and my brother opt in in the hope that we can go to games later on in competitions (if United don't get knocked out), knowing that bigger sides would be coming to Old Trafford. Living in the Isle of Man, we can't afford to go a lot of the games, so we try to choose the better ones. Using last season as an example, one of us was over for games against City, Liverpool, Milan and a few more. This season, my brother has been to the Newcastle game and Liverpool one from 2 days ago. We don't moan about the cup scheme, as it was our choice to opt in and go with it, even though our seats cost us £43 per game.
Last season, money used to come out of our accounts at the start of the particular month in which game was being played, so the Bursaspor money would have come out at the start of October. This season, it seems to be happening earlier and earlier. The money for the Rangers game was charged as soon as the Champions league draw was made and fixtures were confirmed. This time, with the Bursaspor game not being played until the 20th of October, money has come out of our accounts a whole 5 weeks before the game is played.
Imagine us telling our customers that we're going to charge them for their meals a whole 5/6 weeks before they turn up to eat, and that money's ours, even if in the end they don't turn up!
A couple of times last season, we tried to sell our tickets through the ticket exchange. The fees they charge put people off I think. For our tickets that have a face value of £43, people get charged over £60. We understand Viagogo have to make something out of it, but we think it's way overpriced.
In the end we were offering our tickets to people on Twitter as we'd rather give them away than seeing our seats empty. We didn't even ask for money, though a couple did put money in the post when they returned our tickets.
To clarify, I'm not disgruntled about the scheme, just about how early we're being charged for games that most of us won't even bother go to (in our case because of travelling costs).
Of course, it is the Glazers' ownership and the changes that come with it that supporters initially blame. How much, though, is it the fault of those who DID boycott? Do supporters have a right to feel disdain for their former seat neighbours? Do those who have boycotted feel any sympathy for those being financially punished because of their actions? After all, the club's official line will doubtless be that declining season ticket sales meant they had to source the money from somewhere.
That they were doing so just two or three weeks earlier than what they had done in previous seasons goes to show how little the club value the supporters under their current ownership, and also, the extent of the financial trouble they must be in if they have to resort to the corporate equivalent of a thieving mate, stealing money from your wallet even though if they'd had asked you would have given it, and it was their birthday coming up which meant they'd have got that and more! It damages the relationship just as it would with the mate; you don't quite see them the same after that.
Unfortunately, that is the club under the current owners. And even more unfortunate, the longer they remain in charge, the harder it will be to differentiate or justify the behaviour of the club we love from the greedy owners we hate.
—-
Now's as good a time as any to remind you of our own Green and Gold protest.
Instead of asking people to make a decision with their money, we're inviting you all to join us in asking the club to ensure they don't further damage the relationship with the supporters and also to have your own request that the club establishes a long term identity.
We have launched an online petition to ask the club not to release a green and gold shirt while the Glazers are in charge, and also to establish those colours as part of the clubs official colours after such time that they leave the club or otherwise lose control of it.