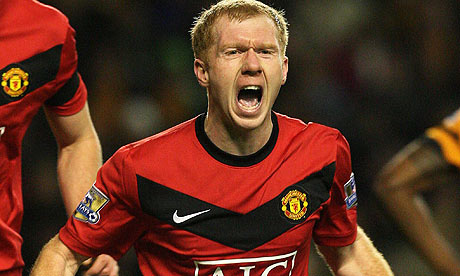 Having signed a new one year extension to his contract, Paul Scholes gave a masterclass today at Eastlands, showing there is much more to offer in those aging legs. His late headed winner was priceless considering the events that would unfold at White Hart Lane in the evening. Sir Alex Ferguson was full of praise for Scholes, who made his debut in the League Cup some sixteen years ago (scoring twice I might add), stating that he was the best player on the park. Other than getting the winner, Scholes was immense throughout the course of the game – always showing from the fullbacks to pick up and the ball and turning to switch play. Both Tevez and Adebayor ignored our number 18, who set the tempo throughout the course of the afternoon.

Scholes, who has notched up seven goals in all competitions, was clearly overjoyed by his contribution to 1-0 victory and understood how much it means to the fans:
"It's a massive game for fans of both teams and I know how much this will mean to our fans, and I can assure you it means exactly the same to us. It's great, obviously. To win in a Manchester derby is a big thing, whatever way you do it, and that's three times this season where we've managed to score in the last minute to win games and it's a nice feeling !"
Sir Alex Ferguson was full of praise for Scholes and highlighted his natural ability to arrive at the right time in the penalty area:
"I think he was the man of the match to my mind. I thought he was absolutely fantastic. He's such a skilful player, he was wonderful today. I was prepared to put him forward a little bit, knowing that there's no-one better at ghosting into the penalty box and getting into the good positions. There was no-one near him. It was a free header and he took it very well."
Scholes' overall contribution was extremely impressive with a 92% pass completion rate. He out passed Fletch (43), Gibson (27), De Jong (30) and Barry (35). Check out his passing range (Both long and short passes throughout the game) and his ability to get around the pitch to offer support both defensively and as a creative force:
I mentioned that he was impressive as a creative force but I thought defensively he was sublime all game. People joke about his rash tackling over the years. Whilst this is true, I've always thought that his positioning to get behind the ball and apply pressure was/is top class – which is fully demonstrated in the screen shot below:
We all know what a class act Paul Scholes is and what a servant he has been to the club over the years. His performance today demonstrates that he can still control the pace and tempo of an important game. He might not be able to get about the pitch as he did in his heyday, however he has evolved his game so that he can continue to play at the top level, just as Giggs has done. I can't stress how impressed I was with him all game today and his goal epitomised what he is all about – movement, right place at the right time and goals.