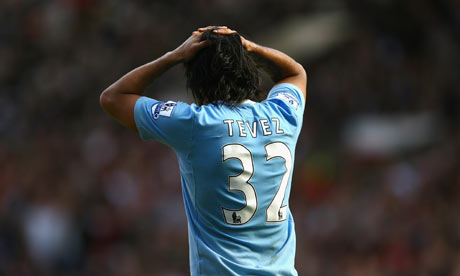 Sadly the image of Wayne Rooney and Carlos Tevez battling for the same ball looks a remote possibility for the weekends derby clash at Old Trafford.
Regardless, as part of the City squad, the Argentinian is expected to rock up at the Theatre of Dreams in some capacity and Tevez has stated in today's Telegraph, "I expect to have a good reception.. While at United, I always gave my best and I had good relations with the fans. "

"They know I did everything while at Old Trafford to try to score the goals that would help the team win matches, so I don't know why I should have a bad reception.
"What will I do if I score a goal? Well, I will be glad, but I don't think too much about that right now. "
The guy must be living in cloud cuckoo land. Since moving to the council house Tevez has felt the need to consistently slag the manager off in the press. Carlos me old mucker, it's MUFC the Religion, if you disrespect our leader you will find yourself not getting a good reception. Part and parcel of the way you use the media.
This is of course only reason 1 to dislike him, there are many others; whoring himself out to the highest bidder; rejecting United when we did actually put the deal he wanted on the table; and the ear cupping against City last season which in itself divided some fans. And the list goes on.
So onto his comments that he "doesn't know" what he will do if he scores. We all know what this means, it's a defence for some Adebayor-esque reaction. Mark Hughes went down as one of the strongest bulls in United history but as a man manager with all these egos he looks like he has no control as a disciplinarian whatsoever, his players say things and behave in such an incredibly inciteful way.
I know money can change the kindest of people but just what is it about City that has made all of their players so utterly repellent upon moving? I can't remember Chelsea – Ashley Cole aside – having such a bunch of despicable characters all in one place. Gareth Barry wants to leave Villa for Champions League football, fine, he ends up leaving for a club that finished 4 places under them in the league. Tevez ends up on a poster for City and makes numerous comments about his old boss. He moves because he wants more playing time. First game? On the bench. The sweetest irony.
We all know about Adebayor's quest to become Public Enemy number one but this week even formerly likeable Kolo Toure spoke out in defence of his stamp. And finally we had Joleon Lescott, at a club that has honestly progressed the right way, disrupting said club and disappointing a nation of fans who thought he had better character, jumping ship even though he was clearly a second choice target.
I'm not saying Manchester United are angels in the transfer market and indeed, most of our players are the very target of probably greater venom but that is due to most fans rabid and irrational hatred of the club rather than any real actions by the players themselves (Rio's haircut, Neville's 'tache and Rooney's physical attractiveness all seem rather insignificant crimes compared to the behaviour of their city rivals to be fair).
But for now it seems in any event the closest Tevez will get to influencing the action on the pitch is his starring role on a big blue billboard in the City Centre that our crafty and supposedly silent manager may just have pinned to the teamtalk board in place of any motivational speech.
The wall of sound he is expecting is probably as far removed from reality as his own perception of self worth.
All that aside, I should make it clear that I did actually like Tevez the player. And I do still rate him. And, I do think at today's rates that £25m wasn't the worst price we could have paid. But attitude goes a long way towards the history of a player and who would have thought in early June that between Ronaldo and Tevez it would be the dignified way Ronaldo has spoken about the club since his departure that has probably gone a fair way to salvaging his legacy at Old Trafford, while Tevez will find out just how much we still love him on Sunday.
So on to the game itself – it would be foolish of me to make any predictions, least of all because derbies are by their very nature unpredictable even before taking into account all the extenuating circumstances of this specific one. What I will say is what I said before the last two games – I've no doubt many United supporters want us to score two or three but given the significance I would take a 1-0 win. Points are all that matter, particularly in derby performances and I would gladly take scrappy wins if it means they are punctuated with performances the likes of which we gave at Wigan and Spurs.
And strangely enough it is in the fact that City will probably be without Santa Cruz, Adebayor and Tevez that I think United supporters ought to brace themselves for a scrappy game – with only Bellamy likely to lead the line expect a 5 man City midfield and that will more than likely mean Fergie opting for the flexible 4-3-3 system that while bringing results has looked decidedly ineffective. Will he throw caution to the wind what with the game being at Old Trafford? You would like to think so but in the modern game Fergie is all about results first. And as long as the result comes, who are we to argue?