You may also find these links interesting: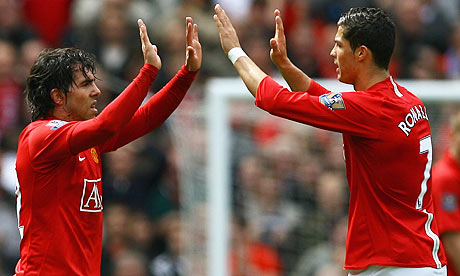 The 141st Manchester derby provided as comfortable an occasion as Sir Alex Ferguson and his Manchester United troops could have hoped for at such a crucial stage of the season, as they returned to the top of the table.
The 2-0 victory, while petering out for the whole of the second half on the pitch, was achieved with goals by two players who appeared to throw their Old Trafford futures in doubt once again.
Cristiano Ronaldo gave the Champions the lead – Dimitar Berbatov was felled around 25 yards from goal, and the United number 7 continued his excellent recent form by drilling in the right hand corner of the goal.
Carlos Tevez then made two telling contributions – the first acting as somewhat of a forecast for the second, with his initial 20 yard effort smashing against the outside of the post, and then his second – after the sublime creation of Berbatov – found the inside of the post into the goal to seal the result. The much loved Argentinian's response was to cup both ears in direction of the South Stand – evidently in the hope of a stronger attempt to sign him from Sir Alex,
The second half was almost a non-event save for a hysterical reaction by Ronaldo to being substituted – throwing an offered vest to the ground and then almost pathetically offering pouts to the cameras for a full 2 minutes.
The visitors only really threatened through a wild Robinho half chance and an effort that van der Sar magnificently saved, while United could have added another with a late flurry, most notably through Rafael who saw his effort saved.
What looked like one of United's toughest remaining fixtures on paper didn't turn out to be so in reality but the lethargy of the performance, particularly after Tevez's goal and the reactions of both he and Ronaldo will probably have given Sir Alex an untimely – and ultimately, more prevalent – potential disharmonious headache in a crucial week for the club.
Source: (Yolkie)