You may also find these links interesting: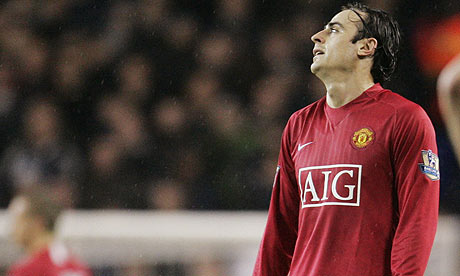 Tottenham Hotspur 0-0 Manchester United
The Premier League Champions concluded their pre-New Years domestic schedule of visits to last years top 9 with a drab goalless draw at White Hart Lane.
A United side shorn of the suspended Evra and Rooney, and holding Giggs, Nani and Anderson back on the bench seemed bereft of any threat, as did their hosts.
Indeed it was substitute Giggs' fantastic last minute free kick effort which proved the closest United would come to a goal, as Spurs much maligned keeper Gomes rounded off a defying display to push the Welshman's strike onto the crossbar.
Returning £30m front man Dimitar Berbatov was booed at every opportunity by the home crowd while constant villain Cristiano Ronaldo offered little in the way of productivity – Sir Alex Ferguson's insistence to play Park at the expense of his more able alternatives was just the the tip of the iceberg in the case of reasons the Red Devils were never going to win the game.
Manchester United head to the World Club Championship in Tokyo this week and will now be hoping after this slip up – which saw their away record extend to a pitiful three wins in 9 games – that leaders Liverpool and Chelsea don't put an unattainable obstacle in their path before the trip to Stoke on Boxing Day.

Source:(Yolkie)