You may also find these links interesting: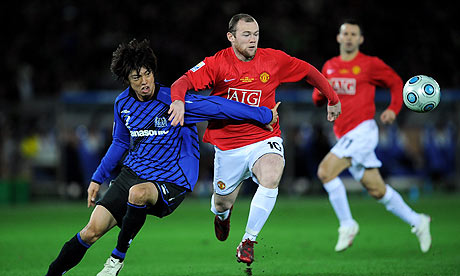 In the battle between the European and Asian Champions League winners it was the Western representatives that won through to Sunday's World Club Championship Final, but the Japanese side Gamba Osaka gave a spirited performance.
Manchester United fielded a strong side despite being robbed of the services of Berbatov through illness and Rooney (at least as a starter) through injury and started the semi final with clear intent – Cristiano Ronaldo, subject of renewed transfer rumours coming from Real Madrid, was completely unplayable.
Gamba came close when Bando broke free and fired for goal – but Edwin van der Sar was equal to the chance, making a good save.
The Japanese side's experienced skipper Yamaguchi's presence was vital as his numerous interceptions prevented what could have been an embarrassing start for Gamba.
Just before the half hour mark, Ryan Giggs' cross (just as it did in the 1999 Intercontinental Cup) created the opening goal, his corner being headed in by Nemanja Vidic.
Moments later Ronaldo broke free on the right hand side and whipped in a lovely ball – Anderson was agonisingly close to his first United goal, but could only get the slightest of touches on it.
The Red Devils were enjoying the occasion and were using a variety of combinations to open up their opponents – switching the play using long balls, the industry and movement of Giggs dropping off Tevez, and the ever willing Ronaldo providing the three highlights of the play.
And in first half stoppage time the Ballon D'or 2008 winner got the goal his performance deserved, rising well to head in another Ryan Giggs corner.
The second half gave every indication that it would just peter out and United made their substitutes, as Evans and Fletcher came on for Vidic and Scholes, and then Rooney came on for Tevez.
However as Rooney entered the game, with 15 minutes left, a wild conclusion followed. With the crowd still applauding Rooney's introduction, United were caught cold and Yamazaki halved the deficit to gave the Japanese club hope of a comeback. But, with the crowd still applauding the goal, Fletcher played Rooney through who dummied the marker and, with his first touch since coming on, slotted in coolly with his left foot. Soon after, good work on the left side by Evra and Nani culminated in a Nani cross which was headed in by Fletcher.
More was to follow as after a good move, Giggs' exquisitive first time ball was comfortably scored with ease by Rooney. It was 5-1 and there was hardly time to breathe before Gary Neville was harshly penalised for handball when he was turning his back on the ball. It was particularly harsh given Neville had previously saved a certain goal with an amazing block tackle.
Endo scored the penalty – a satisfactory end for the midfielder who had been running a personal battle with van der Sar with long range shots in the second half.
Into injury time and the scoring still wasn't finished – Gamba netted again with a storming finish by Hideo Hashimoto.
Utlimately though, it was the English champions who won through to face Ecuadorian side LDU Quito in Sunday's final.
Source:(Yolkie)