"I'm a bit fed up", sounds like the ramblings of an 80 year old pensioner who has been told that there isn't anymore Bingo left for the rest of the evening – rather than the manager of the European Champions who continue to frustrate with regards to the amount of chances that aren't being put away.  Looking as far back as the Blackburn Rovers game, in which United scored two through Wes Brown and Wayne Rooney, it was clear that the margin should have been much greater than it was, despite the fact that it was the best performance of the season.
The last three games have resulted in United scoring seven goals and conceding four.  One thing that has stood out for the United manager is the below par second half performances that have continued to grow.  United should have had Everton dead and buried before they scored, United should have increased their goal tally against West Ham and Hull City should never have been allowed back into the game especially considering the amount of chances United wasted.  Are United becoming complacent in their recent performances?  Is this something that needs addressing?
Fergie receiving some kinda HMV award or another pretentious present from the great man. 
Although we are third in the table, five points off the top of the table with a game in hand and we haven't even hit top form yet – where's the problem?  There isn't really, however we know from history that Fergie lives and breathes football and has always drilled home the importance of finishing games off.  He quite famously was disappointed with his Aberdeen side even though they had just won a Cup final – because they didn't perform to his high standards.  Fergie won't be too concerned with the fact that United are in a good position to challenge Chelsea and Liverpool at the top of the table but I believe a good solid performance, for 90 minutes, against Arsenal will leave the boss extremely satisfied.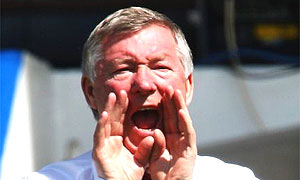 I said Decaf….DEEEECAF! 
In contrast Arsenal are having an even worse time.  Defeats to Fulham, Hull and now Stoke City have left Arsenal trailing behind without playing any of the top four.  Arsenal host United on Saturday and this is the first time they will play one of their main 'title' rivals.  United, on the other hand, after the game will have played all three title rivals away from home.  Combine this with a win and United will only be two points off the top of the table – providing the game in hand is taken into context.
Arsenal could well be without Adebayor, Walcott, Gallas and will definitely be without Robin Van Persie – who was sent off against Stoke City the weekend.  This leaves Wenger with a striker dilemma and a possible combination of the not quite good enough Bentner alongside the vastly talented by inexperienced Carlos Vela – something the United backline will welcome.  Rio Ferdinand once stated that Adebayor was one of the toughest opponents he has ever faced will be a welcomed omission from the Arsenal forward line.
A friend of mine, who for his sins is a Gooner, is concerned with the state of affairs at the Emirates.  He made the good point that Gallas isn't a top class center half, highlighted by the fact that Mourinho never played the French international in his desired position – because he simply couldn't trust him.  He was livid with Arsenal throwing away a two goal lead against Tottenham – something he said you wouldn't find United doing (although the Hull City game was quite close!).  He is dreading the visit of the European Champions but, dependent on the results in the week, Arsenal could well build up a siege mentality of 'us against the world' – which as we know can be a very effective mentality in the big games.
Lets go and have a nice cup of tea and watch countdown hey? 
Fergie will be drilling home after the Celtic game how important it will be to get a result on Saturday and maintain their focus throughout the ninety minutes rather than the first forty-five.  I believe United will line up (dependent on injuries) with Van Der Sar in goal, Neville and Evra at full back whilst Rio and Vidic will be at center half.  Ronaldo will occupy the right side of midfield with Fletcher and Anderson playing in the middle of the park (dependent on Carrick's fitness he may replace Anderson) and I would personally opt for Park on the left to track the forward runs of Sagna and Clichy (if he swaps with Ronaldo).  Lastly, no change up top with Rooney and Berbatov building on their partnership.
Although a depleted Arsenal – Fergie will know they will continue to play the way in which Wenger can only play and for this reason it will be essential United get off to a quick start and put Arsenal on the back foot.  Fletcher will be given a job in stopping Fabregas from playing, whilst as mentioned before Park's stamina will be essential in neutralising Arsenal's overlapping full backs.  Fergie's first eleven choice will be quite easy for him – ironically the same can be said for Arsene Wenger, however not with the players he would like to have.