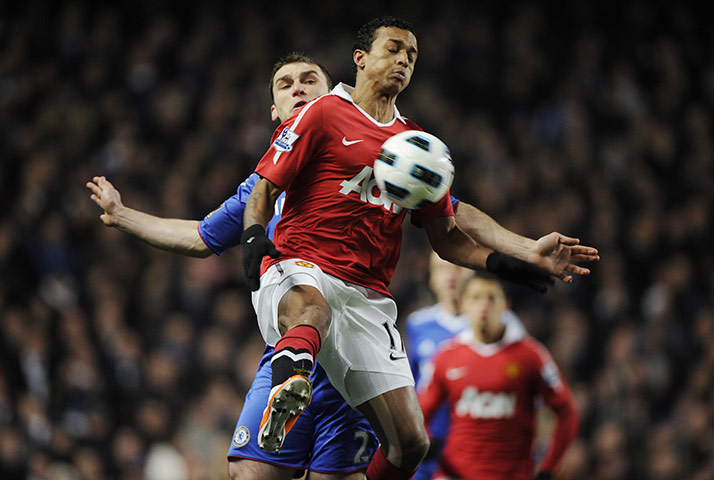 AUTHOR: – Doron
The only way to describe that is "a tale of two halves". Following on from the flattering 4-0 win at the weekend, United played a very good first half and deservedly were ahead at half time. However Chelsea upped their own game and overpowered United to clinch three points and give Arsenal more than a sniff of a chance in the league. Below are the main talking points from the match.
Talking Points
Berbatov out, Chicharito and Rooney in
An unchanged line-up was arguably the biggest surprise of the night, It was coming up to three years since the last time such a thing happened. Chicharito's inclusion alongside Rooney was and wasn't a surprise. Ferguson went with his two strikers in form – Rooney had 4 goals in his last four league games whilst Chicharito got two goals at Wigan to take his record to 6 goals in 8 Premier League starts and incredibly, 9 goals in 13 shots in the league. The problem of course is that Berbatov is the league's top scorer and arguably as a sub has less impact than Chicharto. Only two weeks ago, Ferguson told manutd.com:
"Possibly at this moment in time [he's better at coming off the bench than starting]. He's a great impact player,"
The inclusion of Chicharito maybe was to use his pace to scare Chelsea or the fact that he seemed to link well with Rooney at Wigan. For Berbatov, yet more frustration -since his last goal over a month ago he's only played 295mins in total.
As for how the two got on… Chicharito, despite excellent movement, struggled to make a mark on the game and didn't have a single shot on goal. Rooney had one of his best games of late – his work rate was excellent, his passing accurate (88% successful) and he was willing to take men on. He had four efforts on goal; one of which gave United the lead – a sweet strike from 20-25 yards (assisted by Nani who now moves on to 15 league assists).
Berbatov did come on for the final 20 minutes but only touched the ball 5 times. As Zonal Marking points out – Rooney and Chicharito had little luck in the physical area of the game. With Berbatov looking ineffectual from the bench, it raises the question of who should start at Anfield on Sunday.
Two contrasting halves
As halves of football go; those two were polar opposites. United started on the front foot seemingly comfortable with the idea of playing a traditional 4-4-2 away from home – a rarity these days. On the ball United were able to impose periods of pressure on Chelsea, playing football high up the pitch. This was emphasised by how high United's full backs were able to get:
Click on diagrams to enlarge
Heatmap for O'Shea and Evra in the first half
As he heatmaps show, O'Shea spent 44% of his time on the ball in the final third of the Chelsea pitch and Evra 39% in the opening half of the game. The team attempted nearly 300 passes with over half of them coming inside the Chelsea half. Such was United's dominance, Chelsea were only on the ball for just over 2/3 of the time United were.
The second half though told a different story. Chelsea pressed United more and despite not playing their game higher up the pitch their intensity level rose as they were able to slow the game down. In the second half, Chelsea actually saw less of the ball than they did in the first 45 but crucially they restricted United to only 228 passes, nearly 100 less than in the first half. This took its toll on the team. The front six had been influential early on but struggled to repeat the domination in the first half:
Front six passing comparison – first vs. second half
NB Scholes and Chicharito were both subbed on 70 minutes
The tell-tale signs of United's regression in the second half is there to see. Chelsea were able to restrict all United's ball players and stop the periods of United pressure/dominance that were seen in the first half. Whilst United still had more of the possession, too much of it was going sideways whereas Chelsea, through Lampard, Ramires and Essien in particular started to shift the ball forwards much more. Arguably, fatigue started to also take its toll on United as they started to sit back deeper having played on Saturday – whereas Chelsea were fresh from a weeks break.
United's full backs, so often the driving force in attacks also regressed in the second half:
Heatmap for O'Shea and Evra in the second half
Having spent 44% of his ball playing time in the final third of the pitch in the first half, John O'Shea only got that far forward in 6% of the second half. Likewise, Evra, was only in the final third of the pitch for 23% of the second half, compared to 39% in the first half.
As it happens, United had more shots in the second half with two of the three efforts from inside the penalty area coming in that final 45. However United were never as comfortable or as in control of the game.
The penalty decision
There were just over 10 minutes to play when substitute, Zhirkov, tripped over Smalling's leg. Atkinson, to the dismay of the United players pointed to the spot and Lampard scored to give Chelsea the lead.
Having watched the incident a few times now, I still cannot decide whether I think it was a penalty or not. There is a chain of events though:
1. Smalling wins the ball
2. When winning the ball Smalling knocks it forward and it hits Zhirkov on the shin
3. Zhirkov doesn't have control of the ball but because he's running forward, the ball goes forward when it hits him
4. Smalling regains his balance by taking a small step forward
5. Zhirkov, already stumbling, trips over Smalling's now stationary leg and a penalty is awarded
The area that bothers me is that Zhirkov doesn't have the ball under control – the more I watch it the more I think that the Russian may have even dived. However, I can understand why it's been given and according to the letter of the law, it's probably a penalty. It is incredibly soft but a decision that every team would want if it happened to their player and one that every defending team would claim is not a penalty.
Speaking to MUTV, Ferguson said post-match:
"It's very soft, Chris has actually won the ball… it's very very soft, amazing"
You decide for yourself if you think it's a penalty:
David Luiz
It's rare for us to be talking about an opposition player but a lot seemed to centre around the young Brazilian tonight. To start with, he had an excellent game. He won the aerial battles against Rooney and Chicharito, and showed he's very capable going forward as well.
Luiz was certainly a reason Chicharito and Rooney struggled in the game. His stats are impressive dispelling any ideas that he's afraid to get stuck in or that he'll need time to adapt to the English game:
David Luiz tackles
David Luiz clearances
Strong in the tackle and not afraid to get rid of the ball, David Luiz had an excellent game defensively. He also showed some class at the other end too. Following a knock-down by Ivanovic, Luiz reacted quickly by volleying an effort with immense power into the corner of the goal past Van der Sar to equalise for Chelsea.
As good as Luiz was defensively, he was also lucky. After some persistent fouling, Luiz received a yellow card just after an hour of the game for yet another late tackle on Wayne Rooney. Just 15 minutes later, Luiz was incredibly late again on Chicharito, yet the incident went unpunished by the referee. Only a few minutes after that incident and two minutes before Chelsea would win their penalty; Luiz again took out Rooney late. Referee Martin Atkinson was only yards away but again gave nothing.
It seemed a shame that such a good performance by Luiz was blemished with such a poor refereeing decision. Needless to say, it was arguably a game-changer and United would later go on to loose their cool.
Speaking about the non-red card, Ferguson told Sky Sports:
"It's incredible. Even before that, he's done Chicharito off the ball, he's done him late and there's nothing done and the referee's in front of it. Then he does Rooney, it's clear as day and he's six yards from it, but he doesn't do anything – that changes the game. You're talking about what changed the game in the second half and these decisions changed the game, and he's going to be refereeing every week."
Carlo Ancelotti conceded that his player was probably lucky to stay on the pitch:
"David Luiz could be lucky"
Match Conclusion
Having named an unchanged line up, United started strongly, but it was Chelsea who had the first chance as Malouda shot straight at Van der Sar. For all the quality on show, neither side could force a good opportunity and it took a rocket of a strike from Rooney to open the scoring – his low shot from 20-25 yards was too powerful for Cech. United were untroubled by Chelsea until the 40th minute – a free kick was pushed away by Van der Sar who then made a brilliant save to deny Ivanovic and reacted sharply to push the ball away from goal twice. The only blot on the first half was a late booking for captain, Vidic, for a foul on Essien.
Chelsea started the second half strongly and were soon rewarded as Ivanovic's knock-down was thumped past Van der Sar by the impressive Luiz. Chelsea brought on Drogba for the ineffective Anelka before United responded by throwing on Giggs and Berbatov for Chicharito and Scholes. United's substitutions unfortunately struggled to have the desired effect. Through Rooney, United missed a couple of chances to regain the lead. David Luiz was lucky to remain on the pitch after two late tackles on Chicharito and Rooney having already been booked. Untied, infuriated, then gave away a soft penalty as Smalling tripped Zhirkov. Lampard duly thumped the ball into the roof of the net. From the restart it was nearly three as Zhirkov hit the post via a deflection. The game ended on a real low for United as Vidic was shown a second yellow card for a pull on Ramires – he now misses the trip to Anfield on Sunday.
The game ended 2-1 to Chelsea and left fans and players deflated. Ferguson told Sky Sports:
"Dear me. It was a great performance by us; we didn't deserve that. That's three years in a row that the referee's decisions have changed the game. I'm pleased and proud of my players. They've endured a lot of decisions against them, they've carried themselves through it, they've done their best and they've created chances and played good football. They didn't deserve that."
Ferguson may end up being sanctioned by the FA after his comments about referee Martin Atkinson – the same referee who infamously had a poor game on the same ground last year. He told MUTV:
"You hope you get a strong referee in games like this. It was a major game for both clubs. You want a fair referee – or a strong referee, anyway – and we didn't get that. I don't know why he has got the game. I must say, when I saw who the referee was I did fear it. I feared the worst."
United will now have to patch up any wounds, get players fit and prepare themselves for another battle, this time at the old enemy, Liverpool, at Anfield on Sunday 6th March.
AUTHOR: – Doron