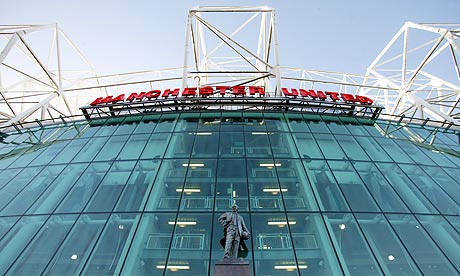 Our grand old stadium is 100 years old today and I am welcoming you to share your memories with us here at the Stretty Rant. 100 years ago today United played their first match at Old Trafford – a 4-3 loss to Liverpool. Over the years the stadium has witnessed some fascinating moments and played host to a number of wonderful United sides. Old Trafford was home to Jack Rowley, Bobby Charlton, George Best, Tommy Taylor, Duncan Edwards, Eric Cantona, Roy Keane, Cristiano Ronaldo and Wayne Rooney – players who are engraved into the history and tradition of the football club. Here is to the next 100 years!

So if you'd like to share your memories of Old Trafford, please do so in the comments box below. Whether it be Bryan Robson's epic performance in the victory over Barcelona in 1984 or whether it be the celebratory scenes against Blackburn Rovers in 1993 or if you have a memory of a piece of genius from a player – then please do let us know. I imagine Steve Bruce's brace against Sheffield Wednesday in 1993 (you may be interested in reading Hetixo's account of events that day) will be a favourite of many, whilst in more recent times the 1-0 victory over Barcelona to send us to Moscow and the 4-3 victory over City.
I will share with you a memory that always sticks out in my mind as I generally believe it was the best debut performance i'd ever seen – Cristiano Ronaldo coming off the bench in our 4-0 victory over Bolton Wanderers. Ruud VanNistelrooy had missed a penalty and if I remember correctly, Ryan Giggs struck a first half free kick to give us the lead. It wasn't the best of games, with Bolton generally putting up a defensive wall that was frustrating the home crowd. So mid way through the second half come on a thin, gangly looking lad and you feel the mood lift around the stadium. Earlier in the week I been out for a few beers with the lads and came home to see "We've signed Ronaldo" – having watched him play in the a youth tournament earlier in the year, I knew what a great talent he was. Smugly looking around as to say "watch this" – I was left mouth open as he took on Premier League defenders like he was the older kid in the playground. You remember that kid? The one that was head and shoulders above everyone else. Step over after step over came. "Take the piss lad!" was being shouted by fans who would have twenty minutes earlier be wondering whether selling David Beckham to Real Madrid was such a good idea. Ronaldo won a penalty and had a monumental impact on the game that it would go down into legend. "There is only one Ronaldo!" boomed the Stretford End and the rest as they say is history.
So what is your moment?