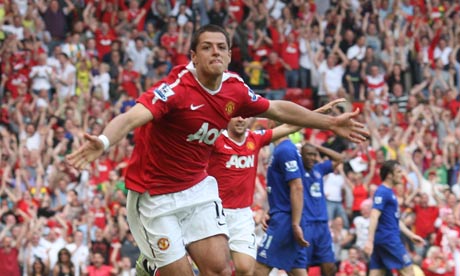 AUTHOR: – Doron
For two hours at least, United have opened up a 9 point gap at the top of the Premier League and now know for certain that wins in the next two league games will seal a record breaking 19th title. Everton however came to Old Trafford determined to make the afternoon as uncomfortable as possible and made United wait until the 84th minute to score. Here we discuss the Talking Points of the game and encourage both United and Everton fans to leave their thoughts on a nerve-shredding game.
Talking Points
Using the squad
Sir Alex boldly chose this came to rest some players and give some much needed game time to others. This was most evident in defence as three of the four who started at Newcastle midweek were rotated out – most notably the captain Vidic was rested for the first time in the league this season. In came Rio Ferdinand for his first league start since the 1st February whilst Jonny Evans made his 10th league appearance and Fabio his 8th (only his second start of this campaign though).
Having started 11 of the last 13 games in all competitions, Michael Carrick was given a rare and well earned break as he was left on the substitute's bench. He was replaced by Gibson, who was making only his 11th appearance in the league this season. Anderson kept his place from the Newcastle game whilst out wide, Sir Alex went attack-minded with both Nani and Valencia.
Given many fans would prioritise the league over European success, it was a bold call from Fergie in trying to balance both competitions and give them equal importance. Personally, I'm not sure I'd have been as brave as him.
Anderson excels next to consistent Gibson
It's been a tough year for Anderson. Every time he's had a run of games a new injury has cropped up. His start at Newcastle on Tuesday was his first since mid-February and despite a relatively poor performance he was picked again today, this time alongside Darron Gibson.
It seemed like the instructions to the pair were clear – both to sit deep and win the ball, but Gibson had to get the ball wide as soon as possible, whereas for Anderson he had to carry the ball forward and pick out the strikers. The combination of the two different styles worked for United:
Click on images to enlarge
Anderson and Gibson passing
Anderson's adventurous passing was accurate today. He released Chicharito and the wingers on numerous times. Importantly there was a calmness and confidence about his play – nothing was rushed. The runs he made from deep with the ball broke the Everton midfield lines showing some dynamism in the midfield that often this season has been missed. With the exception of Fletcher – he's the only midfielder in the first team who offers that at the moment.
Gibson may not be a world-beater but he was neat and tidy today. He never tried anything adventurous and yes he can well be criticised for that but the short sharp passing coupled with positional discipline complimented Anderson's style today and allowed him to roam:
Anderson and Gibson heatmap
As the heatmap above shows, Anderson made 36% of his passes in the final third of the Everton half. Meanwhile, Gibson made 59% of his passes from the centre of the pitch and 46% from within the United half. This is reminiscent of the job Carrick was doing at the end of 2010 when his partnership with Anderson flourished as he held a disciplined deeper role giving Anderson the option to roam forward.
It may not have been the central midfield pairing that everyone wanted or expected but it was effective today. The role of Gibson allowed Anderson to flourish, and there's little doubt he was the key man in the middle.
Defenders on show and persistence with crossing
United were forced to wait until the 84th minute for a breakthrough. Much of that frustration can be put down to solid and very organised defending by Everton. As United piled forward and put pressure on Everton they looked for inspiration from their wingers. United's flair has always come from out wide and good crossers are a necessity. However if the defenders United are up against are good, it doesn't matter how good your crosses are:
Distin and Jagielka clearances
United put in 35 crosses today yet only 3 reached a target – Distin and Jagielka were excellent all game and busy. Between them they made 32 clearances – it's just disappointing for Everton that on the rare occasion Distin wasn't tight to Chicharito, he was able to score. Up to the goal, United had already sent in 34 crosses, persistence in wing-play paid off though as Valencia sent one of the few crosses Everton didn't defend well and Chicharito was able to head the winner – his 19th goal of the season.
There were good defenders on both sides. The much maligned Evans was assured and won an impressive 83% of his aerial battles – a good figure considering the introductions of Cahill and Anichebe at half time. Evans made more tackles than any of the other 3 centre backs on the pitch too – the 8 he made is nearly double Rio's total. He seemed assured in bringing the ball our of defence and with that in mind, a pass completion rate of 89% is excellent for a centre back who made 44 passes.
The other defender I'd like to single out is Fabio. Making only his second league start of the season he showed the attacking spirit one would expect from a Brazilian fullback – playing 50% of his game in the Everton half. However he also showed how adept he is defensively:
Fabio tackles and clearances
Fabio's 10 tackles saw him make more than any other defender on the pitch. Importantly his 5 clearances were made in a key area of the pitch – four of them inside United's own penalty area. It just goes to show that despite being associated with exciting attacking play, he is also able to defend very ably.
Match Conclusion
Sir Alex Ferguson chose to rotate his squad for this game as he had half an eye on Schalke on Tuesday. Evans, Fabio, Ferdinand, Gibson and Valencia all came in after the 0-0 draw at Newcastle midweek.
United went into the game having not scored in over 3 hours of football but started with purpose and energy. However Phil Jagielka was leading Everton's defence well and they kept United at bay relatively well until about 20 minutes in. In quick succession Nani, and twice Chicharito had shots well saved by Howard. Rooney and Anderson were by this point starting to pull the strings – both eager to get on the ball and shift it wide. As the half came to an end Valencia and then Rooney got in good positions behind the defence on the right but neither of their crosses lead to a shot on goal – Valencia's ended up at the feet of Nani whose shot was unfortunately blocked by Chicharito.
Everton changed their tactics at half time. On came Cahill and Anichebe as they tried to out-muscle United in the air. They started the half well too – Anichebe felt he should have had a penalty as he went down from a challenge from Rio Ferdinand but the ball had long since gone and arguably he went down very easily. With United struggling to open Everton up, Ferguson brought on Evra for O'Shea and Owen for Nani with Rooney asked to play on the left. The end of Everton's pressure was signalled when van der Sar produced a wonderful finger-tip save from Rodwell's deflected shot. From then on it was purely about United pressure.
Wave after wave of attack pummelled the Everton defence but they stood firm. Distin nearly sliced the ball into his own net but was relieved to see it hit the post whilst Howard saved well from Rooney's free kick and then again from Chicharito's goal-bound header. Giggs came on for Gibson late on as the game moved into the last 10 minutes and it felt like 'one of those afternoons'. However, with just 6 minutes remaining, another Valencia cross looped up high, for once Distin had lost Chicharito and he headed the ball down into the goal from just yards out. United comfortably saw out the final minutes of the game to record a victory that sees them go top by 9 points for now.
United's next game is away to Schalke in the semi finals of the Champions on Tuesday 26th April.
AUTHOR: – Doron