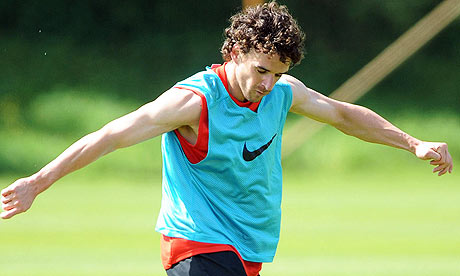 AUTHOR: – Doron
There was positive news delivered by Sir Alex Ferguson recently – Owen Hargreaves had returned from the specialist in Germany and was deemed fit to start training again. Two weeks on from that and the Daily Mail are reporting a fresh injury for our forgotten man.
Back in September we were able to report on the good news that Hargreaves was progressing well from his long-standing knee injury and that he had returned to training. Hargreaves was a surprise starter against Wolves in November but was subbed off after 6 minutes with a hamstring injury.
Only recently has he recovered from the injury to return to training, however the Daily Mail are reporting that he has suffered a fresh injury. It would be terrible luck for Hargreaves as this reported injury is unrelated to his long-standing knee problem and the more recent hamstring problem:
"The injury plagued England midfielder had put himself in contention for a return, only for his shoulder to pop out as he challenged for a header.
The 30-year-old had X-rays and initial fears are that he has ligament damage and could be out for at least four weeks."
Quote taken from the Daily Mail
The positive news is that this injury is unrelated to previous problems and the early suggestion is four weeks out. Hargreaves has missed a lot of football since joining in 2007, playing only 39 times for the club. In his first year he played 34 times and was an important part of the Champions League winning side. This year however he has just the one appearance to his name.
His contract runs out this summer – would you offer him a new contract? There have been suggestions he may get a pay-as-you-play deal but can the club afford to give up a squad place to someone who may not even be fit? Only two months ago this blog took a look at Hargreaves as our 'forgotten man'. Do you think this fresh set-back will be the end for Owen Hargreaves at Man United and/or as a professional football? Could he surprise everyone and play again for the club?
AUTHOR: – Doron