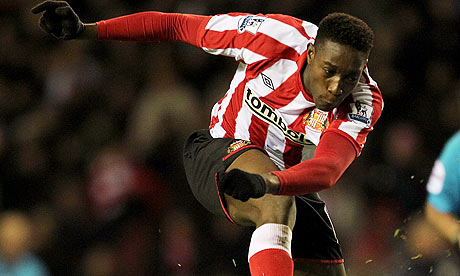 AUTHOR: – Doron
This season United decided to send out on loan four of the talented younger players at the club who need regular games at a high level. Welbeck, Cleverley, Macheda and Diouf have had their respective futures speculated over by the press and fans but today Ferguson has sounded out his confidence in those players.
Danny Welbeck, still only 20 years old, is on loan at Sunderland this season. He's played as a striker and wide in a front three. His form has been very good and appears to be helped by a suddenly bulging physique. He has 6 goals in 23 games and despite that not being overly special his all round play has had people talking about him with excitement. He's carried his form into the U21 internationals with England and is a regular at that level now.
Tom Cleverley turns 22 this summer and despite being young still, he is considered a late developer. He suffered from a long-term injury as a youngster at the club and originally played as a deep midfielder or at right back. In 2009 he moved to Leicester on loan for 5 months and helped them to get promoted as champions. Last season Cleverley was on loan at Watford and scored 11 goals in 35 appearances. His loan was cut short by injury but he was regularly a top performer and was voted as Watford's player of the year. After a good pre-season with United, Cleverley went to Wigan on loan this season and has not looked out of place in the Premier League. He has had a few small injuries but has still managed 4 goals in 17 games.
Kiko Macheda is still unbelievably only 19. He burst to the attention of Reds with a stunning debut goal against Aston Villa two years ago. Macheda is still growing and unlike Welbeck he's yet to fill out. His campaign last year was disrupted by injury and whilst his game-time increased this season, he moved on loan to Sampdoria in January. He's been in and out of the team there as the coach has changed and is yet to score in the league. However, like Welbeck and Cleverley he clearly has a lot of ability and an eye for goal as his cracking finish away at Villa showed this year.
Mame Diouf was a surprise signing last season. He's only recently turned 23 and has been with Blackburn this year. He's scored 6 goals in 26 games including a hat-trick in the league cup. He's often been praised though for his work rate and the effort he puts in when he plays.
Sir Alex Ferguson has today been speaking to manutd.com about the future for these players:
"They will come back into the first-team squad and they will get plenty of games next season. They are part of the band of young players coming through at this club. They will all come back in. At that point, we will then review our squad because that's the important thing. But we will always put players out on loan.
Cleverley has done very well, particularly in his spell at Watford and then at Wigan. He has improved in each case and he is going to be a top player.
Welbeck has been fantastic too, it's just unfortunate that he picked up a bad injury. But they will all be ready for next year.
Mame Diouf has done well at Blackburn too and he'll come back in.
They've all done well. It proves we were right in putting them there in the first place. For them, it's that experience of being exposed to regular football that really brings them on so that they are ready to play for Manchester United."
Quote taken from the manutd.com
This comes as a big confidence boost for all four players. Sunderland have been linked with a permanent move for Welbeck whilst many Reds have speculated about whether Kiko will return at all. It's also a sign of the times for United as there is a hand-over of responsibility from some of the older players onto the new generation of younger Man United players.
Personally I think all four deserve the chance to be a part of a Man United squad. I'd attempt to find a loan for Macheda in the Premier League next year as he is a bit younger than the others and I'd hope for similar success to Welbeck's loan at Sunderland. The only one of the four I doubt long-term is Diouf but that's purely as I feel I've not watched him enough at Blackburn this year to really judge him.
What future do you see for all four players? Can they be a part of the Man United first team next year?
AUTHOR: – Doron