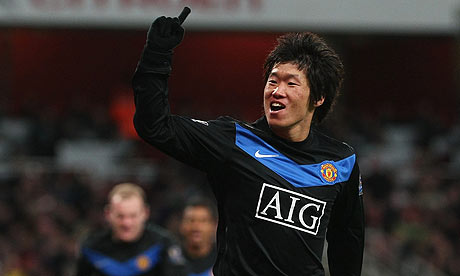 Manchester United retained the League Cup today having beaten Aston Villa 2-1 at Wembley today. Michael Owen and Wayne Rooney scored the crucial goals to give United their fourth League cup win, with our number ten getting lots of superlatives thrown in his direction. Wayne Rooney is without doubt the best player on the planet and our star player by a mile – however, United demonstrated their strength in depth today with superb performances from Dimitar Berbatov, Antonio Valencia and Ji-Sung Park as we enter the business end of the season.

Dimitar Berbatov contributed to both United goals and was a constant threat, despite some wayward shooting. His hurrying of Richard Dunne resulted in Michael Owen's strike to equalise, whilst his superb flick out to Antonio Valencia for Rooney's winner was different class. He demonstrated today, in a big game, as to why Ferguson spent £30million on him. Yes, you will argue that he should be bought to challenge for major European honours, rather than a tournament that was born in 1960. I would agree that his purchase hasn't worked out as best as we all would have hoped, especially considering Fergie stated recently that he doesn't believe he can include Berbatov and Rooney in the same side when playing a 4-3-3 formation – which of course is our preferred formation in the latter stages of the Champions League.
Berbatov is our joint second highest goal scorer (other than 'own goal' of course) and has a 0.38 goals per game ratio in the Premier League – a decent return for a forward that isn't a renowned goal scorer. Regular readers of this blog might be a tad confused with this praise for the Bulgarian considering I have blogged about him running out of time at Old Trafford. I still believe that the purchase of the Bulgarian hasn't been as successful as Sir Alex would have hoped for. I stated that the transfer fee was a major factor combined with the results in big games that he has played in. I've always thought (and stated) that I think he is a superb footballer with one of the best touches I have ever seen. But I think the next two months are a big two months, for Berbatov especially. He needs to persuade Fergie that he can play in a 4-3-3 with Rooney, which would result in our top scoring operating on the left of the front three. You only have to look at the Arsenal and Barcelona games last season, with Ronaldo being the main forward in a 4-3-3 – at the expensive of our most expensive player. We will have to wait and see what the line up will be against Milan, but Berbatov put in a great performance today and was pivotal in both goals.
Antonio Valencia has been a major hit since signing from Wigan last summer. £18million looks a snip for the qualities he brings to the side. Pace, athleticism, versatility and most importance in recent games – accurate delivery from a wide area. He is more direct winger, like Andrei Kanchelskis over Ronaldo for example, which is great when there is space in behind the full back for him to gallop into. In the second half he set up Wayne Rooney for his 28th goal of the season and five minutes later put in another superb cross for Rooney to smash against the post. You may be surprised to learn that Valencia has the most appearances for United so far this season – with 38. Ferguson has recently rested the Ecuadorian International, whilst before Christmas he was present in most starting line ups. There is no doubt he is being rested for the final push and will be present in the starting line up against Milan Wednesday week. He received the man of the match award for his performance today and added yet another assist to his statistics this season.
Ji-Sung Park, for me, was the best player on the pitch. Some fans still question the quality of the Korean and Ferguson's decision to include him within the side. If you asked the majority of United fans to pick their ideal starting Xi, when all players are available – I guarantee that Park wouldn't feature in 95% of the them. So its a good thing that Fergie picks the side and not us! Today, he really showed why Ferguson does include him in the side for major games. Park usually occupies the left hand side, but recently against Milan he drifted inside to occupy the space in front of Carrick, Scholes and Fletcher. He may well have been put there to nullify the impact of deep lying playmaker Andrea Pirlo, however his attacking quality where on show in abundance today. He was unlucky not to score as his first half strike smashed the post just before half time, whilst his movement from left to the centre of the park – saw him pick up the ball behind Milner and Petrov and drive forward. I have always been a big fan of Park and believe that he is an important part of the squad that Ferguson has. His performances against Arsenal over the past two season have been exceptional and he was excellent against Barcelona at Old Trafford in May 2008. He hasn't featured too much this season (less than Vidic and Nani) and i'm pleased he is showing his qualities as we approach the final hurdle. For me he was man of the match today.