"
Hey folks, here's the ninth edition of the Things column. We'll be catching up with this week's European (well, Champions League) action, and I'm lucky to be joined by a guest writer – Chris from the excellent Can They Score blog and podcast. Be sure to check it out.
PS. Nik and Doron are off this week, because they're working on something super top-secret and awesome. All will be revealed soon.
The yellow-card rule is a travesty (by Chris)
Ruthlessly exposed by the agility and guile of Barcelona's attacking prowess, Chelsea' Ramires petulantly picked up a caution in the 43rd minute of their semi-final which, we thought, would trivially relieve him of his duties in a Europa League match. Instead, the Brazilian's fearless response to Iniesta & Co's relentless attacks has relegated him to the stands in the biggest match of his life.
Undoubtedly, the moment which got Chelsea past the reigning European Champions was their away goal which unexpectedly gave their defiant ten men something to hang on to. Driving forward from right back, having started the game on the left wing, Ramires raced past Puyol, nonchalantly elevated his shot over Valdes and instantly evoked memories of Turn '99 (or Ballack in '02 WC, if you are so inclined). Few could deny that the Brazilian "seemed to redouble his efforts to get the team there" (Sir Alex on Keane) in one moment of mesmeric athleticism and skill.
Considering the strictness of UEFA's disciplinary system (suspensions after 3, 5, 7 cautions), it is always likely that a player will miss the showpiece event. Many have suggested they should introduce a semi-final amnesty (to avoid disproportionately punishing successful sides) or shifting the bar to 4, 6 and 8 cautions (and risk group stage disobedience). In spite of this, Ramires doesn't quite evoke the same sympathy as Costacurta, who unfairly missed the '94 Final after Klinsmann's dramatics, or Fletcher, who even got sympathy from Arsene Wenger after his dismissal in '09. Instead, there is only disappointment that such a fine display won't be rewarded.
Emotionally, it seems a travesty that these heroes, the galvanising forces in their respective teams, have been or will be robbed of the finest moments of their careers. Indeed, the '03 Final was crying out for Pavel Nedved and it was horrible to see Blanc, the finest French defender of his generation, miss the '98 World Cup Final. But unlike these disenchanted souls, at 25, Ramires has the time to return to the summit of club football, a luxury only afforded to Paul Scholes ('99 then '09) and Dani Alves ('09 then  '11) in recent history. Maybe next year.
Real Madrid v. Bayern: Bullet point time! (by Rob)
As a philandering Swedish coach once said: "First half good, second half (and extra time and penalties) not so good." More than anything, fatigue seemed to be the reason for this, especially on Real's part. As a friend of mine cleverly pointed out, the intensity of last Sunday's clásico made it almost impossible for there to be a clásico in the Champions League final.
Not for the first time, Cristiano Ronaldo showed up for a big late-stage Champions League game. He scored (twice). And then he ruined it with a crucial miss in the shootout. Unlike the 2008 semis and final, he didn't get away with it this time.
Toni Kroos is a superstar in the making. He was tremendously mature and composed throughout the tie. I think he'll be a key player, not just in the final, but at Euro 2012 as well.
I sort of feel sorry for Gonzalo Higuain. First off, he denied what could've been one of the great Champions League goals of all time, simply by existing. Then to make things worse, Sergio Ramos* was ahead of him in the penalty pecking order. This sounds like hindsight, but I thought this before Ramos skied the ball over Gomez's Hamburger and into the Triangulum Galaxy, approximately 50,000 light-years away*. Higuain didn't look too amused. He looked even less amused when the ball finally returned to Earth and crashed into the window of his new Ferrari. Which is parked in his garage in Buenos Aires.
As I've bleated and tweeted before, penalties are not a lottery. Every Real Madrid player should be put into a Ludovico machine like Malcolm McDowell in A Clockwork Orange and forced to watch the excellent shootout from this year's African Cup of Nations final. You should too. Well, apart from the Ludovico machine, because it's fictional.
Penalties are also a hell of a lot of fun – once United aren't involved.
Sergio Ramos said yesterday that "if I had to take another penalty in the same situation tomorrow I would," to the consternation of astronauts everywhere.

Good "anti-football" is good for football (by Rob)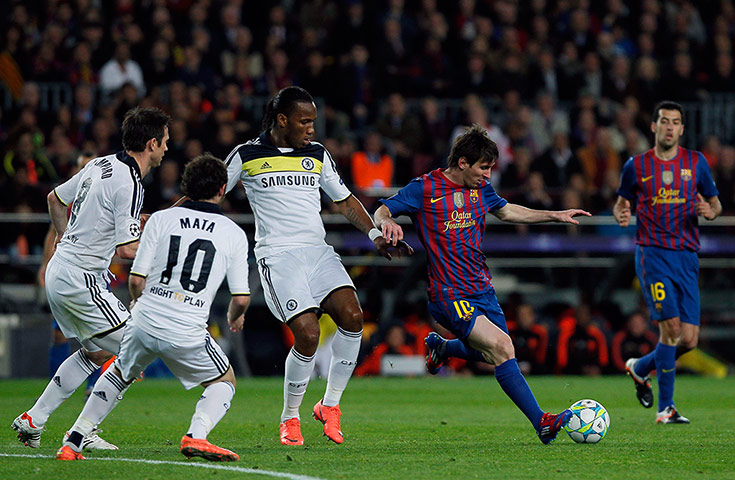 The press responses to Chelsea's surprise win over Barcelona have varied wildly. English media houses were quick to praise the brave, lionhearted, *insert imperial/military adjective* performance on Tuesday. Gary Neville has to spend three months cleaning his knuckle-children off the Sky cameras after Torres' goal. Conversely, the Spanish – and more specifically Catalan – press were keen to lament Barça's "Unjust, cruel, horrible, unmerited" defeat.
Both reactions are tinged with nationalism and emotion, and they both seem to miss the point, namely this: the "anti-football " way does have a strange habit of being very, very effective against Barcelona, at least in the Champions League. To put it another way, every team that's tried to play them at their own beautiful game has been swatted aside with ease – most notably Bayern in 2009, and United in our last two final appearances. At the micro level (within a game), trying to attack Barcelona is more or less a suicide mission. The one time in the first half on Tuesday that Chelsea tried going forward with any sustained interest, Barça quickly swarmed them in midfield, won the ball and Iniesta duly scored from a quick and incisive passing move. You're not going to out-Barça this still-great Barcelona team. Don't listen to the purists.
In contrast, we have the cases of United in 2008*, Chelsea (almost) in 2009, Inter in 2010, and Chelsea in 2012. At the time, all were criticised for playing too "negatively" – but all beat Barça or ran them close over 2 legs. Each of those successful sides either had a world-beating defence – United 2008, Inter 2010 – or saw flabbergastingly good defensive performances from unexpected places – Bosingwa at centre-back? Come on!** And you know what? For all the self-righteous complaints about "anti-football," was anyone actually bored by this game? I think not! The contrast of styles, philosophies, dress senses and cartoon lookalikes is precisely why we enjoy the late stages of the Champions League – and the two teams' styles on Tuesday couldn't have been more opposed. Games of "total football" v. "anti-football" are great for football.
* Admittedly the 2008 victory came against Riijkard's team, which wasn't as good as Pep's outfit. But they shared similar attacking principles and a very similar team to that which beat us the following year.
** Seeing Bosingwa put in a competent defensive performance at right-back can be described as flabbergasting. Seeing him do what he did on Tuesday, in an unfamiliar position, against the greatest attacking force we've seen in decades… well, as Frankie Howerd once said: "my ghast has never been so flabby."