Manchester United vs. Blackpool Match Preview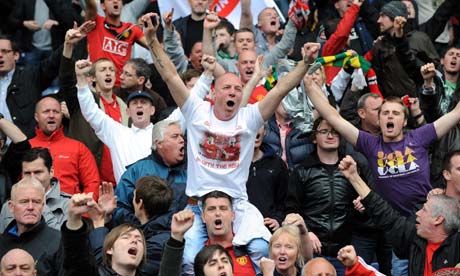 AUTHOR: – Doron
History was made last weekend at Ewood Park. Finally, United are the most successful league side in England. Old Trafford tomorrow should have a carnival atmosphere as the fans celebrate a triumphant season and send the players off to Wembley in style. However there is a twist in this joyous tale – Blackpool are fighting for their lives against relegation, for the sake of the league, this game must be treated with the utmost seriousness, much-like when United hosted West Ham on the last day of the 2006/07 season. Let's enjoy our day but without wanting to dampen spirits, good luck to Blackpool.
For both sides involved tomorrow it's been a remarkable season. For Blackpool, their first jaunt into the elite league in England (at least since it's re-branding in 1992) has been an unforgettable experience. The newly promoted side were all but written off in the press pre-season and on almost no budget they've brought their battle with survival until the final fixture. It could have all been very different though – Blackpool ended 2010 in 8th with three games in hand. However when these two sides had met a month after that, Blackpool had only picked up three points from eighteen and had slipped back to 12th. A win for Blackpool tomorrow doesn't even guarantee safety as goal difference will almost certainly come into effect; yet lose and they could be safe! For United, there's little other than equally a home Premier League record to play for – that said, Sir Alex has promised to pick a team to go and try to win the game. Weakened side or not, United never play to drop points.
Home or away, Blackpool's system is rarely changed. They adopt a bold 4-3-3 with a narrow three man central midfield and a fairly narrow forward triumvirate as well. Ian Holloway's mantra is to attack; he understands there is little point trying to be cautious and defend as his team will get taken apart, therefore they have to go looking for goals. Indeed when United went to Bloomfield Road in January, they were two down at half time and maybe even could have been a third down had a penalty been awarded. Predicting Blackpool's team in total is tricky however Evatt, Crainey, Southern, Adam and DJ Campbell are five of the more likely starters. Campbell has managed an impressive 13 league goals this season whilst Adam has 11 – scoring hasn't been an issue. Craig Cathcart could well make a playing return to his former club, he joined Blackpool from United last summer and has played in 30 of their league games so far.
As previously mentioned, Blackpool's season has been an almighty rise coupled with some free-falling. What's changed is that they're no longer an unpredictable unknown – teams have learnt how to play against them. It was also noticeable in the United clash in January how tired the Blackpool players got around 70 minutes; having a small squad is a real strain on players' fitness. However, in short, they are where they are (18th) because they concede too many goals – 74, the most conceded in the league. They've managed only 2 clean sheets in their last 21 league games, but have scored 29 over that same time period. As form goes, they're actually the 12th most in-form side in the league with 6 points taken from a last 18 available. Their away form though is miserly, two points from the last six away games is the second worst in the league right now – it's nearly 5 months since the managed a win on the road. Despite that, 19 points picked up on the road so far this season is actually well above average in the league – it's their home form that's been their downfall (it's the joint worst of all the teams). Only the top 5 teams have scored more on the road than them (23), yet their 37 conceded is the 18th worst total. They have failed to score in two of their last four away games though.
Blackpool haven't got a single injury concern or player suspended for this game – Holloway has a fully fit squad to choose from. Holloway may go with the side that beat Bolton 4-3 last weekend, it was their first win since February.
Blackpool have never visited Old Trafford in the Premier League era but in previous league meetings in Manchester they've managed 6 wins from 40 matches with their last win coming in January 1962. United won the return fixture, coming from behind in an epic 3-2 victory earlier this season at Blackpool.
Enough on Blackpool…onto United and my predicted line up:
For United, it's a case of picking the players who need minutes whilst saying goodbye to Edwin van der Sar and potentially Brown, Scholes and others if rumours are to be believed. The only man missing is Owen Hargreaves whilst O'Shea's fitness situation is a bit unclear. There's little chance of youngsters being involved as the Reserves played yesterday (including Obertan and Bebe) whilst the Academy have a huge FAYC game on Monday.
I've picked a team that should be good enough to win and loosely fits into a very narrow 4-4-2. I've picked Edwin to play his 186th and final league game for United – in truth, I hope he's subbed off late on so that Old Trafford can stand and give him the ovation he so deserves. The back four in front of him could all use some playing time – Rafael has been out of the first team scene lately and needed games with the Reserves to get his fitness up. Smalling's due a game as is Evans in a centre back position. At left back, Evra hasn't been risked lately due to a knock but now needs minutes. I'd like to see Wes Brown start too, it seems likely he'll be off in the summer and he's been fantastic servant to the club, should he leave it'll be with a heavy heart.
Like the defence, the midfield selection is all about players requiring game-time. I've selected four central midfielders with Gibson and Anderson wide but I'd imagine they'd cut in to make it narrow with Raafel and Evra overlapping. Fletcher desperately needs more minutes if he is to have any chance of being involved in the Champions League final next weekend. Scholes has cut a peripheral figure in the latter stages of the season and whilst talk of a retirement remains, it's sad to think this may be his last appearance at Old Trafford. Still, natural width may be chosen and despite Reserve involvement in the past week, Messrs Obertan, Bebe and Brady could even get a surprise look in. Up front, the league's joint top scorer, Berbatov should start alongside Michael Owen.
United are champions and are top by 6 points. A win will see them take 55 home points for the season, equalling a record set by Chelsea. Last weekend they drew 1-1 at Blackburn to seal a record 19th league title.
Recent form shows United 4th in the form league with 11 points taken from a possible 18 in the last six games. At home, United have been almost unstoppable, with 17 games won out of 18. Their home record is the best in the league – they are the highest scorers with 45 goals and have the tightest defence with only 10 conceded.
In Dimitar Berbatov United have the league's joint top goalscorer (20 goals) as well as the joint 4th and 6th top scorers (Chicharito with 13 and Rooney with 11), whilst Nani is the league's top assister (18 assists; Rooney is joint 4th with 11, and Giggs joint 6th with 8). It's now over a year since an opposition player has scored a first half goal in the league at Old Trafford. A United win will see a 15th straight league home win – setting a new Premier League record.
These kind of games where United have nothing to play for are typically a non-event. Last time there was this scenario, West Ham won 1-0 at Old Trafford in 2006/07 to stay up. However they were arguably a better team than this Blackpool side. I think the game will bring goals, Blackpool quite simply have to score. United have promised to treat this like any other league game and will definitely go for a win. Therefore I predict a 3-2 United win.
You can share with us your thoughts ahead of the match and your favourite moments from home games this season on our forum.
Finally, for those who wish to understand how Blackpool can survive, here are the various scenarios for survival from the BBC:
Blackpool win and Blackburn draw with Wolves
Blackpool win and Birmingham fail to win, given that Wolves are playing Blackburn (so cannot both exceed 41 points)
Blackpool win and Wigan fail to better their result by two or more goals
Blackpool draw, Wigan fail to win and Birmingham lose
Blackpool lose, Wigan lose by a similar or greater margin, and Birmingham lose by a bigger margin than Blackpool
Good luck Blackpool!
You can read the thoughts of a Blackpool fan on Tangerine Dreaming here.
AUTHOR: – Doron