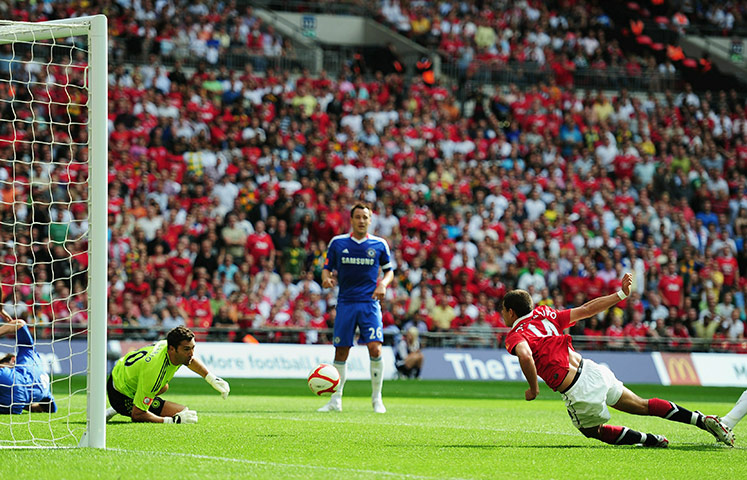 THIS MATCH HAS BEEN POSTPONED
This certainly is not the preview I expected to be writing two months ago. Back then Chelsea were sitting rather comfortably at the top of the table and playing the football of champions. It truly is incredible how quickly things can change. Ahead of Manchester United's visit to Stamford Bridge on Sunday, Chelsea sit fourth in the Premier League and have dropped 12 points from their last possible 15. As for United, they now sit top of the table with a game in hand and are the only undefeated team in the league. Does this mean United fans should breathe a sigh of relief? Absolutely not.

There is no way to ignore Chelsea's collapse. Ever since Ray Wilkins left Chelsea on 11 November the club has struggled to perform and there is a sense of chaos coming from Stamford Bridge. Put all that talk of form aside though. When United is the opposition, there is little doubt Chelsea will take their performances to another level. This is exactly the type of match Chelsea needs to prove they are still title contenders. If they don't turn it around, Chelsea may find themselves six points behind United come Sunday.
So how should United support this game? I'm hoping Sir Alex Ferguson won't stray far from the tactics that beat Arsenal on Monday. The 4-5-1 is a perfect formation for stronger opposition, and Sir Alex isn't likely to change that. The defence was virtually flawless against Arsenal, so there's not reason to disrupt their chemistry. Despite a terrible penalty miss, Wayne Rooney should retain his role as the sole striker.
This leaves the midfield. Honestly, the only change I would have made is Paul Scholes in place of Michael Carrick. We could've really use the passing of Scholes to unlock the Chelsea defence. However, Scholes has been ruled out until the New Year. The midfield did a good job against Arsenal, so sticking with Carrick is the best option.
The key men for Chelsea are Michael Essien, Didier Drogba, and Frank Lampard. Essien is arguably one of the best midfielders in the game, and in our preseason predictions three of the four writers named him the best non-United player in the league. He will most likely be deployed in a deeper midfield role and could cause real problems for our attack. Lampard has recently returned to action and will likely be crucial to Chelsea's resurgence from this bad run of form. Despite all his shortcomings on the international stage, Lampard has always been a threat for his club by both scoring and creating goals. Drogba is Chelsea's leading goalscorer in the Premier League with eight in 16 appearances. He has given the United defence problems in the past and will certainly be a dangerman in this match.
While a win of course would be ideal, taking a point at the Bridge would be a decent result. That said, I believe this United squad is more than capable of claiming all three. They showed their class against Arsenal by securing the win, and I think they can do the same against Chelsea. Erring on the side of caution though, I predict a 1-1 draw against Chelsea.
Sir Alex made it clear this week's results would be crucial in the title race, and four points from Arsenal and Chelsea would certainly be respectable. However, if United could secure all six points it may well catapult this squad toward a record 19th title. I'm not going to claim the title will be won and lost on Sunday; that's certainly not the case, but three points against Chelsea would open a nice gap at the top of the table. On a less tangible note, these results will be a blow for our rivals' confidence while taking our squad's confidence to a new high.
On Sunday, Sir Alex will become the club's longest-serving manager and it would be brilliant to commemorate it with a win over Chelsea.
—————
Follow Kyle on Twitter at KDill_MUFC