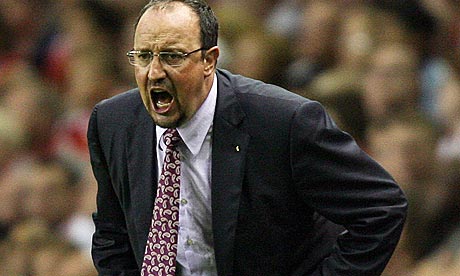 Of course I'm sure you've all had a chance to witness "Rafa's" rant at Fergie. If not, go here – http://www.skysports.com/video/clips/0,23791,12606_4770525,00.html
Of course, again, perhaps you don't need me to pick apart and dissect Benitez's crackpot claims. But I'm pedantic like that.
I wasn't quite clear whether it was intended as a joke or he seriously meant it but as I watch it again I believe the old coot is actually serious.
First of all, being asked a question and then pulling out a sheet of paper (then claiming he doesn't want to start "mind games" – a repeated comment)!!
The whole fixtures comment – on the one hand it seems like he's slating Fergie for having the gaul to question how it can be possible for United to draw the top 10 sides from last season all away, all before Christmas and after each European tie. But then he goes on to say they had early kick offs 2 years ago. And they didn't say anything.
Erm, what's this then Rafa? It looks suspiciously like you're saying something. About something that happened 2 years ago. AND this season – "at Christmas.. we were at Newcastle two days after playing Bolton. They were not complaining then".
Why would he be? Your club, your problems!
"Only Mr Ferguson can talk about referees and not be punished". But Rafa you said he was banned and fined £10 k??
"We started the respect campaign with the sending off of Mascherano at Old Trafford".
He wants some kudos for his player being uncontrollable? Oh no, wait, he's blaming Bennett. For the red card and for not awarding Wigan a penalty against us last season. He's talking facts, but doesn't mention the fact Bennett didn't award a penalty for the clear foul on Scholes in the same game.
"To complain and to always have an advantage is not fair"
I thought this was supposed to be a factual enlightenment? Not some exhibition of Rafa's successful transformation into bitter bin dipper.
"And I was very clear, forget the campaign because Mr Ferguson was killing the referees, killing Mr Atkinson, killing Mr Hackett. But he is not punished."
Apart from the £10k fine and 2 game ban then? But you mentioned that didn't you, Rafa? I'm confused!
Of course all of this is laughable – all the more ironic when you consider one of his players who is currently on charge of ABH is allowed to play football when Eric Cantona wasn't after Selhurst Park (quite rightly, but I'm showing the FA double standards), when you consider that one of his players wrote in an autobiography that he deliberately injured a team mate and also sent two friends to physically assaulting a player who had injured him and escaped unpunished while Roy Keane was given an ADDITIONAL 5 match ban and £150k fine for a deliberate foul he'd already been suspended for due to admitting it was deliberate in his autobiography.
And considering the supporters of his own club who mugged each other for Champions League Final tickets then bombarded the barriers so those with legit tickets couldn't get in (narrowly escaping another Heysel) escaped unpunished, but ours get attacked by the Italian police and Roma's Ultras and we get fined.. (Yes I accept our own supporters were not angels in this instance. This really just illustrates the point).
I recently wrote about this in our forum. If any club is the beneficiary of collective myopia – or "diplomatic immunity", if you will – by the sports governing bodies, it's that classless bunch from up the M62.
Still, nice to see that there's life in the auld dog yet.
Well played Sir Alex, well played.
Source:(Yolkie)