You may also find these links interesting: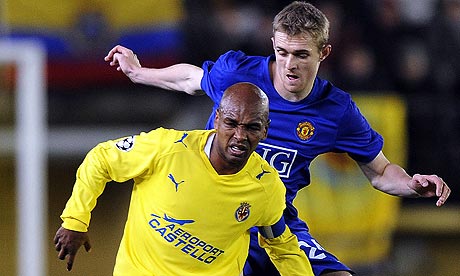 Villarreal 0-0 Manchester United 
Manchester United are through to the last sixteen in the Champions League having again drawn 0-0 with Spanish side Villarreal.
It is the fourth time since 2005 that both sides have met and failed to find the back of the net. It is United's second game in which they have drawn with the home side 0-0. The last time United drew 0-0 in two consecutive games was back in 2006 when they drew with Arsenal in the Premier League followed by an embarrassing 0-0 draw with non league Burton Albion.
United certainly played the better football against Villarreal and got off to a quick start with Anderson making some good runs from midfield to open up some chances with Evra bombing down the left. Anderson found himself in some space on the left hand side and struck a hard shot against Diego Lopez who saved.
Cazorla, the midfielder linked with Real Madrid in the summer, struck a good shot on the 16th minute, which had Kuszczak sprawling for the ball. The Pole had an opportunity to impress Sir Alex Ferguson, however flapped at a number of crosses during the first half which had to dealt with by Evra.
Cristiano Ronaldo, booed every time he touched the ball, had the best chance of the game when Anderson played a long pass to Rooney who was on the edge of the area laid the ball off to the on coming Ronaldo who struck a powerful shot which was saved and brushed onto the crossbar by the Villarreal keeper. A great shot which was equally matched by a great save.
Former Manchester United star Guiseppe Rossi showed why it is reported that Sir Alex Ferguson wants to bring him back to Old Trafford. The little American/Italian forward showed some amazingly quick feet to dance his way around Nani and Ferdinand on one occasion. Also, former United target Senna put in a controlled performance but had to be withdrawn due to a foul by Fletcher in the first half.
The second half started well again for United, which had Rooney making some good runs in behind the Villarreal defense. Rooney was also guilty of two dives during the course of the game – something we don't usually see from the forward. There was no doubt that both challenges didn't warrant a foul and Rooney was lucky not to be booked.
Michael Carrick was controlling things in midfield with Fletcher and Anderson pushing on. Anderson started the game well but drifted in and out of things as the game went on. Anderson is a firm favourite at Old Trafford and had a superb debut season last term – but many fans want to see him push on, start controlling things and score that first goal that has alluded him.
Chances were limited, however United had the best of them with Rooney attempting to chip the keeper which went wide, whilst also latching on to a through pass by Carrick which resulted in the frontman striking a powerful left foot shot – which was again saved by Lopez. Great effort by Rooney who, other than the dives, did a good job up top on his own.
Villarreal were then down to ten men after Capdevila was sent off for a lunge on Ronaldo. At first the tackle didn't look like it warranted a red card due to the fact that it appeared Ronaldo was over exaggerating the extent of his injury. After watching the replay again it is clear that Capdevila knew exactly what he was doing as his left foot smashed into Ronaldo left knee – sending the Portuguese winger flying.
Sir Alex Ferguson has since commented that Ronaldo needs more protection from referees – something that I do agree with, however Ronaldo doesn't help his cause when he walks off the pitch as he did on Saturday or if he smashed the turf with his hands when he doesn't get his own way. Ronaldo doesn't look a happy player at the moment, although his 6-2 defeat in Brazil by Portugal may have something to do with it as well.
Manchester United can be pleased that they put in a controlled performance against a good Spanish side. However, a number of chances were missed that would have given United that first goal, let alone win, against Villarreal. Sir Alex Ferguson will be concerned about the injury to Ronaldo, considering the Manchester derby is up on Sunday and will be hoping his star man can recover in time.