You may also find these links interesting: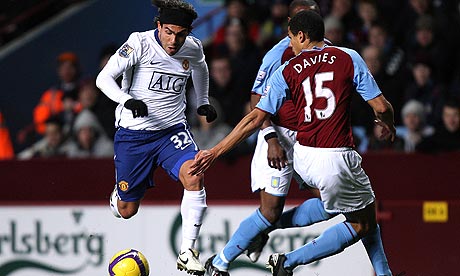 Manchester United drew 0-0 with Aston Villa and failed to capitalise on the dropped points of Liverpool and Chelsea earlier on in the day.
League leaders Chelsea had drawn 0-0 at home to Newcastle United whilst Liverpool were held at home by Fulham – the scoreline also ending in 0-0. Sir Alex Ferguson and United knew that a win over Villa would leave the team six points, with a game in hand, behind Chelsea and Liverpool.
The game provided little goal mouth action with Villa operating with a 4-5-1 formation – trying desperately to stifle United's attack. Ronaldo was his usual frustrating self, going to ground under little pressure or after a good tackle. There is no doubting the boy's talents but he'd go even further if he cut the simulation totally out of his game.
United had a few chances in the first half with Ronaldo unleashing a powerful shot, having cut in side from the left, with Brad Friedel making a good save to his left. Ji Sung Park also had an opening but was foiled by a superb tackle from Ashley Young. Moments later Park had another good chances after Rooney swung in a right footed cross, which flashed across the six yard box and the Korean was only inches away from converting.
The second half saw a great improvement from Villa who proceeded in keeping the ball much better. Young and Milner were industrious on the flanks with Agbonlahor causing Vidic some problems. The Serb was also accused of bring down the young Englishman in the penalty box, however television replays show that the defender did win the ball and any offense, for pulling a shirt, occurred outside the area.
Rooney had the best chance of the game, which he blazed over high into the stand. Michael Carrick lofted the ball over his shoulder which dropped to Rooney who proceeded in making some good ground towards the Villa goal. He should have then got behind the ball and struck it low past Friedel, however the ball ended up being blazed over the crossbar. A great chance squandered by United's number ten.
A clearly unhappy Carlos Tevez was withdrawn to be replaced by Nani who operated on the left with Ronaldo given a free role behind Wayne Rooney. The Argentinian's lack of playing time has clearly had an effect on the forward who was disappointing yesterday.
United pressed and pressed however couldn't break down a stubborn Aston Villa defense. United can't be disappointed with a point as the result was a true reflection of the game. United did miss their Bulgarian striker, Dimitar Berbatov, who was out injured from his international match in the week. Sir Alex Ferguson will be disappointed that United couldn't close the gap, however will be confident that not many sides will travel to Villa Park and come away with a point this season.