You may also find these links interesting: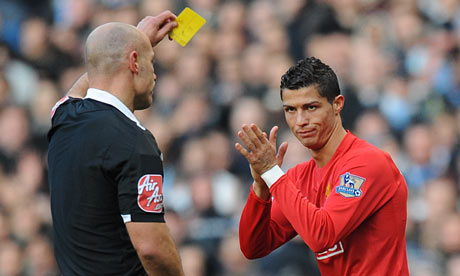 Wayne Rooney's 100th career goal earned Manchester United a deserved win in the derby against Manchester City at Eastlands.
Rooney's goal was one of the two major talking points in the game – Cristiano Ronaldo was bizarrely sent off by well respected referee Howard Webb.
Sir Alex Ferguson had, ironically, applauded the FA's decision to appoint him in charge of the encounter, but Webb seemed to have a loose handle on the game – making several dubious booking decisions, starting with one for Rafael for throwing the ball "away" – the young Brazilian merely threw the ball back to the out coming City players. Both bookings for Ronaldo will leave the United boss scratching his head – the second for a handball after the Portuguese winger claimed he had heard a whistle. Whether he did or not was one thing, but the decision to send him off when he was not trying to earn any kind of advantage clearly incensed the United contingent.
Webb's calls almost overshadowed what was a completely dominating performance by the champions, rewarded with Rooney's goal in the 42nd minute. The excellent Carrick found space and shot across goal, Joe Hart could only parry, and Rooney had the easiest of finishes – but celebrated as though he had scored a 30 yard volley!
Carrick was superb in the middle of the park, dominating play and sliding in some superb balls for Rooney and Berbatov to chase after. His performance today indicated how much United missed the England man, who is maturing into a fine midfielder.
City fans would have expected their team to push on in the second half but it never materialised, even after the sending off of Ronaldo when there were more than 20 minutes to play.
The most action of the second period occurred in stoppage time – City had a corner, keeper Hart was up, it was haphazardly defended, Dunne swung a leg and van der Sar pulled off an astonishing save. From the clearance, Giggs carried the ball amid screams for him to shoot, he unselfishly fed Rooney who shot from 55 yards – Hart only just got back to deny Rooney a wonder goal.
Webb's trigger happy notebook will deny United of the services of Evra and Ronaldo for the trip to White Hart Lane in two weeks – but the gloss of this fantastic derby win, and in particular the performances of Rooney, Carrick, Evra and Rafael, will probably be enough tonic for Sir Alex.
Source:(Yolkie)