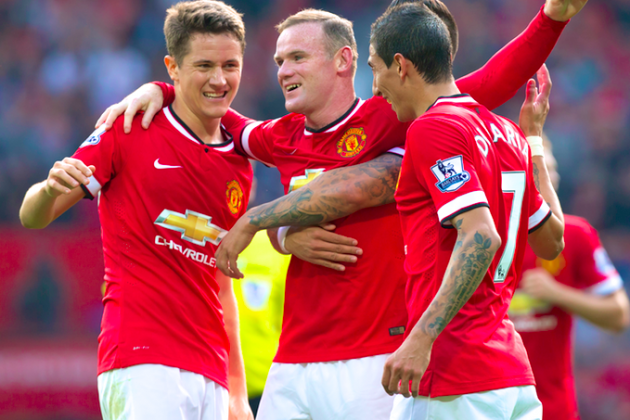 United put in one of their better displays against QPR in the reverse fixture, winning 4-0
Manchester United travel to Loftus Road to take on QPR, looking to bounce back after a momentum-killing home defeat against Southampton last time around. United's 4-0 win at Old Trafford against today's opponents was one of the best performances under Louis van Gaal, though the awful, supine display by the London side had a lot to do with the margin of victory. QPR should put up more of a fight this time. To give us some insights on today's opponents, we're joined by Neil, a QPR fan who's answered some of our questions.
1) How would you sum up the season so far since the 4-0 hammering at Old Trafford?
It's been reasonable considering the amount of points we've got on board. It's more or less what you'd expect from a newly promoted club. We've picked up a lot of points at home, without always playing well, and Charlie Austin is embracing the challenge of proving himself as a Premier League striker, so there are positives. Our performances have been a little better than last season in the Championship and better than when we were last in the top flight, but not by much. The board's expectations have been higher, but then they would be, they spent a lot of money again – £10m on Sandro, £8m on Steven Caulker, £8m on Leroy Fer and £6m on Jordan Mutch to name a few.
The majority of supporters however are appalled by our performances on the road and fearful about the future if we are relegated. Our financial situation is well documented, hundreds of millions of pounds in debt and with potential Financial Fair Play fines or sanctions looming if we go down.
The owners remain silent about their plans should the unthinkable happen, but the threat of relegation is real. These unknowns manifest as resentment and worry in the stands when performances aren't perceived to be up to the standard expected.
2) Why have QPR been so poor on the road?
Our away form is still a reflection on the transfer policy of the club, when the going gets tough, some of the players we've signed don't have the stomach for a fight, or the punch resistance and mentality needed.
This has been true of both Mark Hughes and Harry Redknapp's time at the club, because Hughes won once away from home over the course of 14 months, and now we've got 11 successive away defeats on the bounce under Redknapp. It's no coincidence.
So our away form has been disastrous for a long time.
In contrast, Neil Warnock won three of his first six away Premier League fixtures, but he signed players with mettle and steel. Men you could rely on and want beside you in the trenches. They were willing to graft and work hard for each other. His mistake was he also abandoned some of those players because of the owners high profile transfer policy.
Having said all of that, Harry Redknapp should have done better with the current group of players, he's struggled to find a system and we've often looked ill-prepared tactically and his excuses have started to wear thin with fans and the owners.
The one thing that hasn't been poor on the road is our fans – who've continued to back the side in numbers for all of this time.
3) What do you make of the Harry Redknapp sack stories and can you see him being in the hot seat at the end of the season?
It doesn't matter who the manager is because of the way the club is run, but Redknapp is under pressure. There is some weight behind the rumours that the club are contemplating change, Tim Sherwood and Glenn Hoddle are being touted as potential replacements.
The match between our two sides will play a role in whether Redknapp stays or goes. He needs a good performance, but the players are aware of the speculation and it will be interesting if they give a display that shows they're behind him, irrespective of whether we win, draw or lose.
Redknapp hasn't had the best of rides with the fan base. The discontent has been building since last season, with each poor performance and away defeat ratcheting up the pressure. Some would debate he's already lost the backing of the majority of supporters.
He's cut a frustrated figure and has been pretty downbeat and despondent in recent press conferences, laying blame for our failures elsewhere, which has only furthered to irritate many.
But he's still a good manager who's been around and knows a thing or two about the game. If someone like he is not able to do it at a club like Rangers, or someone like Hughes, then that also says something about the environment and set up of the club.
I suspect he will go – but I don't envy whoever replaces him. It's a tough job, one of a kind and in some ways it's a bit like the England job. It's a poisoned chalice unless the culture can change for the better. The owners need to put QPR first.
4) Where are you looking to strengthen this transfer window?
It's an awkward month for Rangers. They typically go mad in the transfer window, but with relegation a real possibility and FFP fines looming – the owners are tightening their belts and handing Redknapp an excuse to complain.
But otherwise it's currently up front and the wide areas.
Matty Phillips and Junior Hoilett have struggled for form all season, so we've seen Eduardo Vargas used out wide (when he's a striker) and Niko Kranjaer and Leroy Fer (both central midfielders) have both been preferred on the left to Hoilett.
That's left us using Austin and Bobby Zamora up front, with a major reliance on Austin's shoulders for goals. Mauro Zarate has joined from West Ham on loan, but he's a little 'number 10', so he's not seen as a like for like alternative to Austin.
There's enough players there to not need anybody new. But Redknapp is Redknapp – he's always after new players. If we end up with Redknapp leaving then a replacement is likely to make changes – what changes – who knows? Anything in this area is possible when it come to QPR.
5) Along with Charlie Austin, who has been you best performers this season?
Steven Caulker. What's he doing here? He's continued to impress me all season. In fact, now that I've had a good look at him, I'm surprised he wasn't snapped up by a bigger club. He's good business for the £8m we paid and on par with the majority of young English defenders out there. He's better than some of United's defenders, who despite the criticism this season, aren't as bad as they're made out either.
Richard Dunne has also done well with his no frills approach to defending and Robert Green has had a solid campaign by his standards.
Leroy Fer has been a bit hit and miss – but is likeable.
6) What do you make of Joey Barton, his Twitter rants and his argument that you should never boo players?
It's a question of self respect. Rangers have none.
It's a club where you can come in and make a lot of money and in many cases, behave like a twat without any consequences.
After Neil Warnock was sacked, Joey Barton took to Twitter to stick the knife in, lording up his replacement Mark Hughes, but when Hughes was sent packing, Barton was up to his old tricks and had the knife out again.
Barton's conduct against Manchester City, in a title deciding match being aired around the world, was a disgrace, and brought shame on QPR. As was his public declarations that he only joined Rangers 'for the money' or that he'd never play for the club in the Championship.
Only at QPR could such a person be made captain in the aftermath.
Kevin Gallen, a boyhood QPR fan, a legend in the eyes of supporters, helped the club in its darkest days during his playing career when he could have gone elsewhere, returns to the coaching set up to help us build the Rangers legends of the future, but find out he's no longer wanted by email.
The manager is allowed to devalue club assets and turn them into pantomime villains by revealing dressing room secrets and salaries, as Redknapp did with Jose Bosingwa and Adel Taarabt.
New marquee signings like Rio Ferdinand can join the club and talk about every reason under the sun about why they're here, promote their own fashion range, without ever mentioning their new employers. They can go on Saturday night prime time chat shows and do the same.
The club took private discussions with a fan public when they couldn't get their way with trying to aggressively pressurise them into handing over desired Twitter handles. A fan.
The public spat carried out in the national press between Redknapp and a 'three stone overweight' Taarabt this season says everything you need to know about the state of control at Rangers. It would not happen elsewhere.
The Chairman, understandably at a difficult time with the AirAsia tragedy, publicly responds to criticism of a 3-0 defeat at home in the FA Cup to Sheffield United with 'League not cup', and what message does that send to ambitious hungry players?
And we're led to believe this is the 'right culture' now?
What does any of that have to do with your original question? Rangers have had a long history of patience with its players and generally backs its team to the hilt, but that patience is fast wearing thin because of how the club is run.
The players aren't being booed, the way the club's being run is. Eventually when something is run poorly it will filter from top to bottom and out onto the pitch. They have to remember that they're representing us, we're a community family club and it's important they represent us right.
7) Who do you predict will finish in the top four?
Chelsea, Manchester City, Manchester United and Arsenal.
8) Can Charlie Austin break into the national team or is that a step too far?
Yes he can – whether he is up to that level is open for debate. He's made a great fist of it this season and has plenty to work on to improve his game, but he's trying and that's all you can ask. He's been fantastic for us.
9) What have you made of the Falcao situation at United? Reds are aching to see him get a run in the team.
It's all about timing with someone in Falcao's situation. If he was 100% fit, he'd play more games. But when you come back from a knee injury like he did, you need time. I think if there's patience on both sides it could work out.
I'm not convinced he's fully recovered and treading carefully is probably sensible at this point, but oftentimes you find players don't accept that. Falcao being out of the side could be a blessing for him in the long run.
But let's say Falcao was fully fit and firing on all cylinders. He's clearly a finisher and will score goals, but at the same time, he's more of a 'fox in the box' type of striker and perhaps the way Louis van Gaal has set you up to play doesn't really suit that kind of player all of the time.
I know he's a good player, but with that injury and at his age, I'm not sure I'd spend anywhere near the type of figures reported to land him on a permanent basis.
10) What is your all time QPR dream team with three subs and gaffer? 
David Seaman, David Bardsley, Paul Parker, Alan McDonald, Clive Wilson, Trevor Sinclair, Ray Wilkins, Adel Taarabt, Andy Sinton, Les Ferdinand, Paul Furlong.
Subs: Blimey selecting eleven was hard enough! Danny Maddix, Jamie Mackie, Kevin Gallen
Manager: Ian Holloway