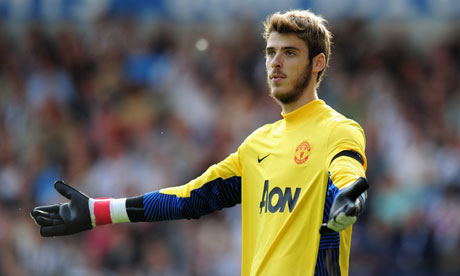 AUTHOR: – Bricki
It's a brave new era at Old Trafford this season, the loss of Van Der Sar as established number one has left as big a gap as when Roy Keane or Cristiano Ronaldo moved on.
The big money signing of David De Gea would suggest that he is the future for Manchester United between the sticks but this season could see a genuine battle for the starting spot at No. 1.

The signing of De Gea looks to have been a long term decision and one that was potentially made 12 months before he officially signed. It is the signing of Anders Lindegaard however that raises questions when you look to the immediate future of the goalkeeping spot at United.
The arrival of De Gea bears similar hallmarks to when Cristiano Ronaldo was purchased and arrived at the club as a lanky, greasy haired boy. Under the care of Uniteds development and fitness staff he became a beast of a man and something similar may happen with De Gea.
De Gea has only 18 months of genuine first level experience in Spain with Athetico Madrid and the Spanish Under 21s but has displayed all the mental attributes to suggest he can be an excellent goalkeeper. He fits a similar style to Van Der Sar in his frame, ability to use his feet and goalkeeping traits. Whilst Van Der Sar had 'bulk' to fill out his long body frame this has yet to happen for De Gea, who at 20 years of age is still developing physically. It could be argued therefore that we won't see the real De Gea until he has gone through the majority of this change.
The English league is considered a more physical league over the Spanish and the adjustment to this will also take time for a young keeper adapting to a different social life in a new country.
The signing of Anders Lindegaard at Christmas would appear to show an understanding of the potential for this situation to arise. At 27 years of age and capped at international level, Lindegaard offers the maturity and experience that De Gea currently lacks. He has also been involved with the club since the turn of the year so has an additional 8 months of experience of the differences in the English game for keepers as opposed to other leagues that offer more protection to a goalkeeper.
It is a fair suggestion then that in the next 18/24 months we may see both goalkeepers experience spells as the first choice. It is inevitable that De Gea will make 'errors' during his development and due to his bodies need to adjust as well he will need spells out of the time to ease the demand on his body. The role of goalkeeper at Manchester United is on a totally different level to that of Athletico Madrid. Following in the footsteps of Schmeichel and Van der Sar draws instant comparisons with added pressure experienced only at other select clubs. Lindegaard has already had the 'Schmeichel' comparisons but at 27 years old shouldn't feel the same demands that the young De Gea will now be feeling. A good knowledge of English for Lindegaard also allows him to step into the team with ease where required. De Gea will no doubt be learning English at an increased pace but again the presence of Lindegaard can ease the nerves that he needs to step up straight away.
By the middle of 2012/13 i expect De Gea to have fully established himself in the team as the first choice number one and will be showing a bigger physique to match his status. Lindegaards' three and half year contract signed in January suggests his main role will be to support the development of De Gea into the definitive number one before moving on once De Gea is fully established.
The first stage of that development starts now and if we were to see both keepers play a similar amount of games come May next year it would be of no surprise to many.
Ferguson made the mistake last time of trying to parachute goalkeepers that were already developed into the squad. Players such as Bosnich, Barthez and Taibi were good goalkeepers in their own rights at different clubs but never understood what it took to be a complete success as a Manchester United goalkeeper.
De Gea is still very much a lump of clay and using the knowledge of Eric Steele, Sir Alex Ferguson and the support of the more experience Lindegaard, he is going to be moulded into a Manchester United goalkeeper.
Do not expect to see Van der Sar Mk2 when you see De Gea, be prepared to see a quality goalkeeper develop in front of our eyes in the next 18/24 months.
AUTHOR: – Bricki