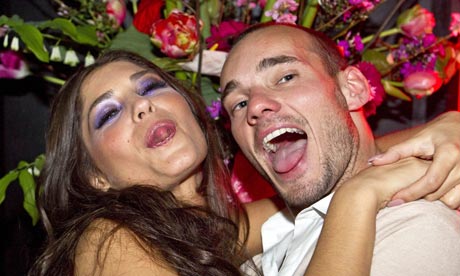 AUTHOR: – Stretford_End
"Wesley Sneijder's mum has been spotted in Marks and Spencers buying Manchester United underpants!" or "Luka Modric was seen eating a pickled egg walking down Didsbury" are just two of the things you may well hear (well maybe not exactly hear) in this loopy time known as the summer transfer window. Yes, it is the time clubs up and down the country throw out their old players onto the scrap heap, whilst dreams of a shiny new player (usually foreign) is seen galloping towards you on the horizon. What isn't there to love about the transfer window? Speculation! Gossip! But most of all – utter bollocks!
The rise of social networking sites has seen the rise of the ITK trend. You know, the guy that knows a guy that knows someone who knows another person who once delivered a chicken tikka masala to the cleaning lady of Ryan Giggs' mums friend – who has a source close to the club. How dare the agents of today command a fee when those good ITK folk are doing all of the negotiating for you! Here we address the highs and lows of the transfer window and look at some of the players that 'got away' over the years.

Just to clarify, I don't hate the transfer window. There is nothing more exciting than bringing in new blood to freshen things up a bit. In United's case, the signing of Phil Jones looks a decent piece of business long term – especially considering the FFP ruling that will be enforced over the next few seasons – and it will be interesting to see him lineup alongside Vidic or Ferdinand or Smalling or Evans. However, if we were 'in negotiations' with Jones, then I wouldn't gave mentioned it at all, because he wouldn't be a Manchester United player. What is with the constant desire to keep hitting F5 on the BBC Football website until the headlines PHIL JONES SIGNS FOR UNITED, flash up before your eyes. Fergie knows what he is doing. Why would we want United's transfer proceedings to be common knowledge anyway? Look in 2003, United had to act quickly in order to stop the likes of Arsenal, Chelsea, Real Madrid and the Milan sides getting a piece of Cristiano Ronaldo. Imagine some buffoon had been banging on about it over Twitter. If this ITK knows, then I'm sure Europe's finest know too.
So I like the transfer window. The likes of Roy Keane, Ole Gunnar Solskjaer, Jaap Stam, Ruud Van Nistelrooy, Seba Veron, Rio Ferdinand, Cristiano Ronaldo, Wayne Rooney, Nani and Javier Hernandez have all wandered through the Old Trafford doors on the eve of the season. However, it has thrown up some disappointments in the past. Below are some of the transfers that have left some reds, fists aloft – waving furiously, cursing the clowns involved in a transfer that either a) never existed or b) broke down because of wages/overall fee:
Ronaldinho: The bucktoothed wonder that dazzled the east coast of Spain for four seasons was apparently (I'm no ITK) extremely close to signing for the English Champions in 2003, however PSG were so enraged that United tried to talk down the agreed £19million transfer fee (believing no one else would match the fee) they went out and found a buyer in the 1992 European Cup winners Barcelona. I remember it now. Shopping in town with the wife, I received a text message from Manutd.com informing me that 'Manchester United had pulled out of negotiations for Brazilian World Cup winner Ronaldinho'. I nearly let the Miss Selfridge mannequin have it, I was that annoyed having smugly assumed that all the papers were 'telling the truth'. Ronaldinho went onto win the World Player of the year award, La Liga title and the European Cup. Whilst we signed 'The man who won the World Cup' Kleberson and some fancy pants bloke called Cristiano.
Frustrating transfer score: 90/100
Alan Shearer: Can lightening strike twice? When Alan Shearer is around, you betcha! Shearer chose Newcastle United over Champions Manchester United in a £15million move that saw the England marksman become the most expensive player in the world. Shearer had turned down United in the summer of 1992, when he left Southampton for Kenny Dalglish's Blackburn Rovers. I've had numerous debates with non-Reds that 'praise' Shearer for going to his home town club, rather than opting for the glory and trophies at United. As you can imagine I've always argued that a top player, which Shearer was, should not doubt try and challenge themselves to the best of their abilities. Bryan Robson, in his autobiography, spoke of his bemusement that Shearer opted for the North East rather than the North West – where he would have won countless trophies. United went onto win the 1997 Premier League title, with Newcastle finishing in 2nd place. Shearer did get to two FA Cup finals, only to lose to Arsenal in 98 and treble chasing United in 99. It depends on who you talk to but many say that Jack Walker had no intention of selling their top asset to United. Cheer up Alan.
Frustrating transfer score: 80/100
Celio Silva: The barrel chested Brazilian defender was denied a work permit in the summer of 1997. Despite losing my idol, hero and favourite Frenchman a few months earlier, I now had the life crushing blow of losing out on 'O Canhão do Brasileirão' – the canon of Brazil. Who knows how the Corinthians man would have done in a Red shirt? He won 22 caps for 'A Seleção' – so he can't have been that bad? Having said that, seasonal clown Roque Junior (who played, badly, for Leeds in the early part of the century) won 48 caps. So maybe he was shit.
Frustrating transfer score: 50/100
Zinedine Zidane: Although he may look like a comical balding character you'd put together on Pro Evolution back in the day, the mercurial Frenchman was the best player I'd seen since Maradona – and was heavily linked to United in the mid 90s prior to his move to the Old Lady of Turin in the summer of 1996. Some have cited Beckham's development as a key factor (Zidane was apparently to play wide right) in not signing the Bordeaux magician, however we shall never know. Eric still had one year left at United and a team consisting of two number tens of such quality would have been interesting. However, spare a thought for poor old Blackburn Rovers – who were keen on signing the World Cup winner, again in the mid 90s before his move to Italy. Dalglish went to Jack Walker to discuss 'this French bloke' who he would like to sign. Jack Walker, famously, responded "Why do you want to sign Zidane when we have Tim Sherwood?". True story, unbelievably.
Frustrating transfer score: 70/100
Michael Ballack: "Manchester United fans. He is the one you need. Manchester United need to get on the phone and get an agreement sorted" shouted unknown radio presenter Paul Breen Turner at the end of 2005 on one of his shows as I drove home from work. The person who said it is irrelevant, however there were a number of Reds who thought the German captain would be an ideal replacement for the Celtic bound Roy Keane. Franz Beckenbauer once remarked that his countryman was a 'better player than Zidane' and had impressed in the Champions League for Bayern Leverkusen, however I think we can all agree that Zidane was a class apart from Ballack. He eventually joined Chelsea on a free transfer, although picked up a bumper signing on a fee and wage packet, but was far too pedestrianised for my liking in the Premier League. United were in transition, and lets not forget – we still had Eric Djemba Djemba on the books when our interested started…
Frustrating transfer score: 60/100
Gabriel Batistuta: Batigol may look like an annoying hairdresser from a reality TV show on channel 5, but by god – could the man strike a football. No one will forget his goal in 1999 against United at the Stretford End (in fact take a look below), Eric Young headband included, where he turned away from Jaap Stam and smashed the ball passed the helpless Bosnich. Younger fans might be surprised to find out that Batigol was actually relegated with Fiorentina in 92/93, indicating that there was once loyalty in football. Sadly, fans of the 'Viola' faithful sort of forgot this loyalty and destroyed a statue of the Argentinean great man in 2000 following his move to Roma. There is no denying Batistuta would have been a massive success at Old Trafford, however lets not forget that we did have a fair bit of quality at United at the time. Whether it was Batigol's greed or Edward's tightness (both have been cited as reasons as to why the transfer failed) – we'll never know the reason as to why he did not sign.
Frustrating transfer score: 70/100
So, how about you? How frustrated were you when a nailed on transfer went tits up? Where you more annoyed at those self proclaimed experts that shout 'a done deal'? Fast forward to the current day, can you see any of the creative midfielders linked to United actually making the move to the North West? I need to know, now!