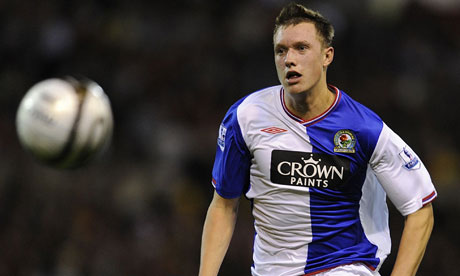 AUTHOR: – Doron
United's first foray into the transfer market this summer has seen Phil Jones join from Blackburn Rovers for an undisclosed fee (for now), meeting a release clause that was in his contract.
Jones, who turned 19 back in February has been linked with a move to United for 18 months and was according to the press odds on for a move to Liverpool last Tuesday morning. However United have moved fast to seal a deal for the youngster – possibly forced by other clubs (Liverpool, Spurs and Arsenal) showing an interest. United have met the player's release clause in his contract, however Blackburn wanted more money which result in a legal dispute between the two clubs causing a delay in the move. Blackburn have said this deal has the potential to be their record sale (which is currently £17.5m for the sale of Santa Cruz) therefore indicating that United are paying a fee up front with various add on clauses included. However, on Saturday evening, journalist Paul Smith, confirmed he'd had a text from Jones' agent saying the deal had now been completed and today the club have finally announced the signing with Jones inking a five year contract.
Jones is at present with the England U21 squad and plays as their first choice centre back alongside Smalling. He is perfectly adept at playing as defensive midfielder in front of the back four too. This therefore seems to signal a nice replacement for a combination of Gary Neville, Hargreaves and possibly Wes Brown if he leaves as is speculated too. With Smalling able to cover at right back, Evans able to cover at left back, and Jones able to play ahead of the defence; United appear to be covering all angles left by players who've moved on.
He was born in Preston and was said to not be keen on having to move away as he wanted to be near his family and girlfriend. Despite being young, he's already made 39 first team appearances for Blackburn with 34 coming in the league. He stood against United in the recent 1-1 draw at Ewood Park – we singled him out for praise post-match.
The club have said the player will be presented and the deal completed when he returns from the U21 tournament.
AUTHOR: – Doron