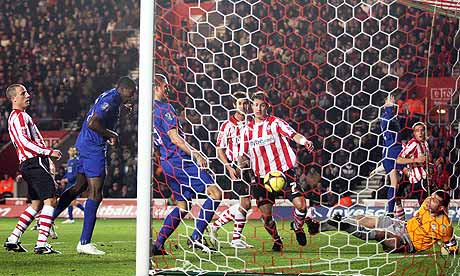 Manchester United will travel to Southampton on Saturday to continue their FA Cup campaign. United have officially made it one round further in the FA Cup than they did last season. Everyone will of course remember last season's heartbreaking exit in the third round against Leeds United. However, a win over Liverpool at Old Trafford means United is now onto the fourth round.
The last time United met Southampton was in this very competition two season ago. On that day United took the spoils with a goal a piece from Danny Welbeck, Nani, and Darron Gibson. Although Southampton are currently only in League One does not mean they should be underestimated. The Saints occupy fourth place in League One and are among the favourites to earn promotion to the Championship this season. Southampton is also home of one of this transfer window's most coveted youngsters, Alex Oxlade-Chamberlain. The midfielder has become well-known for his deadly pace which has seen him linked to Arsenal, Liverpool, and even Manchester United.
Although Southampton should not be underestimated, I think that Sir Alex Ferguson can still afford to rest a few of his big names. And after the miserable first half performance on Tuesday, I think avoiding the 4-3-3 may be our best option. This, admittedly, is wishful thinking, but I would like to see Anders Lindegaard make his debut in this fixture. Rafael has been ruled out after suffering a concussion against Blackpool, so I expect to see Wes Brown deputize. Rio Ferdinand has also been struggling with injury, so rather than risk him, Chris Smalling deserves to continue his run in the team. Patrice Evra has been ever present in the side and could do with some rest, so Fabio may get a rare chance in the first team. Nemanja Vidic should stay in the side to provide leadership and offer an experienced head in the defence.
In midfield, I would restore Anderson and Michael Carrick to the first team, assuming the Carrick has recovered from his injury. The midfield struggled against Blackpool and needs a facelift ahead of this fixture. Ryan Giggs was the saving grace when he came on at halftime on Tuesday, and that should earn him a spot in the XI with Nani on the opposite wing. As for the strikers, why fix something that isn't broken? Dimitar Berbatov and Javier Hernandez are in form and should be the forward duo to face Southampton.
United's last FA Cup success came in 2004, which is far too long ago for my liking. With 11 FA Cup titles to their name, United is the competition's most successful club. It goes without saying that winning a record 19th league title is the focus, but I'd love nothing more than for United to bring the FA Cup home once again.
You can share with us your thoughts ahead of the match and your favourite moments from games away at Southampton on our forum.