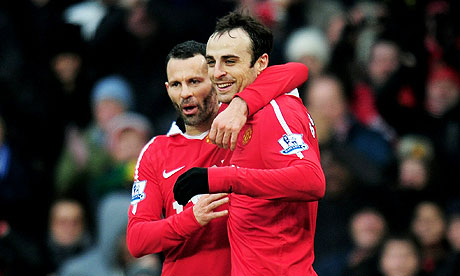 The last Birmingham City player to score at Old Trafford in a league match was Frank Worthington back in the 1981/82 season, therefore it was no surprise to see United run out emphatic winners yesterday. United drew 1-1 at St Andrews in the last game of 2011 following a last minute strike from Lee Bowyer after Dimitar Berbatov gave United the lead. Another Berbatov hat-trick, two more Rooney assists (taking him to ten for the whole season) and a wonderful goal involving Berbatov, Rooney and Giggs. Here we assess the 'talking points' from the game and welcome any comments from both United and Birmingham City fans.
Talking Points
Brilliant Berbatov Hat-trick
The hat-trick against Birmingham City saw Dimitar Berbatov's goal tally rise to seventeen league goals – a brilliant return from 19 appearances. Dimitar Berbatov joins Alan Shearer and Ruud Van Nistelrooy as only the third player in Premier League history to hit three hat-tricks in one season. This was the Bulgarian's eighth hat-trick of his career and has already surpassed his 2009/10 total (of 12 goals) by six this season.
Having said that, out of Berbatov's 17 goals this season only two have come away from home (against Everton and Birmingham City). This isn't a criticism at all, considering he has been excellent in the majority of games he has played for United this season, but a mere observation of the facts. An excellent hat-trick against Liverpool followed by an sublime five goals against Blackburn Rovers and then another hat-trick at Old Trafford. Berbatov could well become the first Manchester United player to net four hat-tricks in one Premier League season, however he will have to notch up six to surpass the five set by Alan Shearer in the 95/96 season.
Sir Alex Ferguson spoke of Dimitar Berbatov reaching twenty goals this season following the Bulgarian's impressive return thus far:
"Dimitar is getting up towards that 20-goal mark, which is going to be important for us. It does put a certain brand mark on the team and hopefully we will get another one to that level too. Once you do that you know it is a substantial season."
Wayne Rooney return to form?
Wayne Rooney still only has two Premier League goals to his name (against West Ham United and WBA), however his vision and craft have enabled Dimitar Berbatov to reach the goal scoring heights that he has this season. His contribution in the Blackburn Rovers match for Berbatov was crucial and it was very similar to the Birmingham City game today. Rooney's superb pass to Berbatov for his second followed by an excellent take and pass to Giggs on the left handside, who crossed for the Bulgarian to claim his hat-trick, demonstrates the importance of Rooney in this United side.
The graph below highlights Rooney's passing stats against Birmingham and the in the previous four matches:
Rooney's passing against Birmingham was much greater than in the previous match against Spurs, where United's number ten only completed 50% of the passes attempted. Against Birmingham at St Andrews, Rooney occupied a wide left berth in a 4-5-1 formation, with Berbatov as a lone frontman. Rooney's influence was generally subdued, considering he was playing in a position that most Reds don't like to see him in. His passes in the final third were wastful, a massive difference from his influence against Birmingham at Old Trafford, as these graphs below demonstrate:
Wayne Rooney's general position against Birmingham City away:
Wayne Rooney's general position against Birmingham City home:
There is no doubt that Wayne Rooney's form was generally below par following his injury against Bayern Munich last March, however there is no doubting the quality and talent he has and there have been glimpses of this over the past few weeks. Ferguson's faith in last season's top goalscorer was evident in giving him the nod ahead of Berbatov against Arsenal in December and I have no doubt that Rooney will start hitting the back of the net very soon.
Nani wasteful in front of goal?
The final and concluding talking point is taking a look at Nani's wasteful shooting. In all fairness, this is an extremely critical point considering the Portugese winger has been in fine form this season and scored a superb goal yesterday. At the back end of 2009, there were rumours that United were involved in discussion to bring Angel Di Maria to Old Trafford with Nani going to Benfica in exchange plus cash. At the time I felt it would be a good piece of business considering what I'd seen of the Argentinian and the inconsistent form of Nani in 2009. However, Nani had an amazing turn around in 2010 and is now considered a vital part of United's attacking setup.
His goal was pure quality yesterday, cutting in from the right hand side and smashing a low left footed drive past the helpless Foster. United had 23 shots on goal yesterday with Nani shooting 8 times out of the total. The eight shots resulted in a goal, one shot on target and six off target, giving Nani a 25% shooting accuracy yesterday:
Of course, if you don't shoot you do not score – but having said that could Nani have set up a team mate rather than trying to smash the ball home? On a number of occasions there were teammates in a better position and a deft chip to the back post or a low drive may have been a better decision rather than going for glory. What do you think? Am I being over critical of Nani considering United were generally wasteful in from of goal (United had six shots on target from 23 shots – 26% shooting accuracy) statistically.
Match Conclusion
I doubt many Birmingham City fans were confident of picking up a win since, as mentioned previously, the last goal scored by a Birmingham City player at Old Trafford was nearly thirty years ago. Of course, United and Birmingham had a massive gap in playing domestically (from 1985/86 upto 2002/03) or in any other competition for that matter. However, there was only going to be one winner yesterday following Berbatov's early goal from a John O'shea flick on. Berbatov's doubled United's lead following a quick break from Anderson to Rooney who played in the Bulgarian on the left hand side of the eighteen yard line, to smash home in front of the East stand.
The third was a superb strike from Ryan Giggs, following excellent link up play between Berbatov and Rooney on the right hand side. The second half saw the three players link up again, with Rooney demonstrating an excellent touch from a Van Der Sar clearance before playing in Giggs down the left hand side who crossed for Berbatov to smash home his hat-trick and make it four nil to United. Nani rounded off the scoring after receiving the ball from John O'shea (who picked up a clean sheet and two assists filling in for Rafael) on the right hand side, cutting in and smashing a left footed strike into the bottom corner.
Manchester United fully deserved the win yesterday and it could have been even more if Rooney had of converted his header and, as mentioned, Nani had of used the ball better when in the box. Next up for United is the rescheduled fixture away at Blackpool, who lost 2-1 at home to Sunderland.