Edwin confirms retirement at the end of the season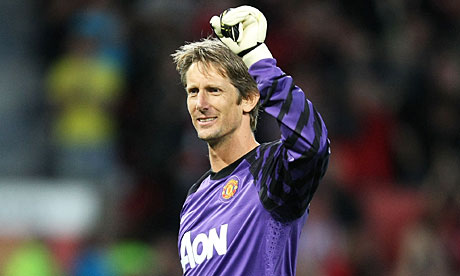 Manchester United's #1, Edwin Van der Sar has confirmed he will retire at the end of this season. This ends speculation surrounding his future and is almost certain to mean United will now be linked with all the top goalkeepers around the world.
The news was first broken by goalkeeping coach Eric Steele who was speaking on BBC Red Wednesday yesterday early evening. After announcing that he would not carry on beyond the close of this season, Steele went on to praise Edwin:
"He has been a fantastic servant. I was very lucky. I worked alongside Peter Schmeichel at Villa and I worked with Edwin for two and a half years. That penalty save in Moscow has elevated Edwin alongside Peter."
Steele first said back in October that this would be Edwin's last year only for the player himself to strongly deny the claims that he had made up his mind yet. Before the Boxing Day game against Sunderland, Ferguson told the press, "We are planning for this being his last season. He is such a proud man and it's going to be a big loss". Despite saying that, there had been nothing official since then from the club or the player.
Edwin has today spoken for the first time about retiring. He released a statement via his management agency:
"It is now time to pay attention to my family. I cannot really identify a time when it happened, let's just say that it was playing on my mind from the moment Annemarie had her stroke. She has fought back from it. We decided on another year in England and thus to stay at Manchester United. But, once engaged in the season, the thought of saying goodbye started to gnaw a bit more emphatically."
"I thought about stopping, maybe a year ago. It is a difficult process. After a defeat, I thought differently than after playing a few good games in a row. My age played no role. I am 40 years old but I still feel fit. And then the decision came suddenly. Do not ask me how or why, but suddenly you know. That was sufficient. The time has come to devote greater attention to my family – although they have never complained. Everyone in the family has indeed always had to focus on me, but we have also had a lot in return."
After releasing that statement, Edwin spoke to MUTV:
"You can't play Superman into your 40s. It's a mutual decision that this season was the last. When I first came here I was just happy to sign a two-year contract. I wanted to win the league before I retired. I was lucky to achieve a little bit more than that. I spoke with the manager about that last week, he admitted it also. I've enjoyed it here and it would have been nice to have a few years longer here. You can say, 'you could stay a couple more years'. But that's life – you don't always get what you want at the right time. I am just happy that at least we got to come together and experience a good few years."
"I'm not finished yet. I've still got a few months yet. I'm still aiming for something more. It's been nice and a great experience, even at my age, to be at a club like United. It's been a joy."
Eric Steele hinted that the club are very likely to find Edwin's replacement from outside the club:
"We're naturally looking at potential suitors ready for the summer. Come the end of the season, the whole thing will be re-assessed by the management."
Edwin has currently played 245 games for United and in his six seasons he's so far won 9 trophies. It would be fitting if Edwin could sign off just as another great United goalkeeper did…
You can discuss Edwin's retirement and who should replace him in the forum.