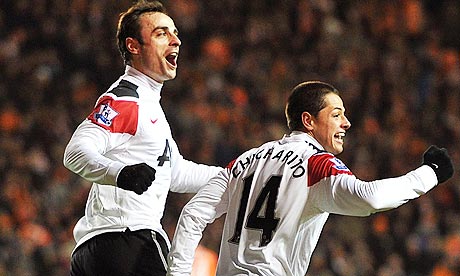 The last time the two sides met in the top flight was way back in the 1970/71 season, when the score finished 1-1. Denis Law was the scorer that day, in what turned out to be the penultimate match of the season, which didn't really mean much to either side. Blackpool were already doomed to relegation and United finished in 8th spot, trailing league champions Arsenal by 22 points. Fast forward forty years and you will have witnessed one of the most entertaining matches of the whole season. Blackpool took a two goal lead before Manchester United fought back in typical Ferguson style to rescue all three points. As usual we assess the talking points below.
Talking Points
United's poor start
Manchester United lined up in a 4-3-3 formation, which mirrored the same setup as Ian Holloway's outfit. Wayne Rooney was operating from the left, with Nani operating on the right and a midfield trio of Fletcher, Gibson and the deep lying Scholes. The tempo of United's play was extremely slow and United found it difficult to carve open any clear cut chances due to Blackpool high intensity closing down. United's only two chances were a long range effort by Gibson and a header by Rafael – which went straight into the keepers arms.
Blackpool took full advantage of the two corners they hard, both delivered by the impressive left foot of Charlie Adams, and converted by former United centre half Craig Cathcart on fifteen minutes and DJ Campbell in the forty third minute. United had changed shape way before the second goal was scored, moving Rooney up top and Darron Gibson out on to the left, however United lacked any natural width on that side – which resulted in a frustrating half for the Irishman. Gibson was inevitably replaced by Ryan Giggs, who had an extremely impressive second half (more on the substitutions later on) and was a lot more effective than Gibson, higher up the pitch as these heat maps show:
Darron Gibson passing heat map:
Ryan Giggs passing heat map:
The inclusion of Ryan Giggs provided United with more balance and width on the left hand side, whilst Blackpool began to tire as the game went on. So, was the starting formation the problem for the slow start? Or was it a combination of Blackpool's high energy levels and United's slow moving of the ball? Whatever the reason, the stats show that United's passing improved in the second half whilst ramping up double the amount of attempted shots in the first half:
Sir Alex Ferguson spoke after the game of how he saw better things in the second half:
"We have come from two goals down and, apart from anything, it shows everyone what can be achieved by producing our best. In the second half, there was some great stuff. That team can achieve a lot."
Super Subs
The introduction of Ryan Giggs and Javier Hernandez did change the game for Manchester United as Giggs offered more natural width on the left hand side, whilst Javier Hernandez is a natural at playing on the shoulder of a defender and running into the space behind. He took full advantage of Blackpool's high line and found himself yet again on the scoresheet after coming on as a substitute. The similarities to Ole Gunnar Solskjaer are quite frightening, considering that both don't look old enough to buy a drink in a pub, both have a knack of scoring goals as a impact player from the bench and both have built up a rapport with the United faithful.
The next section may seem a tad unfair on Wayne Rooney, considering I felt he was excellent against Birmingham City and possibly returning to his best, however these stats really highlight the impact Hernandez had on the game when he came on a substitute midway through the second half:
Statistics do not always tell the full picture. We all know how well Rooney has played in some victories at Old Trafford this season – without finding the back of the net himself. But credit where credit is due for the young Mexican, who continues to deliver each time he is called upon. Important goals against Stoke City (home and away), West Bromwich Albion and now at Blackpool have turned United draws/defeats into wins.
He should have scored when he was clean through on goal, having just come on the pitch, but the ball was parried by Kingston. He only had to wait another four minutes to get another chance and this time he didn't miss. Do you think it is about time Javier Hernandez started more games or is he better as an impact sub?
Blackpool Penalty Claim
Stonewall penalty if you ask me. Very easy to say that when the result is safe and sound, however if i'm honest my heart was in my mouth when I saw the challenge from Rafael. We all know that the young Brazilian (who we all hope is now recovering from the clash of heads) can jump in at times and I do believe he sent Varney flying with his challenge, What do you think? Ian Holloway couldn't understand why the penalty wasn't given:
"How disappointed am I that my lads have given that effort, absolutely flat out, pedal to the metal? How can he not see that's a penalty? "He got the penalty wrong. Who knows what happens if we score a third? And it would not have been undeserved."
Match Conclusion
Blackpool were excellent in the first half, whilst United were slow and sluggish and rarely threaten. Blackpool looked comfortable, defending deep whilst pressing whenever Scholes or Fletcher got onto the ball. The introduction of Giggs allowed United to play their usual 442 formation, which stretched the game a little more than in the first half (with Gibson on the left). Wayne Rooney had a frustrating night and was replaced by Javier Hernandez who scored the equalising goal, after Berbatov had clawed one back. Berbatov snatched the winner in the 88th minute after receiving a pass from Paul Scholes.
United managed to turn around a game that looked beyond them, especially after DJ Campbell scored just before half time. A change of personnel and a 'talking to' from the manager at half time saw United double the amount of shots on the Blackpool goal, where as the hosts began to tire. United were lucky not to concede a penalty after Rafael's clumsy challenge, but were well worth their victory after a very impressive comeback. United now travel to Southampton in the 4th round of the FA Cup on Saturday.