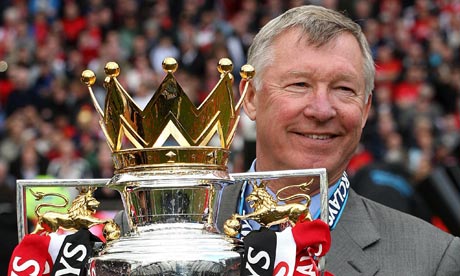 24 years, 1 month, 14 days. Legend.
On behalf of Stretford-End and Manchester United fans everywhere, thank you for all of your dedication and loyalty to the club. The Stretty Rant writers penned their own personal tribute to the greatest manager in the history of the game.
YOLKIE :
Fergie is simply the greatest manager of all time. How can you argue with the achievements? To build 5 teams within one spell at the club – the first a European winning side, the second a domestic steamrollers, the Fledglings, the Liam Miller years and then the current incarnation (technically, post Ronaldo/Tevez, he's moving on to the 6th) and have the majority of them taste success at the highest level of the game is a phenomenal achievement.
Only Mourinho and Guardiola in world football look like they'll have careers anywhere near as illustrious, it says much about Fergie's own achievements that the nearest worthwhile comparison in England has won around a quarter of what we have under him. The greatest thing he has done for the club in terms of the team isn't necessarily getting us playing the "United way" – we played with a swagger under Big Ron! – but it's the incredible amount of handwork and desire to win that you can see with most of the players, a character trait he is renowned for that is now stamped all over whichever eleven go out to play. It's why we get moments like Eastlands last season. The desire to win and the belief it gives the supporters go hand in hand, it's why you can watch a game with United and still – REALISTICALLY –  want them to get a result even if they're 2-0 down with 10 minutes to go.
He has gotten much criticism personally in the last few years for his role since the takeover but I personally think he's done an incredible job there, too. Faced with a choice, he did what he could to maintain the clubs success on the pitch, and let's be fair, trophy wise it's been the most successful spell in the clubs history. We all know that there will come a day when the trophies dry up; but when Sir Alex leaves, that will be far worse.
Thank you, Fergie.
DORON :
There's not a lot I can say that people won't already be thinking. I've never known United without Fergie and that goes hand in hand with me only ever knowing success associated with the club.
The man is all about hunger and desire – a want to better achievements in the past. Few people truly believed that in such a short space of time United would be able to hunt down Liverpool's haul of 18 league titles but he did. What he's achieved will never ever be replicated. It was nice to hear Ole say that at Molde he's going to try and replicate everything Fergie has done, from the atmosphere in the club to going out to the local teams and letting their young players know that they have a chance with a big club if they impress.
Fergie's influence and legacy will be felt forever. He encapsulates everything that is the club. His ability to constantly adapt to the changing game and often be ahead of it says a lot about his meticulous ways. Long after he's gone from United people will forever talk about him as the greatest manager there ever was. I'm just lucky to be alive during this period so I can tell people about it one day.
Ferguson wasn't made for United. Like Busby, United was made for him. Thank you Fergie.
——————————————
Premier League: 1992–93, 1993–94, 1995–96, 1996–97, 1998–99, 1999–2000, 2000–01, 2002–03, 2006–07, 2007–08, 2008–09
FA Cup: 1989–90, 1993–94, 1995–96, 1998–99, 2003–04
League Cup: 1991–92, 2005–06, 2008–09, 2009–10
FA Community Shield: 1990, 1993, 1994, 1996, 1997, 2003, 2007, 2008, 2010
UEFA Champions League: 1998–99, 2007–08
UEFA Cup Winners' Cup: 1990–91
UEFA Super Cup: 1991
Intercontinental Cup: 1999
FIFA Club World Cup: 2008