Arsenal bring out the best in United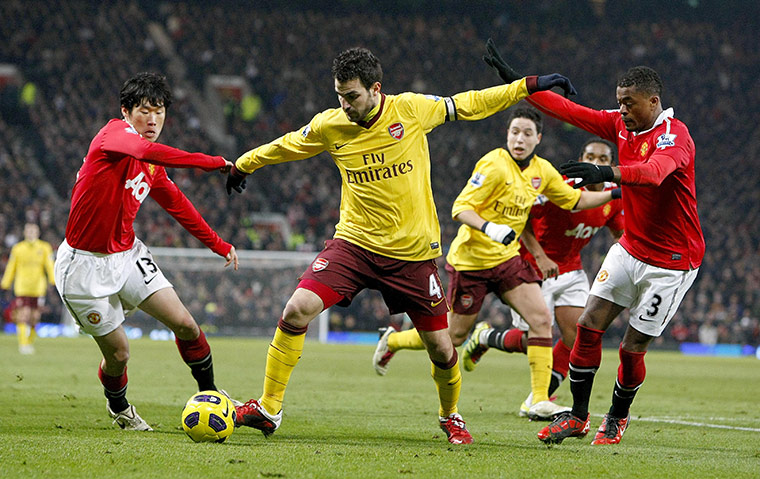 It's a credit to Arsenal that lately United have often turned in their best performances to beat them. There is much to be admired in how Arsenal try and play their football and it's true that United cannot match Arsenal's style of play, but countering it plays right into United's hands…
It would be wrong to overlook how Arsenal play. The Jogo Bonito or tiki-taka style which is so associated with Brazil or more recently Barcelona, is beautiful to watch. There is an emphasis on short passing, movement and ball possession. The aim is to tire and frustrate the opponent whilst working seemingly impossible angles and channels in order to get in a goal scoring position.
The problem Arsenal have is threefold. They aren't Barcelona. This isn't La Liga. Their striker demands a different style.
Arsenal have players who are outstanding technicians – Nasri, Arshavin, Rosicky, Fabregas and Wilshere – the latter of which I thought had a really superb first half yesterday. To address the three problems quickly, Arsenal's players aren't as good as Barcelona's and can't play in a tiki-taka style successfully against every opponent. The Premier League is a much more demanding league than La Liga and tiki-taka will sometimes just get kicked off the pitch. Chamakh is technically better than I thought but it's obvious to me that his main strength is a ball in the air or getting on the end of crosses – not something Arsenal are renowned for.
The Arsenal style is great against most teams in the league but against a United or a Chelsea it won't work. Arsenal's poor record against these two clubs lately is not a fluke. It was refreshing to listen to the radio phone-ins yesterday and hear Arsenal fans criticising Wenger's stubbornness – Arsenal do not have a plan b.
Wenger's arrogance to think he could come to Old Trafford and set his team up to outplay and outpass United ultimately cost Arsenal the game. Their problem is that there is a simple way that the big teams can play against them…and it plays right into United's hands.
If you ask someone what the 'Arsenal style of play' is you'd get a simple answer – pass and move. Ask what the 'United style of play' is and I think you'd get a mixed response. Certainly passing, exciting, attacking football would come up but when you think to the big games in recent years, it's always been about tactics, discipline and counter attacking – that type of football no one does better than United. It may not be as pretty as Arsenal but it's as impressive.
United's strengths at present lie in the foundations. There is a clear first choice back five now that have been every bit as impressive in the past month as any other defence in the league. In front of them sit workers – Carrick, Fletcher, Anderson and Park. Four players who will defend, be disciplined and chase. Nani too is helping out more and more in that respect, rarely did he leave Rafael isolated last night. All good defences will start from the front and Rooney put in one hell of a shift.
Despite United having more possession (51%) it often felt like Arsenal had much more of the ball. A tactic that Ferguson is happy to implement. For, there is no harm in Arsenal going sideways and keeping the ball 35+ yards from goal – to get to the goal they'd have to pass at least 7 good players – barring any moments of magic, it never seemed likely.
What United can do well, and did well last night, was soak up pressure and then attack. Whilst strong and physical, United's side has pace and power. Anderson, Nani and Park lead many such attacks against a vulnerable looking Arsenal defence last night. With a few less fouls, some better passing and finishing, the game could have ended 3 or 4 nil just as a result of the counter attacks.
Walking away from Old Trafford last night I felt I'd witnessed the best United performance of the season. There's something to admire about a side that is given a set of tactical instructions and gets it spot on. Arsenal could have played another 90 minutes against that United team yesterday and the chances are they still wouldn't have scored.
Sometimes the beauty of football doesn't have to be in attacking, possession, tiki-taka style football. My admiration for Ferguson in getting the tactics spot on and the players for implementing them in such a perfect way made me happier with that performance than say the win over Blackburn. The small minor details such as Edwin often looking to instantly release Rooney with a long kick or Park's marking job on Nasri or Anderson always pressurising the deepest Arsenal midfielder counted for so much last night.
I was disappointed to be discussing the game with an Arsenal fan last night on the way home to be told that United's performance wasn't good. Of course performance is a relative thing. Arsenal's best performances are when they are unplayable and score 5 or 6 against one of the league's middle-to-better teams. For me, United's best performances are when they win playing tactical football like that against a big side – it plays to their strengths.
There is no other way to play against Arsenal. It is a big compliment to them that United didn't try and 'outplay' them in a Jogo Bonito style, United would have surely struggled. Wenger's sheer arrogance in only playing one way against any opposition makes Arsenal predictable, but the challenge in matching up to how they play and countering it, is what brings out the best in United. Whilst it may not have been pretty, last night was definitely one of the best team performances I've seen in a long time from the Reds.