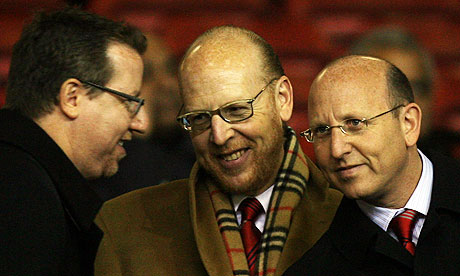 I'm reading reports suggesting that the Glazers are about to pay off a the £220m PIK loan on Monday 22nd November. Bloomberg earlier reported that Joel Glazer signed a document, entitled voluntary free-payment notice, that Red Football Joint Venture will "prepay 100 percent from the outstanding loan on Nov. 22". The PIK loan to Manchester United would have matured in 2017 and if the Glazers had held the debt until then, they would have owed almost 600 million pounds at the current interest rate – which is based upon Bloomberg's calculations.

Mark Baker, chief executive officer of ADM Capital Europe, claimed he was "delighted" for the fans but the Glazer's are "eliminating arguably their best asset":
"From a portfolio manager's standpoint, it's tantamount to 'the Grinch who Stole Christmas. The Glazer's are eliminating arguably the best asset in the European High Yield universe from a risk/return perspective. Delighted for the fans but our portfolio will miss the 16.25% coupon."
The excellent Andersred blog, has put together three main possibilities as to where the money has come from:
1) Refinancing
2) Sale of an equity stake
3) Sale of other assets
You can read the full blog on the pay off othe £220 PIK loan here. The Glazer Out Blog looks at the possibility of a third party getting involved – ranging from another American Investor to the Red Knights.
The Glazer family paid £790m for United back in 2005, just before the FA Cup final in Cardiff against Arsenal. In January this year the Glazers converted a bank loan secured against the club into a £526m bond, which they could make a single withdrawal of £70m from club funds in order to pay off some of their £220 million PIK loan. Last month, Manchester United announced a record loss of £83.6m, much of which was attributed to interest payments and costs relating to replacing long-term debt with the bond.
Regardless of this pay off, the message must stay the same – We Want Glazer Out.