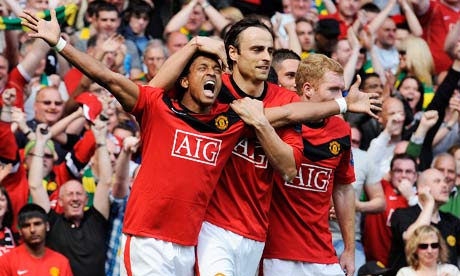 For the first time this season United face one of their fellow English Champions League representatives. New to the 'big four' Spurs have so far balanced European football with Premier League football well and this will be a tough challenge for United. I expect all eyes will be on three players in particular – Chicharito, Bale and Van der Vaart. Spurs's have a bad record at Old Trafford though and we'll all be hoping that tomorrow's game follows that same path.
Spurs were knocked out of the Carling Cup in the third round and therefore avoided a midweek fixture. They should be fresh and ready to come to Old Trafford with a renewed belief in their abilities. Champions League qualification last year put to bed ghosts of failures past. Importantly it meant Spurs were able to keep hold of some of their better players over the summer. The additions of Gallas, Sandro and Van der Vaart were all positive moves and a sign that Spurs intend to now keep their place in the top four.
Spurs have had a decent opening quarter to season. Solid results against Man City and Everton were backed up with good wins against Aston Villa and away at Fulham. However, a home defeat to Wigan and a poor loss at West Ham show just how hard and unforgiving the league can be. At United we know only too well that it's the results in those games that can come back to frustrate you. Like United, Spurs are yet to face a fellow member of last years 'big four'. They come into this game off the back of a noble loss in Milan and a tight draw at home to Everton. Spurs fans could be forgiven for looking beyond this game to Tuesday however, when White Hart Lane hosts the European Champions, Inter Milan in what will be probably the biggest game of the season at The Lane.
Tom Huddlestone has been linked with United on a few occasions but it seems likely that he'll miss this game through injury. Also missing out is an entire back four of Corluka, King, Woodgate and Dawson whilst O'Hara and Defoe still are receiving treatment for injuries. With the Inter game ahead Harry Redknapp has hinted he may drop Gareth Bale to the bench in a bid to save him from any kind of burnout too early in the season. There could be a league start for Sandro as part of a midfield five and don't be too surprised to see Crouch dropped in favour of Pavlyuchenko.
On form, the two players to keep an eye on are Bale and Van der Vaart. In a recent poll I conducted on twitter, Bale came out as the player United fans want the club to sign more than any other. His electric early form playing in midfield has caught the attention of clubs worldwide. Last year he came to Old Trafford and played at left back – his defensive naivety was hugely exposed as United won 3-1. He is spurs top scorer this year with six goals of which two have come in the league. His strength, energy and drive make him a real threat come half past five on Saturday. Van der Vaart is Spurs's second top scorer with five goals, four in the league. He joined on transfer deadline day despite the paperwork being submitted after the deadline. His cut-price fee of £8million looks a real bargain as he has added a touch of class to both Spurs and the league. I expect him to play as part of a midfield five but I'm sure he'll have some more freedom to roam.
Unfortunately for Spurs the facts do not look good in the build up to this game. No win in 25 games in all competitions against United and it's nearly 21 years since the last win in Manchester. Worse still, it's 67 games since Spurs won away at any of United, Chelsea, Arsenal or Liverpool. Untied should be encouraged by the fact that Spurs haven't kept a clean sheet in the league since the opening game of the season. Last seasons fixtures ended with 3-1 victories for United home and away.
I've had real trouble trying to predict the United team for this game and I am torn between two options so I will publish both of them:
And:
My team selections come down to a few things: lack of available wide players; a midweek game; and how keen Ferguson is to play Chicharito again. I honestly can't decide what formation he'll go for but I think the back four is quite set in stone, with only Evra coming in for O'Shea or Rafael if he opts to play Park in the midfield. Scholes and Fletcher will both start, as will Nani and Berbatov.
Giggs, Owen, Hargreaves, Rooney and Valencia are al definitely unavailable. Edwin van der Sar remarkably turns 40 today (Friday) so I thought that is a little milestone worth mentioning. Other facts related to United show that Nani has seven assists in the league, more than any other player whilst United still remain the only unbeaten side. Whilst Berbatov is the top goalscorer, he incredibly hasn't found the net since his hat-trick against Liverpool on the 19th September – a goal is overdue against his former club.
United are on a run of three consecutive wins in all competitions, however they are five points behind Chelsea in the league. Anything bar a win will not be acceptable. I'm afraid Spurs fans that I am siding with history for this one and I'm going to predict a tight 2-0 United win.
Share with us your thoughts ahead of this game on the Spurs thread on our forum