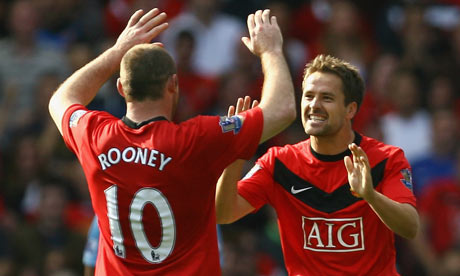 As Manchester United fans our focus is firmly on our club. We don't really spend much time worrying about other teams as we have a belief and confidence in our own side. However, that isn't to say that from time to time we look around and see what everyone else is doing – it's only natural to be intrigued. Therefore with three weeks to go until the start of the league season, and nearly a month into the transfer window I thought I'd share my brief thoughts on the competition.
I must point out that I'm not fascinated with other clubs over my own (often a criticism by opposition fans when these sort of things are done); I'm not looking to specifically nail into other clubs either…I am merely giving my honest opinions on how I see things at the moment. Read as you desire into what I have to say.
Chelsea
At present: They are the reigning champions and as expected they will be a threat regardless next year. Right now their tour squad provides an insight into the direction they are heading with lots of younger players included. Abramovich appears to have tightened the purse strings meaning there are spaces up for grabs from within. Benayoun has come in to replace Joe Cole, from the bench at Anfield to the bench at The Bridge.
Strengths: Michael Essien's return from injury is a huge bonus for Chelsea. He is in my opinion, the best non-United player in the Premiership. Frank Lampard scored more goals last year than he had done before and whilst like all England players his World Cup didn't go as planned, no one would be surprised if he carried on scoring for Chelsea. Importantly, the squad know what it's like to win – they have the experience.
Weaknesses: For me the biggest problem is that their squad is thin. They've lost a lot of experienced players who between them played quite a few games last year. Any team that loses Joe Cole, Ballack, Belletti and has the prospect of losing Deco and Carvalho is considerably weaker. Chelsea are keen to give youngsters a chance but the reality is that few of them have any real experience. Chelsea have already lost Cech, Alex and it looks like Drogba now as well for the start of the season, a few more injuries or a crisis like we had last year and they'd be in real trouble.
Future: Chelsea MUST sign some players if they want to win the league this year. Their starting XI is of course strong but every team must expect suspensions and injuries which I don't think they could handle at the moment. If there are no signings (plural – one won't do) then they may find themselves struggling at times.
Arsenal
At present: Arsenal are a relatively unchanged team from last year (minus some defenders). Their current tour squad is typical of what we've seen under Wenger – talent and youth. Wenger has made a couple of moves in the transfer market bringing in Chamakh (straight replacement for Eduardo) and Koscielny (replacement for both Silvestre and Gallas).
Strengths: In three words, talent and Fabregas. Arsenal's squad oozes with talented youngsters all of whom will be hoping to make a serious mark in the first team next year. Ramsey, Wilshere, Djourou, Nordtveit, Vela, Gibbs, Szczesny, Frimpong and Lansbury all may hope to play bigger roles should they not go out on loan. As it stands, Fabregas remains an Arsenal player. His quality is unquestionable, as is his love for Arsenal. While he remains, Arsenal have a player of true quality in their side. The return to fitness of Van Persie will also be key – if he can stay fit he will add some flair and deadly finishing in the forward areas.
Weaknesses: Arsenal don't have the experience of winning a trophy. This generation of youngsters haven't fulfilled their potential yet and are inexperienced when it comes to jumping the final hurdle. If Arsenal have more bad luck with injuries then a repeat of last year may be on the cards. Arsenal must sign a goalkeeper and some centre backs. Almunia was often the reason points were dropped whilst right now the four centre backs (Campbell, Vermaelen, Djourou and Koscielny) don't strike me as good enough.
Future: As always with an Arsenal team – lots of young talent doesn't equal success. I think Arsenal should be content with a Champions League place next year – I don't see them challenging all the way unless a few more players are brought in.
Tottenham
At present: Spurs have a big squad and good depth to it. Harry Redknapp has taken some of the younger players on tour and seems keen to give them a chance. Other than bringing in highly rated midfielder, Sandro, there has been little activity at White Hart Lane even though transfer speculation seems to be going into overdrive.
Strengths: As I said, they have a good deep squad. There is cover in every position bar right back if we're being picky. The biggest plus for them is that so far they seem to be holding on to prized assets Modric and Bale with ease. The team have seen that they can be successful and no doubt confidence is very high at the moment.
Weaknesses: If Spurs want to remain a part of the top four then their squad is looking good. They will probably need to be in the market for a better striker – ideally someone who can play alone in a 4-5-1 formation. With quite a few players (Jenas, Keane, Pavlyuchenko plus others) possibly on the way out they may need a few more squad players. It will be important to see how seriously they take the Champions League if they get through the qualifiers. If they take it seriously they must make sure it doesn't affect their league form and Harry may need to rotate the squad more.
Future: If the league remains the priority then Spurs could sneak into the top four again. I believe their squad is superior to Arsenal's and so they could be the two teams battling it out for 4th place. Lots of players are being linked with a move to Spurs and it certainly seems like the club are moving in the right direction. They may well prove to be a real danger if they can get one or two quality players in.
Manchester City
At present: It's hard to know what to say. Their squad is big and has some players of the highest quality in it. Speculation in the papers every day is linking them with more and more good players. They are building the core of what looks like a strong youthful team.
Strengths: Money. No player is truly beyond them. They can sign who they like and pay ridiculous wages if necessary. They have bought in a top player in David Silva, a Champions League winner in Yaya Toure and a centre back with real potential in Jerome Boateng. This team is only getting stronger.
Weaknesses: I have to try to be serious and not go down the route of money ruining football. Their weaknesses are probably inexperience when it comes to winning and the risk of the team not gelling. I don't personally know how much identity means to City fans but with the prospect of a few of their players who've come through the academy leaving, they are starting to lose a sense of local identity and are becoming rather international – mind you, I'm not sure it's bothered Chelsea fans too much. In truth, there aren't many weaknesses other than the burden of no trophies in a long time and the pressure of living up to their bigger and better (cough) neighbours.
Future: If the team can come together then City may well be a real threat for the title not just for 4th place. The signings they have made suggest intent and with more seemingly to come the blue half of Manchester may well start to dream. I don't live in fear of City at all but relish the challenge and I do respect the team they are building (I've seen City fans on Man United forums suggest we are scared, I'm certainly not…bring it on!).
Liverpool
At present: New manager. Unsettled squad. Rumours of Gerrard, Mascherano and Torres leaving. Only Joe Cole worth mentioning out of the signings, and his arrival was countered by the fact he stole another new signings shirt.
Strengths: Hard to see many but right now with none of the big names leaving -so far – that must count for something.
Weaknesses: The owners want to go. They aren't in the Champions League. The squad looks poor. It really isn't a good time to be a Liverpool fan.
Future: I believe at least one of the big three will leave and then it'll come down to how Hodgson can reinvest the money. Liverpool should be concentrating on getting squad players in so that they can ensure they make Europe next year. I don't believe one quality player is what they need. Right now their squad is not in good shape and getting into the Europa League spots may be their challenge this year.
Apologies if your team has not been mentioned. I felt it was necessary to mention Liverpool as they are close rivals of ours and they still believe they should be a top four team. I expect Aston Villa and Everton to push Liverpool hard and possibly come above them.
Hopefully what you can see here is that I believe that right now only City have got stronger. I don't doubt that Manchester United are in a good position to challenge again for the title. We have certainly not got weaker and have the prospect of a large, talented, youthful but experienced, relatively injury-free team to start the season with. There is no harm from time to time in looking at and assessing the opposition with respect. I hope that anyone who had doubts about our own squad can see that actually other teams have bigger problems. Right now, all things considered, bring on the new season, I have a good feeling the opposition are scared of us.
Feel free to follow me on Twitter