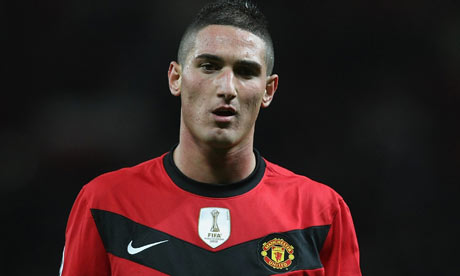 According to Federico Macheda's agent, the Italian striker has been classified as "unsellable" by Sir Alex Ferguson. While his agent has continued to insist that Kiko would be staying at Old Trafford for the 2010/11 season, there has been some talk of a possible loan move. Having spoken with the gaffer, though, his agent's story now has more credibility.

Though Giovanni Ba, Kiko's agent, has repeatedly stated that his client was going nowhere, the press continued to bring up the young striker in transfer rumors. One story suggested the Macheda may be used as part of a deal with Inter for Mario Balotelli. This news should bring an end to the rumors.
I, for one, am certainly glad to see that Macheda will be gracing the pitch at Old Trafford in the upcoming season. I've been a huge fan of his since he scored against Aston Villa, but honestly, what United fan hasn't been? He has the potential to win a spot in this United squad, which is by no means easy to do given the talent we have.
Personally, I think this is a huge season for Kiko at Old Trafford. He's already shown us that he has an uncanny ability to find the back of the net. Three goals in nine matches is certainly a good return for an 18-year-old striker. Kiko should get more first team chances this season, especially if Berbatov continues to misfire and Owen struggles with injuries. Should he take his chances, this could be the season we see Kiko cement his place at Old Trafford.
This comes as promising news with United's strike force also consisting of Rooney, Berbatov, Owen, Hernandez, Welbeck, and Diouf. With seven strikers competing for one or two starting spots, a few of the youngsters should be heading out on loan. Following this news, I would expect Welbeck and Diouf to be the ones on loan.
You can follow Kyle on Twitter at http://www.twitter.com/KDill_MUFC
Sorry I'm a bit late on this one. Still getting the hang of my role here at the Stretford-End.com