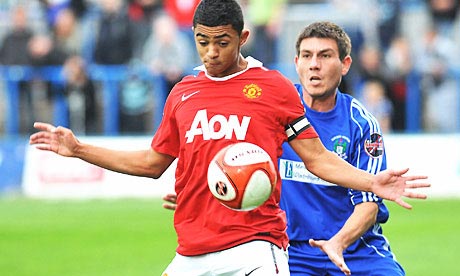 Manchester United are heading back to the USA hoping to take advantage of some of the country's recent heightened interest in the sport; just as Stretford-End.com works on introducing a new correspondent from that side of the pond. As United hope for a strengthened stranglehold on the commercial market in America, Yolkie took time to welcome our new features writer, Kyle, before he gets to see the club he loves in his own country (Kyle, that is, not Yolkie).
The beautiful game of football (or soccer, if you like) has never really taken off in the USA. That would be the general consensus from it's "birthplace", anyway. Even the late 70's boom with Pele and George Best providing top billing never really inspired a full time serious competitive nationwide league and it wasn't until the USA were to be given the honour of hosting the World Cup in 1994 that they considered re-structuring their domestic competitions to appeal to a wider audience. With the World Cup Final this year watched by an estimated 700m people worldwide and with sponsorship deals in sports so lucrative in the US you can see why there is a great effort to try and get the game more popular.
Manchester United, though, have never had the problem of gaining worldwide popularity. The Munich disaster drew lots of interested followers and the way Sir Matt Busby led his Babes to European glory 10 years after gained the club many admirers. The triumph over adversity that really is the best story in any sport is best displayed in football at Old Trafford. More recent generations of supporters around the globe obviously didn't learn about United through Munich, it may have been the unlikely sight of Steve Bruce scoring a double to propel the Red Devils back into the 1993 title race. It might have been Solskjaer's right boot in Barcelona, Roy Keane's header in Turin, it might even be watching a player like Coppell, Whiteside, Robson, McGrath, Beckham, Cantona or Giggs.
Kyle's own experience of discovering the club is a perfect example of the unique tale that each of us lead – visiting England during the 2002 World Cup. "You might say I found it through family in the most indirect way. My aunt lives and works in London, and my family went to visit her in the summer of 2002 (I think I was about 12 years old). We arrived just in time for the World Cup. I had never seen anything like in America; everyone was so caught up in the World Cup. I got carried away in all the excitement. I watched England's first match, and that was that. I was officially in love with soccer."
"My favorite player during the World Cup was David Beckham, so when it came to get interested in clubs, Manchester United was the obvious choice. Unfortunately, Beckham left at the end of that season, but by then United had already taken over my heart. I've been a fan ever since. Also, while my aunt knows little about soccer, she loves people who have a winning mentality. When she saw how I fell in love with soccer, she would speak highly of what a winner Sir Alex was. That had an influence as well, as I'm very close to my aunt and respect her opinions."
Having grown up in the generation that gets accusing of "glory hunting" more often than any other, I feel a little sympathy for those younger than me who can't explain the situation, those who were simply born in that era. It's worse still, I suppose, when you get that attachment to the club and live overseas. Kyle explains, "A lot of Manchester United fans in America are accused of "jumping on the bandwagon" just because they win a lot of trophies, but that was honestly never a factor for me. I didn't know much about the club when I first decided to follow them, just that it was the club Beckham played for. Of course, I've since learned of their rich and fantastic history. To me, their success is just an added bonus to being a Manchester United fan, not the reason I am a fan. I've even started to get my family involved. My parents don't necessarily watch matches unless they sit down to watch one with me, but they still follow how the team is doing. In fact, my dad and I are taking a road trip to see United play in Kansas City for some father-son bonding."
It certainly makes up for the last time United were in the US, in 2004, when Kyle was unable to catch his team. "I live in Illinois and none of the stops in 2004 were near me. I think the closest match was in Philadelphia, which is a 14 hour drive away. I was only 14 and couldn't drive, and unfortunately my parents didn't want to drive 14 hours for a soccer match. I was pretty upset to have United in country and not be able to see them, but what can you do? I'll be making up for it this summer, watching their open practice in Chicago and the match in Kansas City. To say I'm getting excited would be an understatement."
It's all well and good sharing the story of how we fell in love with the club – that comes in everyone's tale and it's all universal. What isn't quite as universal and probably isn't as accepted is the lengths some people go to in other countries just to watch United in the Premier League. Those people who doubt the connection "foreigners" have with the club would have their eyes opened when watching their team in a far away country where watching a 12.45pm kick off means getting up early in the morning or staying up way past any kind of reasonable bedtime. Imagine the disruption that has on your working life, your study. Then people who do that for seasons on end who spend their life savings going to Old Trafford and get casually dismissed as "daytrippers".
Kyle's story isn't new to me; having visited the US several times over the last few years mid-season I'm no stranger to having my own day re-structured around United. Still, that's my holiday. Not my every day life. His experience and fitting that in with his daily existence really shows his desire to watch the team. "The time zones certainly don't do me any favours, but you can bet I'm up for every match. Typical Premier League match times can be as early as six in the morning here in Illinois. This is especially brutal for me being a university student who typically goes out to the pubs on Friday and Saturday nights. I typically just watch in the comfort of my home because none of the pubs want to open at 6am for matches. I used to have to search the internet for live streams of every match, but TV coverage has gotten increasingly better here in the states. Fox Soccer Channel broadcasts a few Premier League matches every week… My best match day story has to be when United played in the Club World Cup. It just so happened to fall during the week of my final exams at university. They were playing in Japan and I know at least one match was on at 4am here. Final exams or not, I was going to watch that match. I stayed up all night studying, then at 4am watched the match, and took a final exam at 7am. One word: dedication."
That dedication to United doesn't end at waking up at an ungodly hour to watch his team. Kyle went to see the Red Devils during the run in to the 2007/2008 season when we battered Liverpool on Easter Weekend. It's a memory that immediately provides a warm flashback for me; I was on a family holiday myself, on the East Coast, when we got stranded in a freak snowstorm. Like many visitors, Kyle combined his matchday experience with a trip to the museum to take in in person the feel, the history of the club.
"It was like a dream come true. Seeing the history in the museum was fantastic; seeing the history and exhibits for players like Best and Charlton were really special to me. I had only read about them and seen highlights online, but yet I had so much respect for them. I've always really appreciated the history of the club. And of course, I had to get a picture of me walking out of the tunnel and in the dugout. The next day; we went to see United against Liverpool. It was toward the end of the 07/08 season and United demolished Liverpool 3-0. Obviously it was a great match to see! I'm dying to get back over there; I'm hoping I may make it sometime this season."
Compounded with the feeling of having to contend with the generalisation of "glory supporting" from hundreds, thousands of miles away, Kyle also 'suffers' from being American. Where casting an opinion on soccer to another nationality is mentally downgraded because American's "don't take it seriously" so obviously "don't know their stuff". An American, in Manchester, supporting United. Any problems?
"I've never had any problems with the locals while I've been there; well, the locals that are Manchester United fans at least. When we first got to Manchester, my aunt wanted to stop for a bite to eat at a pub near our hotel. I immediately realized the pub must've been for Manchester City supporters by looking at the decorations on the wall. I was wearing my 07/08 home shirt with Ronaldo 7 on the back and a coat over the top of it. Actually, I wasn't going to take my coat off, but my aunt noticed I was sweating and insisted. Almost immediately a small child pointed out I had a United jersey on. I got more than a few glares for that, not to mention one man who gave me a one finger salute."
Less of a problem, more of a nice initiation. The salute is always a nice moment; it welcomes you into the family. The connection with United and the USA intensified when the Glazer family took over in 2005. Kyle recalled the impact this had on him. "I hate the Glazers. Compatriot or not, when you jeopardize the future of the club I hold so dear to my heart, you become my enemy. As far as supporting the protest, I'm a member of MUST and the proud owner of a Green and Gold scarf. You can order the scarves online from MUST, so that's one easy (and fairly cheap) way to support the protest from the states. Also, I've donated to MUST to help with the Green and Gold campaign."
The protest is something dear to most fans' heart. It brings out the best – and worst – of fans, though there is no real wrong or right. Just what we feel we can do. With a supporter fanbase reportedly over 300 million worldwide, you would figure the vast majority of them can't actively get to Old Trafford to voice their displeasure. Kyle doesn't necessarily buy into the idea of a fan ownership model; more that it would be an added benefit rather than a pre-requisite.
And though there is no wrong or right, his view does bear similiarities to mine. After the Red Knights smokescreen eventually faded and that fake optimism instilled in supporters was replaced by a defeatist pessimism, it has lead to some fans questioning their own position in any boycott. "Some have taken action by boycotting the Glazers financially, but that's not for me. I bought into the merchandise and ticket boycott when the Red Knights were preparing a bid, but once the Knights' bid seemingly fell apart, my boycott ended. I have a real problem with spreading propaganda and asking for donations, then not making a bid before the World Cup like they said they would. They say the bid is still alive, but I find it difficult to trust them now. Whether we like it or not, the club and the Glazers are linked financially for the time being. By starving the Glazers financially, we're starving our own club during a time of great financial need. That's how I see it anyways. Of course, everyone is welcome to their own opinions and methods; I still see all fans as my Manchester United family."
More recently, Kyle has been writing on his own blog and contributing to a town publication – I was impressed with his style and the way he put his opinion across, and knew instantly it would serve as a brilliant step forward for both he and the site. Stretford-End.com is taking exciting new steps in the near future and are excited that Kyle will be a part of it with us. Like us, our new feature writer is excited by next season.
"For me, the biggest hope is winning that 19th Premier League title! For some of our legends – Gary Neville, Paul Scholes, Ryan Giggs, and Edwin van der Sar – this may be their last season at the club. Should any or all of them retire, I'd love nothing more than to send them off with that record-breaking accomplishment.
Realistically, I think we could be looking forward to a pretty successful season. I know a lot of people are looking for a marquee signing. Hell, even I would get excited by a big signing. It certainly wouldn't hurt. However, I agree with Sir Alex. Last year we finished one point behind first place and got knocked out of the Champions League in the quarterfinals on away goals, and that was during one of the worst injury-plagued seasons I have ever witnessed. We have the same squad with an extra year of experience, and if the players stay fit, I expect us to be competitive on all fronts. Our rivals, with the exception of City, haven't added any big signings, so I expect we'll be in a very strong position."
Couldn't have put it better myself.
You can follow Kyle on Twitter at http://www.twitter.com/KDill_MUFC
You can also follow Yolkie on Twitter at http://www.twitter.com/yolkie_
Incidentally, we also wish to welcome Doron to the site. Doron is an extremely knowledgable United fan with a keen interest in reporting the reserve and youth sides.