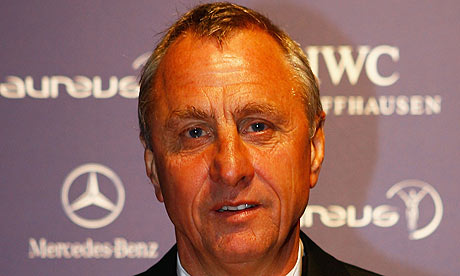 Dutch legend Johan Cruyff has heaped praise on Wayne Rooney, describing him as a 'complete player'. The Manchester United forward was in scintillating form for United this season, scoring 34 goals in all competitions. His injury towards the end of the season hampered United's title and European bid, however our number ten can look back on a very impressive campaign. Cruyff, who inspired a generation in the 70s, defended Rooney for his dissent in matches. Much has been made of Rooney's conversation with the referee in the meaningless England friendly on Monday – with many football 'experts' not realising that players are in fact allowed to question a decision. This isn't a post on the 'respect' campaign, i'm merely pointing out that even if football now appeals to middle Britain, its roots remain working class, which some journalists seem to overlook. If you want to discuss arguing with officials and player conduct on the pitch you can do in our forum.

Cruyff, who was booked at half time in the 1974 World Cup final for dissent, was quick to defend Rooney, claiming that it is possible to get away with that in England, but nowhere else in the World:
"He is a great player, very fast, good eyes, a complete player. In England you can get away with it. But anywhere else in the world you can't. I had the same problem in Spain. You open your mouth to breathe and you get a yellow card. You don't play now in England, you play here under other rules. Don't talk, just turn around, think he (the refeee) is crazy and go. But if you say something or gesture, there's a problem. I prefer the English way; it's an emotional game. I always talked in the field too and it cost me a lot of yellow cards. Xavi from Barcelona never fouls, but he got five yellow cards for talking. It's like that, you have to adjust yourself."
England and Aston Villa striker Emile Heskey was also quick to jump to the defense of Rooney, claiming that his passion is sometimes misread as 'anger':
"A lot was made of it but at times his passion has been misread for anger. When he came on the pitch he got the lads going. We probably needed that because we were a little bit flat. He picked us up and gave us the boost we needed. It is not anger. He just wants to win. He is so passionate, he wears everything on his sleeve."
Heskey was at the centre of the injury to Rio Ferdinand, which ended the defenders World Cup campaign.
Apologies if news is a bit slow over the next month, although any major transfer news/gossip or opinions on Red Knights, players, World Cup performances and club news will be reported on here. In the meantime, if you are interested in the World Cup, you can find me over at World Cup Statistics where I will be reporting on World Cup News – which is where the Luis Nani Injury story broke.