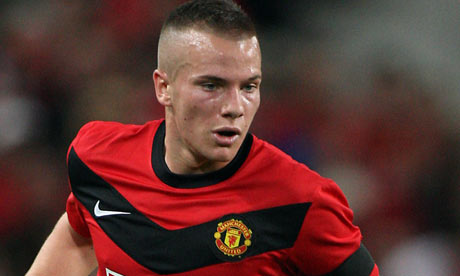 Many Manchester United fans are eagerly awaiting the debut of Tom Cleverley next season following a very impressive loan spell at Watford this season – where he was awarded the player of season award. Cleverley is currently out injured and recovering from a knee ligament injury. The Hampshire born midfielder recently spoke of his 'dream to make a big impact' at Old Trafford next season.
For further information on United's reserve and youth teams please visit the excellent Man United Youth blog.

Cleverley recently spoke about his loan spell and how he thinks it has helped him improve as a player:
"Next season is a massive campaign for me. Hopefully, I can prove myself at Premier League level and at a top club like United. That is what I am looking to do. I want to get fit this summer and hit the ground running and start off where I left off this season. Last season I had a spell on loan at Leicester and played in League One and felt as though I did well there. This season I feel I have done even better in the Championship with Watford and hopefully I can keep on the rise and make it into the Premier League. It was brilliant playing every week at a good standard and it has done me the world of good. Physically, I grew up during that loan at Leicester. But it is more mentally where I have grown up and got better at Watford. Saturday, Tuesday, Saturday football every week where one match you can be up at St James' Park and then Hillsborough the next with 30,000 fans on your back. It has been a massive learning curve for me. The intensity of it all has helped me. I think I am a better player now."
The midfielder also heaped praise on former Red David Beckham, although believes he is quite similar to Ji-Sung Park:
"I have always liked David Beckham and his style. And I think the type of player I have become this season is a bit like Ji-sung Park. I think my game can benefit from learning a lot from him in the right or left midfield spot or just behind the front two. I provide lots of energy like Ji. I have never been known as a goalscorer but last season I started to get into more scoring positions. I scored a few for the reserves and I said to Jim Ryan that I would get double figures this year and I have. I suppose goalscoring midfielders are like gold dust and it is a massive string to my bow if I can consistently score goals like Frank Lampard. Anything extra that can help you breakthrough at United is great. "
Lastly, the admitted that it 'is not an easy task' to break into the first team and complimented the current crop of players who have come through the youth ranks:
"It is not an easy task as everybody knows. United are a world-class team with world class players but all you have to do is look at the guys who are performing in it now like Ryan Giggs, Paul Scholes, Gary Neville, Wes Brown, Darren Fletcher, John O'Shea, Darron Gibson and Jonny Evans. They have all come through the ranks and you have to be confident you can do what they have done. I have never felt as confident about playing as I am now. It is up to the manager what plans he has for me but all I can do is get my head down and play the best I can. Hopefully this time next year I will be able to reflect on even more progress in the Premier League. That has to be my goal."
I'm sure you are all with me in stating that I am very much looking forward to seeing Tom as part of the first team squad next season .