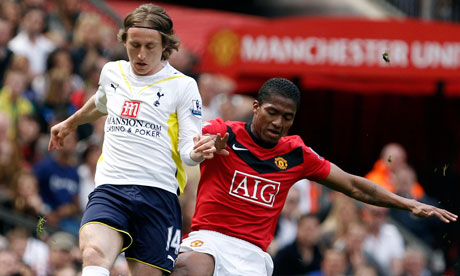 Gillian Duffy may get a little more annoyed that another Eastern European has been linked with a job in the North West, although hopefully my explanation that this would be a great thing will not come across as clumsily as that of our current Prime minister – Mr Gordon Brown. Luka Modric has been in England for two years now and has shown the reason why Spurs paid over £16Million for him. I mentioned on Twitter a few weeks ago that I felt that Modric 'looked like' a Manchester United player. That will of course infuriate Spurs fans, who rightfully will claim that he is their player and he is going nowhere. If I was Spurs I wouldn't sell him in a million years, however if Spurs do fail to land a Champions League spot, then who knows where Modric could play next season.

Relations are pretty poor between the two clubs following the bitter dispute over the transfer of Dimitar Berbatov two seasons ago. Modric will not come cheap and with United's ever increasing debt, which is helping to fund the Glazer family – a potential transfer looks highly unlikely.
I recently listened to the excellent United Rant podcast that spoke about the 'return on investment' of potential signings – i.e. Can United (sorry the Glazer's) sell a player on for a profit? I'm sure Roma didn't have that attitude when they signed Gabriel Batistuta back in 2001 for over £20Million – he was 32! As ludicrous of a signing that maybe – why should United have to look at future earnings? Fergie's record is unquestionable and the money men at Old Trafford have commercially exploited every avenue they can, so what does it matter than we make a £10million loss on a player that has helped United win trophies? When did we turn into a selling club? Ohh right, back in 2005. Before people mention Ronaldo, he was bought pre-Glazer as a hot prospect and as one of the biggest football clubs in the world we should be buying the best young talent available – but to strengthen the side not to make money out of the player, because where is that money going to go?
Back to Modric, at 25, I doubt there will be much 'profit made' by buying him now for £30 odd million and then selling him at the age of 32 for £3million. However, lets dream for a second that we can start competing in the transfer market for top talent again. Although Modric's return of two goals and three assists from twenty two starts may not seem that impressive, it is his build up play and versatility that could prompt Fergie to make a move this summer. There has been talk that we could offer Spurs Michael Carrick and cash for the Croatian playmaker. Carrick has been below par this season in my book, which is unfortunate considering his unquestionable talent and passing range. He was at fault for the first Bayern Munich goal and many have questioned his slowness to close Robben down for the second – although I personally think that is a tad harsh. However if there was a possibility of bring Modric to United in exchange for Carrick, I believe United should take it.
If we compare Modric's passing range to Michael Carrick in the same fixture, we can see Modric's quality in the final third:
You will see that Modric has a better pass completion rate than Carrick, although Carrick attempt more passes and to be fair there are a few through balls. But what I think is key is the discipline of Modric here. Spurs aren't as good a team as United and obviously felt that sitting back and counter attacking (different from United's tactic in the 3-1 victory over Arsenal might I add) was the best way to beat Arsenal. It obviously worked, with Arsenal reduced to playing in front of Spurs until the introduction of Robin Van Persie, who is a much more direct passer of the football. Modric can play a deep lying playmaker, as a box to box midfield and as a wide player who drifts inside – that is versatility that only Ryan Giggs really has at United. His attack passes (which were all 100%) were most probably him dribbling out of the Spurs half and trying to get Bentley or Bale into the game. Note that the three wayward passes were from deeper, which could have been a result of Arsenal's high pressing game.
If we take the next Spurs game against Chelsea, where Tottenham ran out 2-1 winners and our 1-0 defeat at Stamford Bridge in November last season. United actually deserved something out of the game but for an extremely controversial John Terry header, United left London with nothing. Below are the passing stats for both players in these games:
What is interesting to note is that in both the 2-1 victory over Arsenal and the 1-0 defeat to Chelsea, United played with a 4-3-3 (or similar), where as Modric had only Huddlestone beside him. The passes against Chelsea highlights his mobility to get around the pitch, whilst also his versatility in operating from the left hand side, which if I am right in saying John Terry was dragged across to cover? This blog is not a dig a Carrick over Modric, far from it. As I mentioned I am a big Carrick fan and it is unfortunate that he hasn't been at his best this season, however if Modric was to arrive at Old Trafford – who would make way for the Croatian?
Now i'm sure this blog will be met with angry Spurs fans or United fans that think i'm living in a dream world. I am merely praising a player who I believe is one of the best playmakers in Europe and I would welcome him at Old Trafford any time, although sadly with the Glazer's around – we may just have to settle for 'ROI' players.