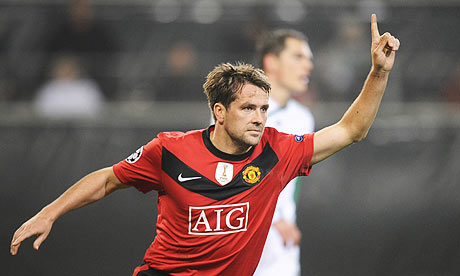 It could have been the World Cup Final of 1986 all over again (the use of three in defence) – with a battered Manchester United adopting a three-man backline to try and scrape at least a draw in Northern Germany. However, United went one better and beat the German Champions 3-1 on their home soil, with Michael Owen netting a hat trick. Ferguson's tactical nous to bring on Obertan and switch to a 4-4-2 late on proved effective as the young French man setup Michael Owen, twice, down the left flank.

The evening started with United assured of a place in the next round and Wolfsburg fighting for a place. United knew that a draw in Germany would be sufficient to top the group, however a loss and United would finish as runners up and a potential banana skin in the next round. United got off to a decent, if uneventful, start – riding their luck sometimes after some poor finishing their German opposition. United had to wait until the 44th minute before Michael Owen scored his second European goal of the season – after a great cross from the underperforming Nani. Owen headed home the in swinging cross to make it 1-0 just on the stroke of half time.
The second half exposed United's unfamiliarity with the 3-5-2 system, with gaps appearing behind Park and Nani. Fletcher and Evra attempted to cover and did well, however United at times looked pretty stretched. It was from a cross from the left that United conceded a powerful Dzeko header. The Bosnian's growing reputation was enhanced further last night after a superbly taken goal and an impressive performance. The same couldn't be said for his Brazilian teammate Grafite, who squandered a whole host of chances and looked, at times, to be lacking in confidence to run at an inexperienced United back line.
In the 83rd minute Michael Owen notched his second of the game, giving United a massive boost in believing they would top the group. It was a typical poachers goal from Owen, lurking at the back post, waiting for the right delivery to tap the ball home. However, none of this would have been possible without the sublime skill, balance and delivery of the young Frenchman – Gabriel Orbertan. Over the years United fans have been spoilt with flair players. Ronaldo, Cantona and Best have graced the Old Trafford turf with their innovation, creativity and rebellious nature when it comes to adhering to normal footballing ability. Obertan showed last night why he could well follow in their footsteps after a marvelous set over followed up a Cruyff turn, which gifted him space on the left hand side. He proceeded to run into the box and deliver a low cross to the back post – where the United number seven was waiting.
Obertan then setup Michael Owen's third after Wolfsburg missed an absolute sitter. United proceeded to counter attack down the left with Obertan, who placed a through ball to Michael Owen who galloped into the space behind the defence. Owen's pace allowed him to escape his marker before cheekily dinking the ball over the out rushing keeper. The cries of 'Michael Owen is a Red and he hates Scousers!' from the United faithful may remind a watching Rafa Benitez what he missed on over the summer – and remind all the doubters (including myself a couple of months ago) the quality of Owen.
Ratings: Kuszczak 7, Fletcher 7, Carrick 7, Evra 8, Park 7, Nani 7 (Valencia 6), Gibson 7, Anderson 8, Scholes 8, Welbeck 7 (Obertan 8), Owen 10*