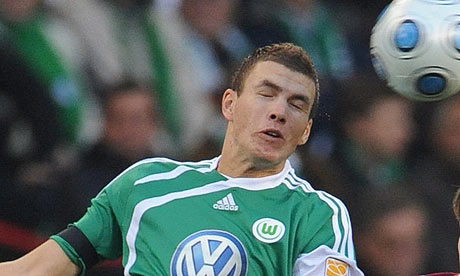 An injury hit Manchester United travel to northern Germany tomorrow night aiming to clinch top spot over their German rivals – even though some reds are worried about United finished second in the group. Ferguson has a task to get out one natural defender, let alone four at the back. There is talk of Michael Carrick deputising at centre half again (which I have no doubt he will do), talk of the chief executive son getting a run out and Fergie opting for three at the back. I remind any Red, who is disgusted by the situation we find ourselves in, of 1996 when we had to rely on Juventus beating Fenerbahçe on the final day of the group stages! What I would have given to have qualified two matches before!
Don't you think its a case of 'my diamond shoes are too tight' or 'my Ferrari isn't as fast as his Lamborghini' (I know shit about cars so I'm fully aware that might sound like nonsense)? Shouldn't we be more relieved that Neville, Brown and Vidic have a chance to play on Saturday after a rest tomorrow night. Of course there are injuries that should be considered a worry. Rio Ferdinand hasn't been his brilliant self since he injured his back against Stoke City last boxing day. The bloke is a class act, but when you are injury riddled and have had limited playing time – you're going to struggle. Evans and O'Shea are out until January, whilst Fabio and Rafael will not be available for the Villa game. These are long term problems that Ferguson will need to address – but finishing second in the Champions League group stages isn't a major worry if you ask me.
We went all the way to the semi-final in 1997, losing narrowly to Dortmund 2-0 on aggregate. We played Porto in the next round and Juventus (who finished first) played Rosenberg. Porto at the time were sending shivers down the spines of defenders throughout Europe. They'd beat the mighty Milan on their own turf and were generally considered one of the most improved teams in Europe. We hammered them at Old Trafford, ripped them apart in what for me at the time was the best European performance I'd seen from United. Juventus on the other hand got a draw in Norway. They won the return leg 2-0, but they had it all to do – whereas we'd made lives easy for ourselves having done the hard work in the first leg. We then met the eventual winners, Borussia Dortmund, in the semi-finals and any Red that watched that match will never know how we didn't score in either game.
The following season, we had a near perfect record – United were assured of qualification but had the opportunity to knock Juventus out. It would have been perfect revenge and example of how far we'd come form the limp 1-0 defeat in Turin the previous season. It wasn't to be as Juventus were the better team and Inzaghi scored five minutes from time after a Zidane cross. Juventus went through as the second best runners up – if they'd have drawn PSG would have got the place and the Old Lady would have been out all together. Turns out they drew Dinamo Kiev in the quarter finals, whilst we drew French Champions Monaco. We got a 0-0 draw out in France and then went out on away goals in the home leg following a thunderbolt from David Trezeguet. Juventus, having finished second went right through to the final – where they lost 1-0 to Real Madrid.
The last example is quite possibly the best way to highlight the fact that it doesn't matter who you play – if you're good enough, you have a chance to win the tournament – 1998/99, we were fighting on the final day for automatic qualification. Three big giants of European Football – Bayern Munich, Barcelona and Manchester United – all three had won the tournament since 1955. United the first in 68, Munich won a treble in the 70's and Barcelona's dream team beat Sampdoria at Wembley in 1992. Group D – which could have stood for death – also had minnows Bronby, the only team we actually beat! We had two remarkable games against Barcelona – twelve goals in two games and some remarkable goals (Beckham's free kick and Rivaldo's overhead kick to name two!). The first game against Bayern was frustrated. Outplaying the hosts, Peter Schmeichel came for a last minute ball and missed – giving Elber (I think) an easy tap in. We went through by the skin of our teeth (as the second best runners up behind Madrid) on a bitterly cold December evening (ten years ago on Wednesday actually) drawing 1-1 with Bayern at Old Trafford. If Lens or Galatasaray had of won their matches – we'd have been out of Champions League. Munich went on to play fellow German's Kaiserslautern (never an easy tie playing someone from your own domestic game) whereas we played Internazionale in the quarter finals. We were by far the better team at Old Trafford – with two fine headers from Dwight Yorke, whilst Henning Berg cleared off the line from Nicola Ventola at the other end – then the old enemy awaited – Juventus.
Some Reds often cite the Juventus game as the best Manchester United match in our history. Roy Keane dismissed that claim – stating that 'winning in the final is always greater'. He has a point, considering that the match against Arsenal last season was one of the best counter attacking 'European' performances i've ever seen from an English side – and we ended up with nothing. I think that match was the pinnacle of my football life – you just knew we had more in the tank, even at two down. It didn't seem right that our European Campaign was coming to a end after two shots from Inzaghi, one deflecting massively off Jaap Stam. We all know what happned, Roy Keane dragged United on – got booked, scored and became the first United captain since Bobby Charlton to lead United to the Champions League final, although unlike Charlton – Keane wouldn't play. It was an amazing night and it was those two games against Italian opposition – the inventors of catenaccio, ruthless defensive tactics and (in the case of the semi-final) finalists in the last three seasons – that would define us that season.
We had to play the best to become the best. Regardless of where we finished in the group stages – if we're going to win the tournament, we have to beat the Barcelona's, the Chelsea's and the Inter Milan's of the world. This week Juventus, Bayern Munich, AC Milan, Marseille, Inter Milan and VfB Stuttgart are fighting for their European survival. Aren't you pleased that we're in the position we are now? Yes, there is a distinct possibility that we could lose the match tomorrow with the injuries to our defensive lineup being the main factor – but the next round of matches is in February, when we will (hopefully!) have the likes of Vidic, Evans, Brown, Neville, Fabio, O'Shea, Rafael and Ferdinand back and fighting for places. Also, remember last season – we topped the group and got Inter Milan whereas Villarreal got Greek side Panathinaikos, so it is the luck of the draw. We could be in a much worse position – remember 1993 or 1994. Lets just hope that we have a boost in the build up to the Villa game on Saturday.
Lastly, I'm going to try and watch the game on Sky Player tomorrow night as the missus wants to watch something on the TV! First time i've used it, I hear the coverage is pretty good – have you used it before?